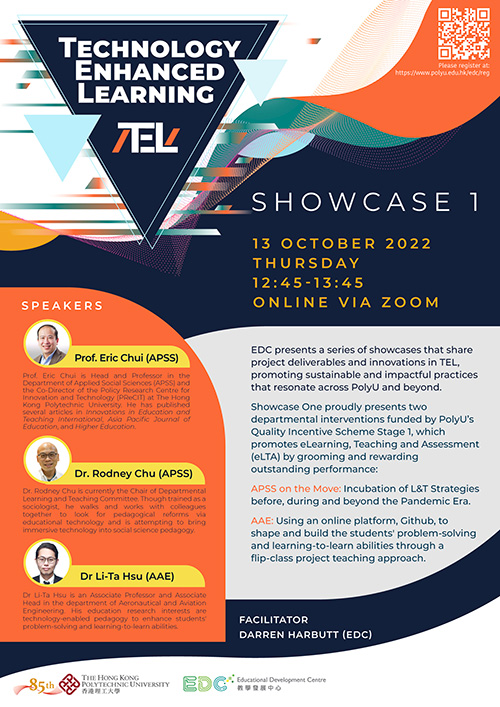 Presenter: Prof. Eric Chui, APSS
Presenter: Dr Rodney Chu, APSS
Presenter: Dr Li-Ta Hsu, AAE
Facilitator: Darren Harbutt, EDC
Date: 13 Oct 2022
Time: 12:45 PM - 1:45 PM
Venue: Online-Zoom
EDC presents a series of showcases that share project deliverables and innovations in TEL, promoting sustainable and impactful practices that resonate across PolyU and beyond. Showcase One proudly presents two departmental interventions funded by PolyU's Quality Incentive Scheme Stage 1, which promotes eLearning, Teaching and Assessment (eLTA) by grooming and rewarding outstanding performance:

APSS on the Move: Incubation of L&T Strategies before, during and beyond the Pandemic Era.

AAE: Using an online platform, Github, to shape and build the students' problem-solving and learning-to-learn abilities through a flip-class project teaching approach.
EDC Coordinator: Darren Harbutt