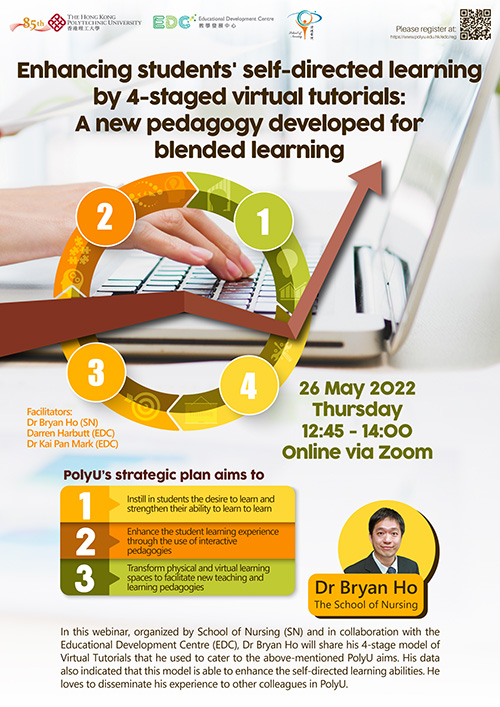 Facilitator: Dr Bryan Ho, SN
Facilitator: Darren Harbutt, EDC
Facilitator: Dr Kai Pan Mark, EDC
Date: 26 May 2022
Time: 12:45 PM - 2:00 PM
Venue: Online-Zoom
PolyU's strategic plan aims to
1) instill in students the desire to learn and strengthen their ability to learn to learn,
2) enhance the student learning experience through the use of interactive pedagogies,
3) transform physical and virtual learning spaces to facilitate new teaching and learning pedagogies.

In this webinar, organized by School of Nursing (SN) and in collaboration with the Educational Development Centre (EDC), Dr. Bryan Ho will share his 4-stage model of Virtual Tutorials that he used to cater to the above-mentioned PolyU aims. His data also indicated that this model is able to enhance the self-directed learning abilities. He loves the opportunity to disseminate his experience to other colleagues in PolyU.



EDC Coordinator: Kai Pan Mark