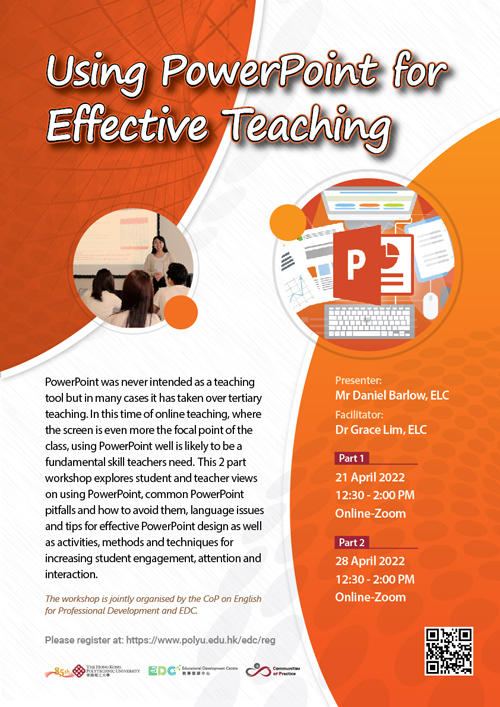 Presenter: Mr Daniel Barlow, ELC
Facilitator: Dr Grace Lim, ELC
Date: 21 Apr 2022 (Part 1) / 28 Apr 2022 (Part 2)
Time: 12:30 PM - 2:00 PM
Venue: Online-Zoom
PowerPoint was never intended as a teaching tool but in many cases it has taken over tertiary teaching. In this time of online teaching, where the screen is even more the focal point of the class, using power point well is likely to be a fundamental skill teachers need. This 2 part workshop explores student and teacher views on using PowerPoint, common PowerPoint pitfalls and how to avoid them, language issues and tips for effective PowerPoint design as well as activities, methods and techniques for increasing student engagement, attention and interaction.
Part 1 Contents
- Teachers' Views on Teaching with PowerPoint
- Students' Views on Power Point
- Death By PowerPoint (and how to avoid it)
- Writing Bullets
- Presenting Info Visually
Part 2 Contents
- Part 1 key concept review
- Using Images
- 6 tips for impactful slide content
- Balancing Slides and Handouts
- Interactive Power Point Practice
- Slide Play time (apply the training to your own or others ppt slides)



EDC Coordinator: Joanna Kwan