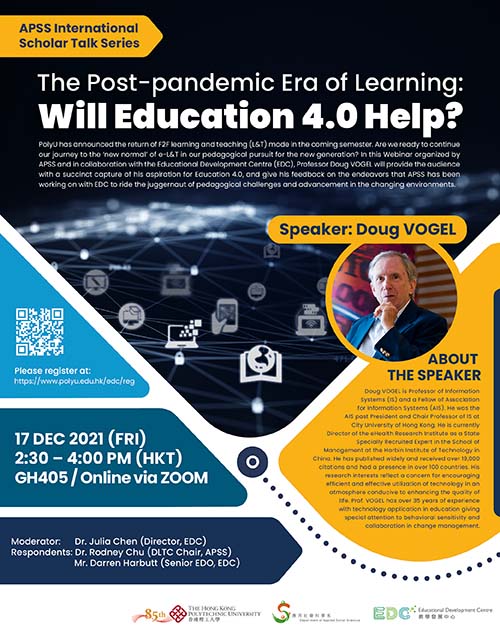 Presenter: Doug Vogel, Chair Professor in Information Systems, Harbin Institute of Technology in China
Facilitator: Julia Chen, EDC
Facilitator: Rodney Chu, APSS
Facilitator: Darren Harbutt, EDC
Date: 17 Dec 2021
Time: 2:30 PM - 4:00 PM
Venue: GH405 / Online-Zoom

Abstract:
PolyU has announced the return of F2F learning and teaching (L&T) mode in the coming semester. Are we ready to continue our journey to the 'new normal' of e-L&T in our pedagogical pursuit for the new generation? In this Webinar organized by APSS and in collaboration with the Educational Development Centre (EDC), Professor Doug VOGEL will provide the audience with a succinct capture of his aspiration for Education 4.0, and give his feedback on the endeavors that APSS has been working on with EDC to ride the juggernaut of pedagogical challenges and advancement in the changing environments.

About the Speaker:
Doug VOGEL is Professor of Information Systems (IS) and an Association for Information Systems (AIS) Fellow as well as AIS Past President and former Chair Professor of IS at the City University of Hong Kong. He is currently Director of the eHealth Research Institute as a State Specially Recruited Expert in the School of Management at the Harbin Institute of Technology in China. He has published widely and received over 19,000 citations and had a presence in over 100 countries. His research interests reflect a concern for encouraging efficient and effective utilization of technology in an atmosphere conducive to enhancing the quality of life. Prof. VOGEL has over 35 years of experience with technology application in education giving special attention to behavioral sensitivity and collaboration in change management.
EDC Coordinator: Kai Pan Mark