PolyU has contributed to the scientific evaluation of a novel combination of ergonomic intervention and postural re-education for pain relief.
For those who have been suffering neck and shoulder pain for years, but could not have the problem solved even after trying different treatment, they would certainly look for a rehabilitation programme that includes education, reassurance, and advice to stay active, as well as graded exercises and behavioural pain management. Their dream can now be realized through an integrated approach called "Ergomotor intervention".
Prolonged use of computers or electronic products, including mobile devices and smartphones, can be a major cause of neck and shoulder pain. Such pain is a serious and common problem that can limit people's ability to perform everyday tasks. Physical therapy, massage and medicine can help to relieve the pain, but the effects are not sustainable over time. In Hong Kong, some remedies involving ergonomic intervention are used to alleviate pain, but rigorous and systematic evaluations of their effectiveness are lacking.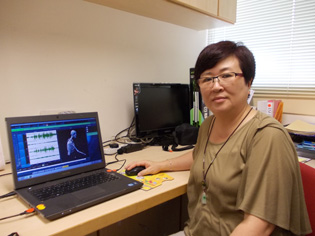 With this situation in mind, Dr Grace Szeto at the Department of Rehabilitation Sciences is collaborating with orthopaedic specialists at the Chinese University of Hong Kong to investigate the effectiveness of Ergomotor intervention that combines the application of ergonomic principles and clinical postural correction in rectifying neck and shoulder disorders.
In conducting the research, Dr Szeto specializes in the measurement and analysis of biomechanical data such as surface electromyography (EMG) and kinematics. EMG is the study of electrical signals when muscles are activated, and kinematics is the study of motion. Dr Szeto's current study is examining the effects of combining ergonomic intervention and postural re-education on patients with work-related chronic neck and shoulder pain.
Using an advanced wireless motion sensor system and a wireless EMG measurement system, 3D motion analysis was conducted to capture simultaneous movement and muscle activity data when subjects perform a variety of tasks. These tasks include large amplitude movements such as lifting the arm up and down, lifting an object up and down, forward and backward motion, etc. The equipment is also used to study muscle activity when subjects use mobile phones. By understanding how muscles work in relation to posture, more effective treatment and postural re-education can be performed on patients with neck and shoulder pain. ♦