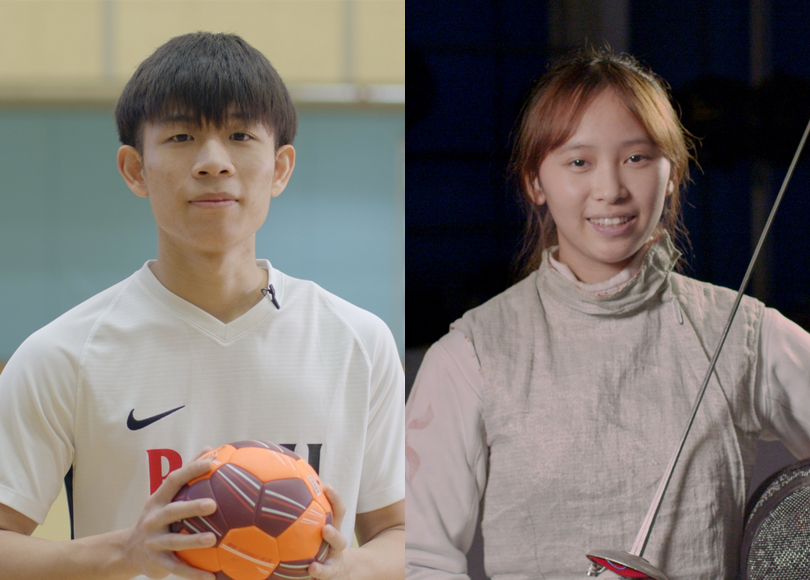 【#WeArePolyU - PolyU New Generation】What drives our PolyU students to continue striving for their dreams? Watch the video to learn about the inspirational stories of the PolyU Sports Team members, Alan Kan, Hong Kong Men's Handball Team Member and Sophia Wu, full-time athlete of the Hong Kong Women's Foil Team.
Alan Kan is a member of the PolyU Men's Handball team along with his twin brother, Andy Kan. They are quite competitive during training and hope to emulate each other's achievements. This motivates them to improve and grow together. In the face of setbacks and failure, they are always there for each other and practise hard with other members of the handball team to accomplish the same goal. Going forward, Alan hopes to represent Hong Kong at the upcoming National Games of the People's Republic of China and at the Asian Games.
Alan Kan
Department of Land Surveying and Geo-Informatics student
Sophia Wu, a member of the PolyU Women's Fencing Team, has to juggle between her packed training schedule and online classes to achieve a balance between studies and sports. No matter how tough it gets, she continues to strive for her best. With this determination, she never bows to defeat during competitions, as she believes that, as long as the contest is not over, there is always a chance to win. She hopes to represent Hong Kong at the upcoming Asian Games and Olympic Games.
Sophia Wu
Department of Management and Marketing student
(Posted on 4 December 2020)