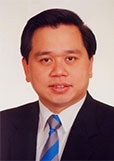 2006 University Fellow
Mr Yu Kwok Chun
GBS, JP
Born in Indonesia and educated in Australia, Mr Yu Kwok Chun is currently Chairman and Managing Director of Yue Hwa Chinese Products Emporium Ltd. Under his able leadership, Yue Hwa has adopted modern management practices, reinvented its brand and ventured into overseas markets as well as the property and financial sectors.
With a deep commitment to serving the community, Mr Yu has assumed many public roles, including Standing Committee Member of the 10th Chinese People's Political Consultative Conference National Committee, Chairman of the Executive Committee of the Federation of Hong Kong Guangdong Community Organisations Ltd., Member of the Committee on Governance and Political Development of Commission on Strategic Development of the HKSAR Government, Chairman of Small and Medium Enterprises Committee, Standing Committee Member of The Chinese General Chamber of Commerce, and Honorary Chairman of the Hong Kong & Kowloon General Merchandise Merchants' Association Ltd.
Mr Yu has also been supporting education enthusiastically and generously. He now serves as Council member and Deputy Secretary General of the Board of Governors of Jinan University and Deputy Chairman of the Board of Governors of Jiaying University in Guangzhou. Although Mr Yu has recently retired from the PolyU Council, the University is indeed fortunate to be benefited from his invaluable advice and guidance in his new capacity as a member of the University Court.