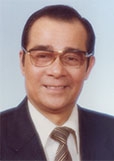 2006 University Fellow
Mr Yau Chun Ying
BBS
Mr Yau Chun Ying is a well-respected philanthropist who has ardently supported education over the years. He had served on the Executive Committees of eight schools in Hong Kong since 1957 before turning to business in 1971 upon the introduction of the six-year primary school education for all.
Since 1995, he has been serving as Chairman of the Tsim Sha Tsui District Kaifong Welfare Association, devoting himself to promoting public welfare and community development, with particular concern in the education of the younger generation. He has donated generously to eight universities, including PolyU, and a number of primary and secondary schools in Hong Kong. Mr Yau has also funded the establishment of schools in Guangdong, Guizhou, Xinjiang and Hebei provinces, enabling children in the remote rural areas in the Chinese mainland to acquire education.
When the severe acute respiratory syndrome (SARS) broke out in 2003, he joined hands with the Tsim Sha Tsui District Kaifong Welfare Association to set up the "We Care Education Fund" to help children who lost close relatives in the epidemic return to school. Mr Yau also supports the development of sports, arts, medical and cultural services in Hong Kong and the Chinese mainland, and has generously contributed towards disaster relief in China and overseas. Since the 1950s, Mr Yau has served on various public bodies, including the Alliance of Hong Kong and Kowloon Residents, the Reform Club of Hong Kong and the Hong Kong Civic Association.