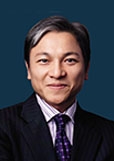 2014 University Fellow
Dr Royce Yuen Man Chun
JP
Dr Royce Yuen, Founder of New Brand New and Executive Director of Chinagrowth Group, is a brand-building and marketing management veteran with over 25 years of experience in Hong Kong, the Chinese mainland and overseas. He was formerly the Chairman of Ogilvy Hong Kong, and has held senior executive positions with FANCL and Lifestyle Federation. Dr Yuen has also played an active role as the Chairman of the Association of Accredited Advertising Agencies of Hong Kong from 2005 to 2010.
With his wealth of experience, Dr Yuen has spared no efforts in serving the community. He is Council Member of the Hong Kong Trade Development Council and the Hong Kong Academy for Performing Arts. He has also been a key member of the advisory committees for various government bodies, including the Hong Kong History Museum, the Commerce and Economic Development Bureau and the Independent Commission Against Corruption. He is also Board Deputy Chairman of Plan International Hong Kong, a leading charitable organization focusing on children's development.
A keen supporter in the area of education, Dr Yuen has been teaching branding and marketing management at a postgraduate level in both the Chinese mainland and Hong Kong for more than fifteen years. He is Visiting Associate Professor at The University of Hong Kong and Fudan University in Shanghai. He has also served on the Education Bureau's Appeal Board for two consecutive terms from 2008 to 2014.
Dr Yuen received his Doctor of Business Administration from PolyU in 2000. Since then, he has staunchly supported his alma mater and shared his experience with PolyU students at various workshops and lectures. As Professor of Practice (Marketing) at PolyU, he has lectured on the subject Marketing Management for PolyU's Master of Business Administration programme and has been actively involved in executive training and coaching for senior executives of major corporations for ten consecutive years. In 2009, Dr Yuen was presented the Outstanding PolyU Alumni Award for his contribution to his alma mater. He took up the role of Deputy President of the Outstanding PolyU Alumni Association from 2012 to 2014, and has served as Chairman of the Advisory Committee on Communications and Public Affairs of PolyU since 2013, giving his expert advice in communications to the University.
In recognition of his outstanding contributions to society and the industry, Dr Yuen was named one of the Top 10 CEOs in Hong Kong in 2007. He was also appointed Justice of the Peace by the HKSAR Government in 2010.
Chairman Yang, University Council Members, President Tong and Honoured Guests,
I am standing here feeling both honoured and humbled to receive this honourable Fellowship from The Hong Kong Polytechnic University.
The year 1997 was a special year to me. It was the year that marked the reunion of Hong Kong with its motherland China. It was also the year that I became the father of our two beautiful daughters Hillary and Sonia. And it was also the year that I started to pursue my doctorate at the PolyU. Since then my life has never been the same.
I am fortunate to have been given the opportunity to serve my Alma Mater in different positions upon my graduation fifteen years ago and during which I have definitely earned more than I have given.
I have soon discovered that sharing knowledge and experience is one of the most gratifying experiences. Sharing knowledge is not about glorifying one's achievement. Instead, it is a genuine walk through one's success and failure, what has worked and what hasn't worked so that others can pick up something that is relevant to them and be able to act wisely and responsibly.
In fact, what I teach is what I do as a profession – building brands. Brand-building is not about fabricating a story, exaggerating what a product can do or pretending to be someone that you are not. Building brand is about connecting with people with what you do in a meaningful way, not to you but to them. It is about truthfully adding value to people's lives. In other words, a brand exists because it has a role to play.
PolyU has been upholding its role as a cradle to nurture talents that possess great character and practical value to serve our community. I always pride myself as a member of the PolyU family and I am lucky to bear its DNA. The conferment of
Fellowship today is more than an honour and recognition to me, it will become a reminder for me to continue to play a role, in whatever modest way, in the University and the community at large.
Once again, I would like to thank the University and also my family, for your unfailing trust and support. Thank you very much.