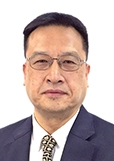 2016 University Fellow
Mr Alex Wong Siu-wah
Mr Alex Wong Siu-wah is currently Chairman and Chief Executive Officer of King's Flair International (Holdings) Limited, a Hong Kong-listed company specializing in the design, development, manufacture and distribution of kitchenware. Mr Wong has always been a keen learner. After graduating from secondary school, he pursued further education in mechanics and electronics at the Hong Kong Polytechnic (predecessor of PolyU), and other institutions. He is now working towards his Doctor of Business Administration degree at PolyU.
An Honorary Life Vice President of the PolyU Foundation and a member of the advisory committee of the Department of Mechanical Engineering, Mr Wong has long been supportive of PolyU. He also spent much time communicating with students from the Department of Mechanical Engineering and the School of Design, to update them on the latest needs of the industry, issues encountered in the manufacturing process and product design requirements. He even hired many of them to realize their full potential. When it comes to product design, Mr Wong believes that technology and innovation are equally important, and he observes a pressing need to train our next generations of product design talent. In light of this, he generously supported our Endowed Professorship Scheme as donor of a product design engineering professorship. He wishes to encourage outstanding PolyU scholars to take up teaching and research work while imbuing the local product design industry with vision and creativity. Such pedagogical and research efforts would benefit the society at large.
In his decades of experience as an entrepreneur, Mr Wong has always abided by his principle – to give back what you take from the community. He stands by his conscience and strictly adheres to the principles of corporate social responsibilities. He never cares more about profits than running his company according to his moral values and in a socially responsible manner. Striking a fine balance, Mr Wong has proved that a commercial enterprise is not undermined but enhanced by charitable endeavours and he never shies away from hands-on community services and activities. In addition to giving strong support to PolyU, Mr Wong also supports science education activities of local secondary schools. As early as 1980s, Mr Wong started building schools for children in remote and impoverished villages in the Chinese mainland. He also staunchly supports the Chi Heng Foundation which provides all-round support to underprivileged children affected by AIDS in China, so that they do not miss out on their right to an education.
Chairman Chan, University Council Members, President Tong and Honored Guests,
I was truly surprised and elated, yet humbled when The Hong Kong Polytechnic University informed me that a Fellowship would be conferred on me. I have not accomplished much academically and my contribution to society is minimal. Yet PolyU has bestowed on me such a great honor. I am deeply touched and would like to express my sincere gratitude.
Born and raised in Hong Kong, I became a member of this institution since I pursued higher education at the Hong Kong Polytechnic (predecessor of PolyU). Even today I continue to pursue the betterment of my education as an enrolled student of the Doctor of Business Administration programme at PolyU in my spare time and I hope to graduate soon. Through years of collaborations with PolyU, including involvement with the PolyU Development Foundation and as a member of the Department of Mechanical Engineering's Advisory Committee, I have had a better understanding of the University's vision, actual work and contributions towards advancing higher education and nurturing talents for society.
It has been the greatest honor for me and my company to be given the opportunities to make use of our limited resources to support PolyU's continued development over the years. Whenever I witness PolyU graduates making contributions to society in their own professions, and even making remarkable achievements, I feel proud and encouraged. This has become a driving force for me, an old man who has reached retirement age and yet full of energy, to continue to work hard with a vision which includes pulling in and allocating more resources in the continuation of supporting PolyU's sustainable development.
It takes ten years to grow trees, but a hundred to nurture people. I hope PolyU will adhere to its promise in education and research "Opening Minds !E Shaping the Future" and nurture more talents for Hong Kong, our country and our world, writing a blessed and blissful chapter for mankind.
Once again, my thanks to PolyU for conferring on me this University Fellowship.