Research Sharing with UBDA
Workshop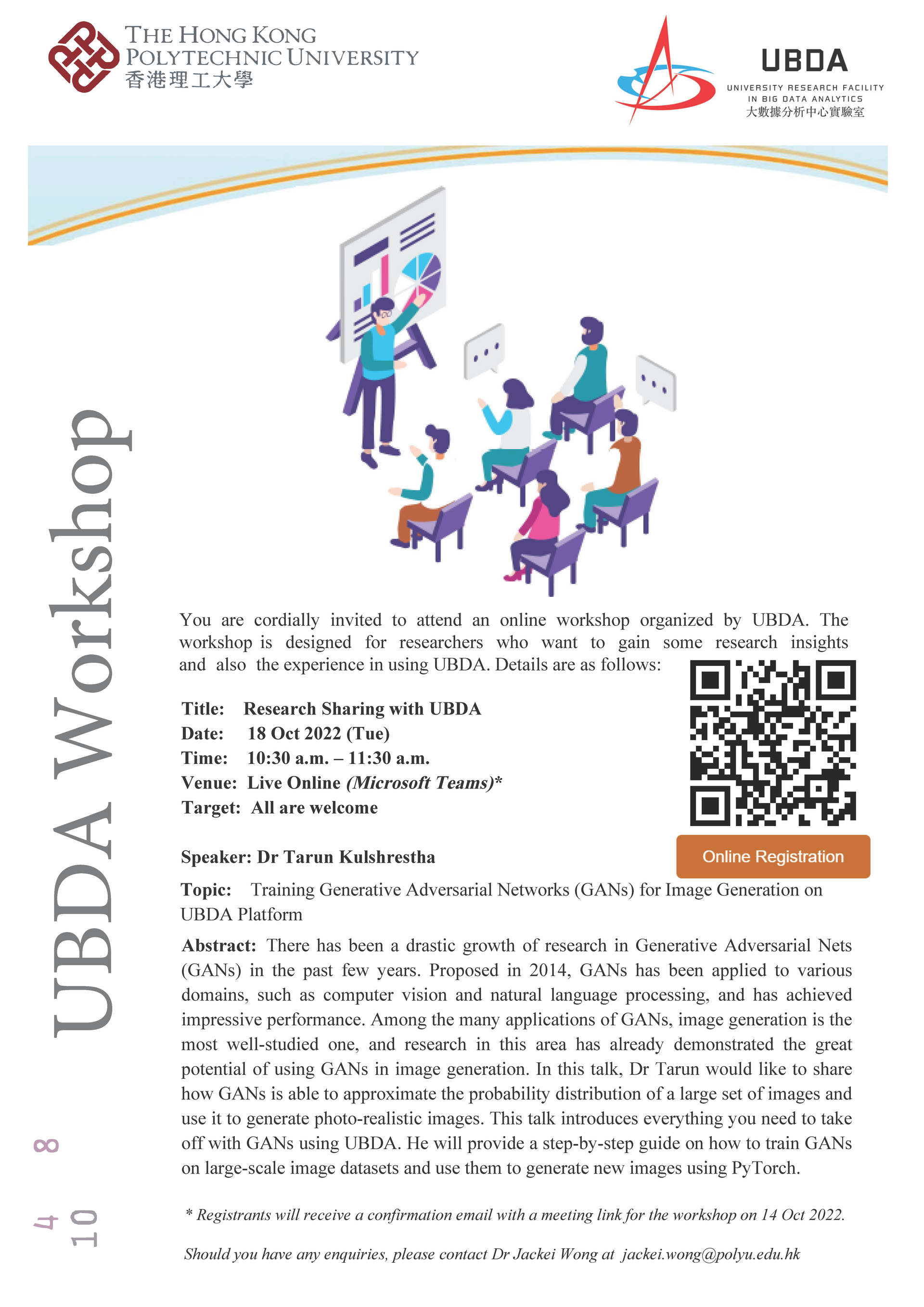 Summary
You are cordially invited to attend an online workshop organized by UBDA. The workshop is designed for researchers who want to gain some research insights and also the experience in using UBDA. Details are as follows:
Title

 

Research Sharing with UBDA (Poster)

Date

 

18 Oct 2022 (Tuesday)

Time

 

10:30 – 11:30

Venue

 
Live Online (Microsoft Teams)

Registration  

 

All are welcome

https://www.polyu.edu.hk/pfs/index.php/449132?lang=en
Speakers
 
Dr Tarun Kulshrestha


Bio



 
Dr Tarun Kulshrestha is currently working as a Research Fellow in the University Research Facility in Big Data Analytics (UBDA). His research interests include computer vision and image processing, particularly generative modeling, unsupervised learning, image-to-image translation.

Topic

 

Training Generative Adversarial Networks (GANs) for Image Generation on UBDA Platform

Abstract

 
There has been a drastic growth of research in Generative Adversarial Nets (GANs) in the past few years. Proposed in 2014, GANs has been applied to various domains, such as computer vision and natural language processing, and has achieved impressive performance. Among the many applications of GANs, image generation is the most well-studied one, and research in this area has already demonstrated the great potential of using GANs in image generation. In this talk, Dr Tarun would like to share how GANs is able to approximate the probability distribution of a large set of images and use it to generate photo-realistic images. This talk introduces everything you need to take off with GANs using UBDA. He will provide a step-by-step guide on how to train GANs on large-scale image datasets and use them to generate new images using PyTorch.
Should you have any enquiries, please contact Dr Jackei Wong at jackei.wong@polyu.edu.hk