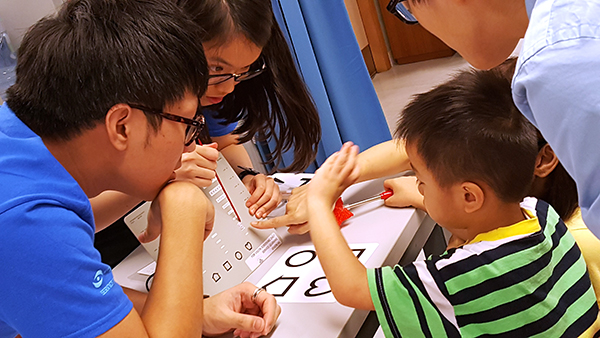 Objective
Advocating vision screening and eye-health education and raising awareness of the need for eye care;
Identifying and following up eye diseases at an early stage for people in need;
Promoting eyeglass recycling amongst PolyU students, staff, alumni and the public, thereby promoting awareness of the need for environmental protection and driving sustainability; and
Demonstrating the University's social responsibility.
Nature of Service Activities
Eye diseases and visual disorders span all age groups and contribute to major public health problems. The World Health Organization estimates that the number of blind people worldwide will double by 2020. The aim of this service-learning subject is to engage PolyU students across all disciplines in direct activities to benefit under-privileged communities, with the hope that we can help in the prevention of global blindness. Through this introductory-level course, students will gain increased awareness of a major public health issue, learn to appreciate specific strategies in its prevention and control, and provide active outreach services to help minimize this growing strain on our economic and health care systems.
We aim to integrate community service with student learning opportunities. Students of other disciplines will be given opportunities to work in groups with optometry students and organise and implement a vision-screening project by themselves under the supervision of optometrists. They will act as community service providers, apply interdisciplinary knowledge acquired through their university studies and share their special interests with others. The project will not only benefit service users, but will also provide a very structured environment for students to gain experience working with people at different socioeconomic levels and help them to better understand societal needs. This is in-line with PolyU's motto "To learn and to apply, for the benefit of mankind".
Service Beneficiaries
Over the years, our School and its optometry students have collaborated with various non-governmental organisations and charitable bodies, and we have received a continual stream of requests for community service from former partner, including schools and nursing homes. Our target beneficiaries are people who have difficulty accessing vision and eye health care services, including but not limited to the elderly, schoolchildren (especially kindergarten and primary school students), new immigrants, low-income families, members of ethnic minorities, and those with physical and mental disabilities in Hong Kong.
SPONSOR
The Vision of Love Mobile Eye Care Project was established in 2017 with generous support from the Vison of Love Fund founded by Miss Cally Kwong. The aim is to advance the outreach eye care model via a mobile clinic that delivers primary and preventive eye-care services to needy people in the local community.