Grace Daeun Moon, a Year 3 Communication Design student from PolyU Design had the chance to accompany the university's senior management in a visit to South Korea last month, taking up the role of the sole student ambassador. She sat down with us for a chat right after the trip, sharing the details of this eye-opening journey.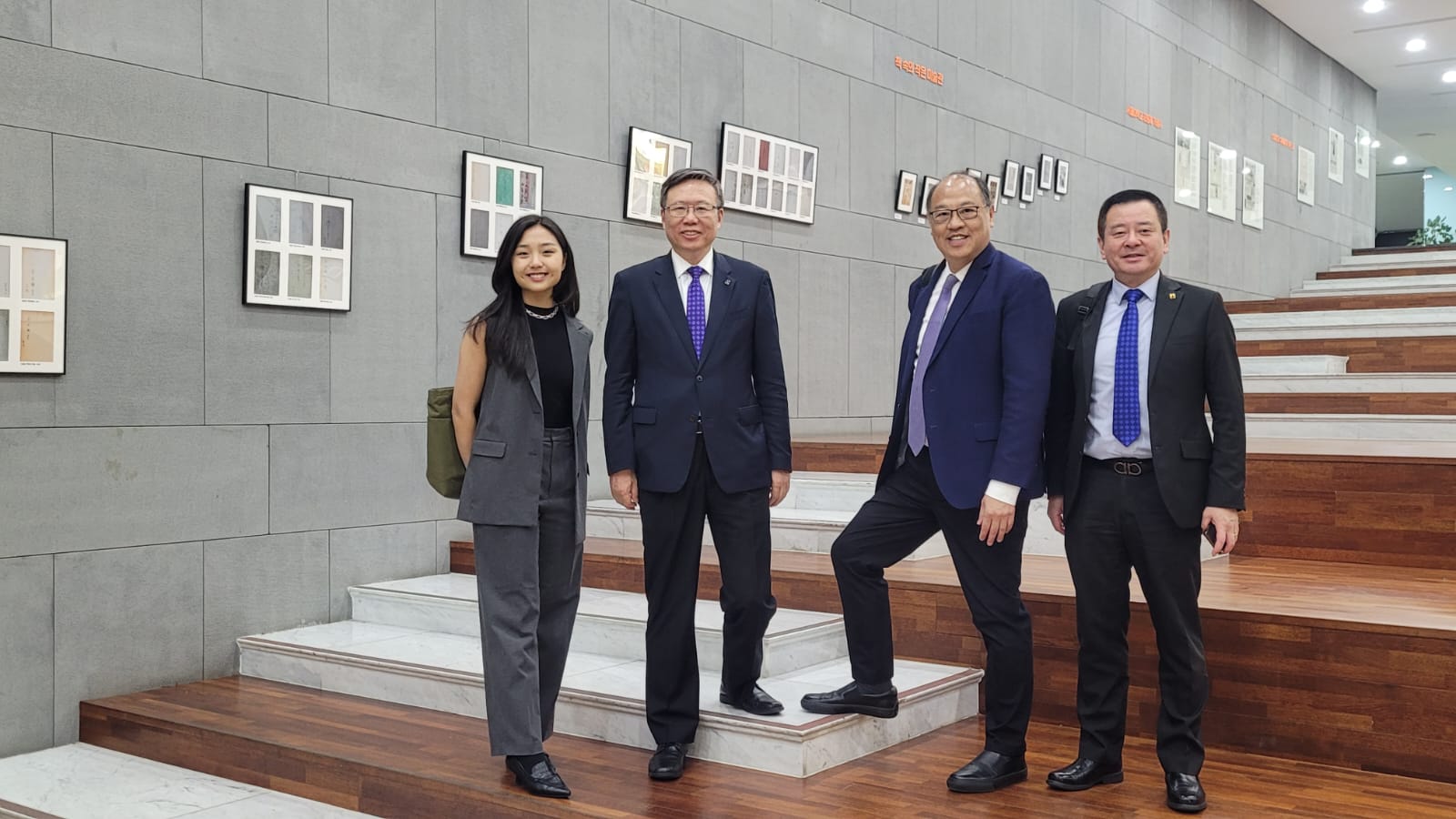 PolyU Council Chairman Dr Lam Tai-fai (2nd from right), President Prof. Jin-Guang Teng (2nd from left), Vice President (Student and Global Affairs) Prof. Ben Young (1st from right) and Communication Design student Miss Grace Daeun Moon (1
st
from left) posed at the Seoul National University library.
The delegation was led by university's Council Chairman Dr Lam Tai-fai and joined by President Prof. Jin-Guang Teng and Vice President (Student and Global Affairs) Prof. Ben Young to strengthen the university's global academic partnerships, taking collaborations to the next level. During the 5-days visit, Grace had the privilege to immerse herself into a full-blown itinerary: touring around the Korea Advanced Institute of Science and Technology (KAIST), Seoul National University (SNU), and Yonsei University while interacting with fellow students on campus — an exclusive experience rarely given to undergraduate students.


"Each person I've had the opportunity to interact with only existed in photos and videos in my life until now. The PolyU senior management who I travelled with were real impact-makers who I had the chance to hold a conversation with!"
Grace exclaimed as she reflected on the trip that felt, in some ways, surreal. She explains that the chance to have real dialogue with the senior management, picking each other's brains, exchanging insights on what it means to learn and achieve was the highlight of her trip. She was also delighted to share her voice as a designer in a science, engineering and technology-rich university, and how her discipline could be weaved into this strong academic network and contributions to bring about a more interdisciplinary outlook in learning more about the world around us.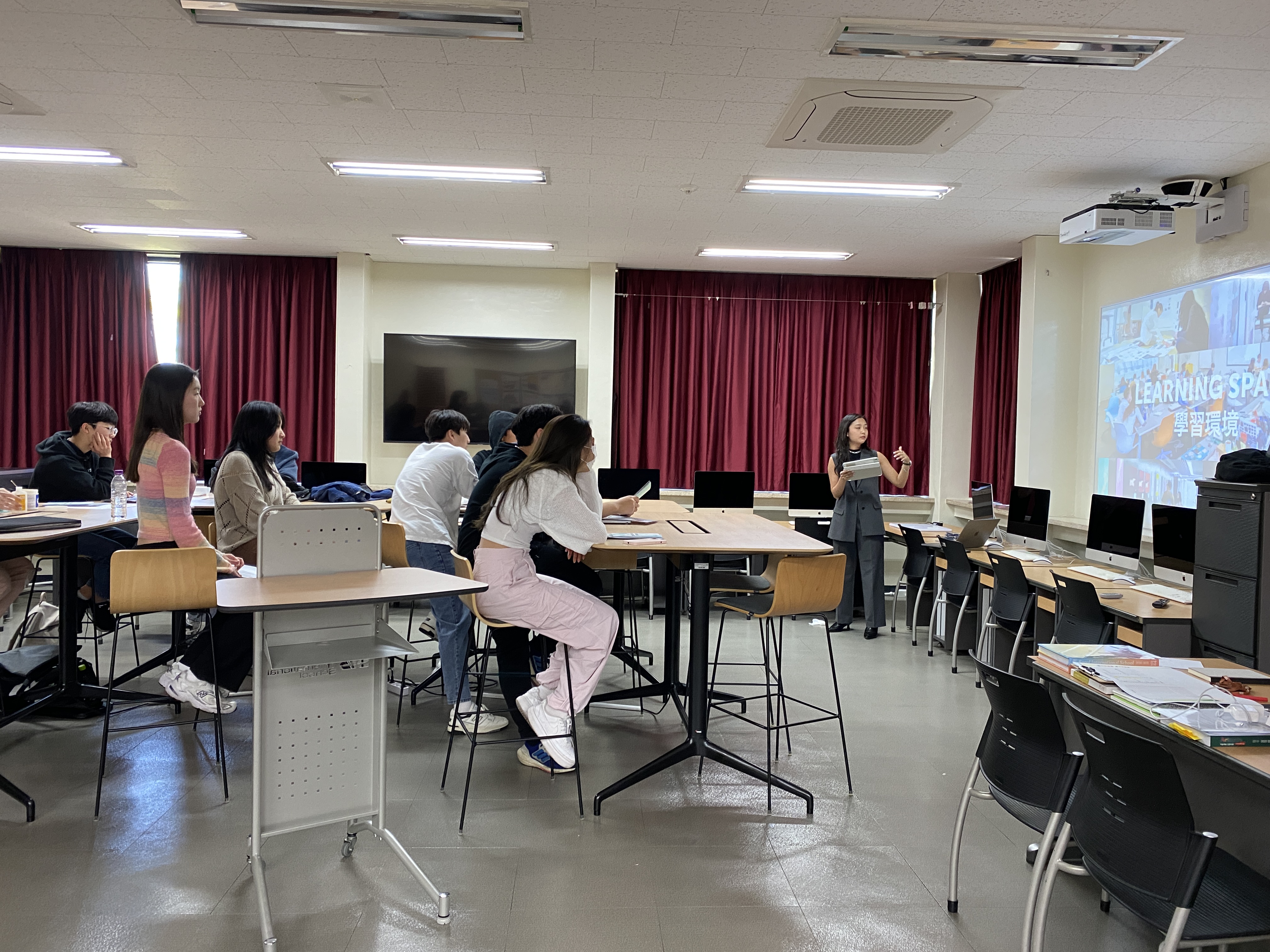 Grace sharing her PolyU Design experience with students at the Seoul International School.
"There were a lot of surprised looks since for most of the students, this was their first glimpse into university life in the city of Hong Kong."
The Communication Design student also had the chance to share her first-hand experience at PolyU Design when the delegation paid a class visit at the Seoul International School, amongst other engagements. From covering undergraduate application essentials to her everyday life on campus, all the way to flying out to the Parsons School of Design in the United States for a semester abroad, she gave the inside scoop to the school's design class. All the memorable moments, both of delight and of hard work, were shared vividly and passionately for the prospective international students, encouraging them to paint their own vision of what a fast-paced and exciting student life in Hong Kong could look like. Snapshots of the iconic HK skyline view from Grace's dorm room, her personal studio space, the ample opportunities to complete exchange and 8-week internship abroad showed left them in awe.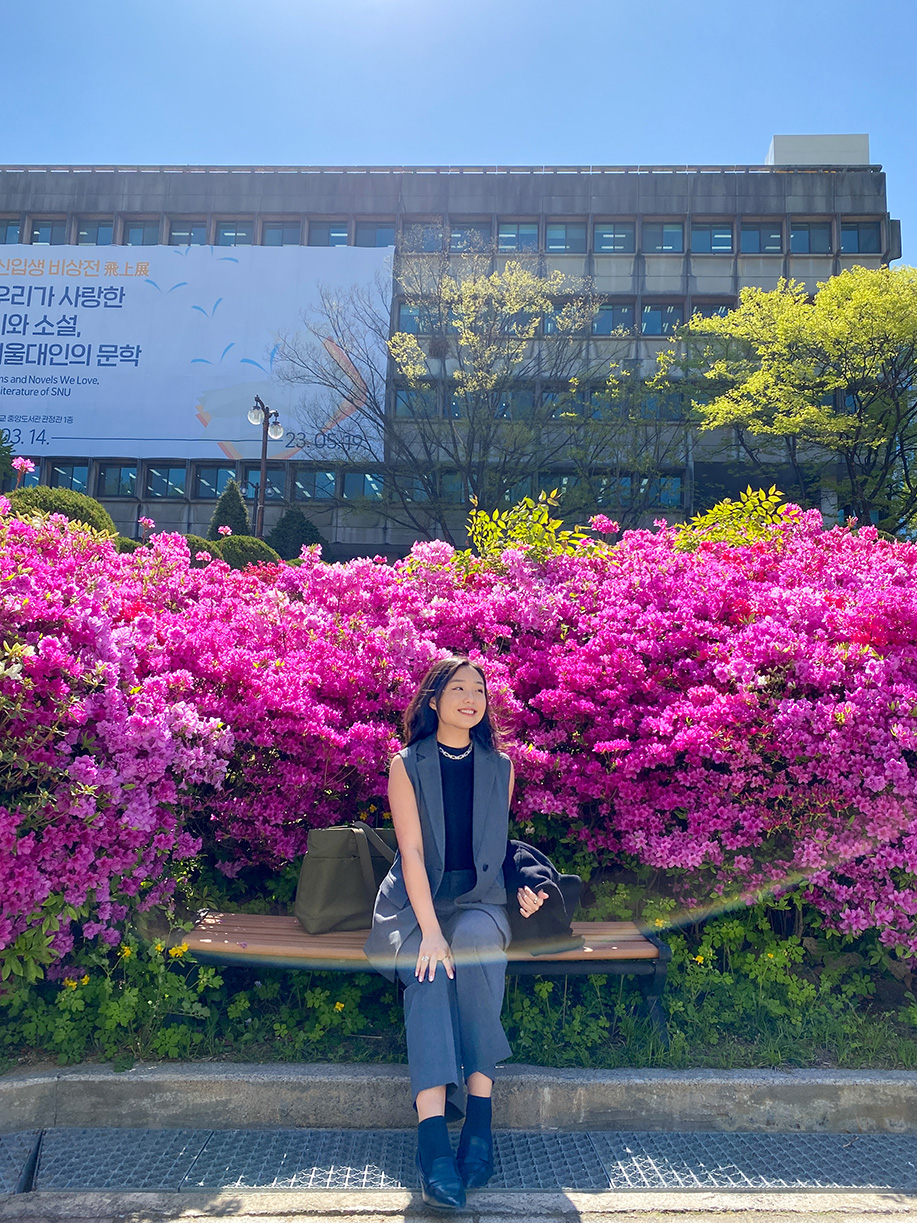 Grace enjoying the spring bloom at the Seoul National University.
"I felt like a bridge (of cultures)."
When being asked of the most notable insight Grace gained from the trip, she responded by sharing with her new sense of belonging and identity. "I have always been the 'other'," she explained, "as a third-culture kid in Hong Kong." She goes on to explain that her background as a Korean growing up in Malaysia (albeit in an international bubble) has excluded her from being fully immersed in all three cultural contexts. However, this trip helped her realise that instead of desiring to belong in one fully, she can be a three-way bridge figure—keen to introduce the HK culture and lifestyle to the Korean communities while ensuring her fellow HK delegates felt at home was certainly bizarre yet fulfilling experience.