PolyU Design Open Day 2023 (Undergraduate & Taught Postgraduate Programmes)
Seminar
Screening
Info Seminar
Event
Others
Exhibition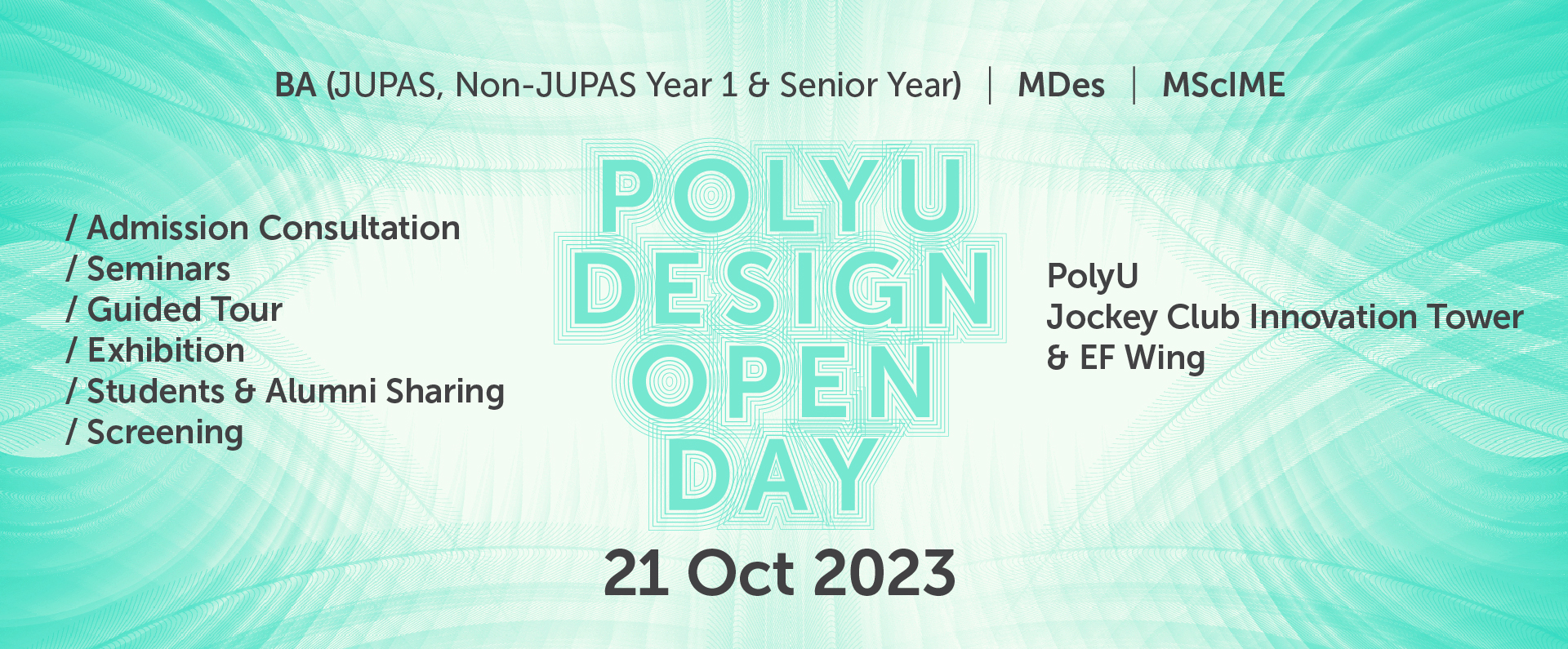 Summary
PolyU Design Open Day will be held during PolyU Information Day (Undergraduate & Taught Postgraduate Programmes) on Saturday, 21 October 2023. It is a great way to explore our programmes and career pathways. Participants will have chance to explore the campus, talk to our academics, support staff and current students, and discover their pathway to PolyU.
Registration for entering campus is required: www.polyu.edu.hk/infoday
Registration for some of the activities is required. Please find the links below. 
Event Programme
 

Programme

Time

Venue:

Jockey Club Innovation Tower (except locations with *)

Consultation

Consultation Counters & Booth

(BA, MDes & MScIME)

A great opportunity to learn about design education at PolyU Design and meet our staff/ students. Come talk to us!

10AM–5PM

EF Wing* & 3/F

Exhibition

Exhibition: PolyU Design Show 2023

P/F, 3/F, 5/F, 6/F, 7/F & 11/F

'Materials / Designers' Exhibition
P/F
Material Resource Centre Mini-Exhibition: Concrete for Social Goods
V510 5/F

Digital Media Works Screening

V321, 3/F

Souvenir Redemption

Exclusive souvenirs for PolyU Design's visitors!

3/F

Tour

Guided Tour of PolyU Design

10AM/11AM/3PM/4PM

Gather at entrance, P/F

Seminar

Information Seminar—

BA (Hons) Scheme in Design

(English) (JS3569)

10AM–10:45AM

V322, 3/F

 

Alumni's Sharing (BA)

(Cantonese)

11AM–11:45AM

Students' Sharing (BA)

(Cantonese)

12PM–12:45PM/

4PM–4:45PM

Talk—Admission Strategies (BA)

(Cantonese)

2PM–2:45PM

Information Seminar—

BA (Hons) Scheme in Design (Cantonese) (JS3569)

3PM–3:45PM

Information Seminars—Non-JUPAS Local Senior Year Admissions (various BA programmes)

For Higher Diploma/ Associate Degree holders

(English#/Cantonese)

[Reserve your seat]

 

10:30-11:00AM | Information Design (73416-SYF)
11:10-11:40PM | Media Design (73416-SYM)#
11:50-12:20PM | Service Design (73416-SYS)#
1:30-2:00PM | Social Design (73416-SYO)
2:10-2:40PM | Product Design (73416-SYD)
2:50-3:20PM | Interaction Design (73416-SYT)#
3:30-4:15PM | Environmental Design (73416-SYR) & Interior Design (73416-SYI)#
4:30-5:00PM | Advertising Design (73416-SYV)#

V1101, 11/F

Information Seminar—MSc in Innovative Multimedia Entertainment (MScIME)

[Reserve your seat]

 

11AM–12PM

V312 & Zoom

Information Seminar—Master of Design (MDes)


[Reserve your seat]

Main session: 2PM–3PM

____

Break-out sessions: 3PM–4PM

V312 & Zoom

____

V312

V701

V715

V716

 
Download Useful Information of PolyU Design Open Day:
Programme Schedule  |  Map  |  About Admissions
(subject to change)