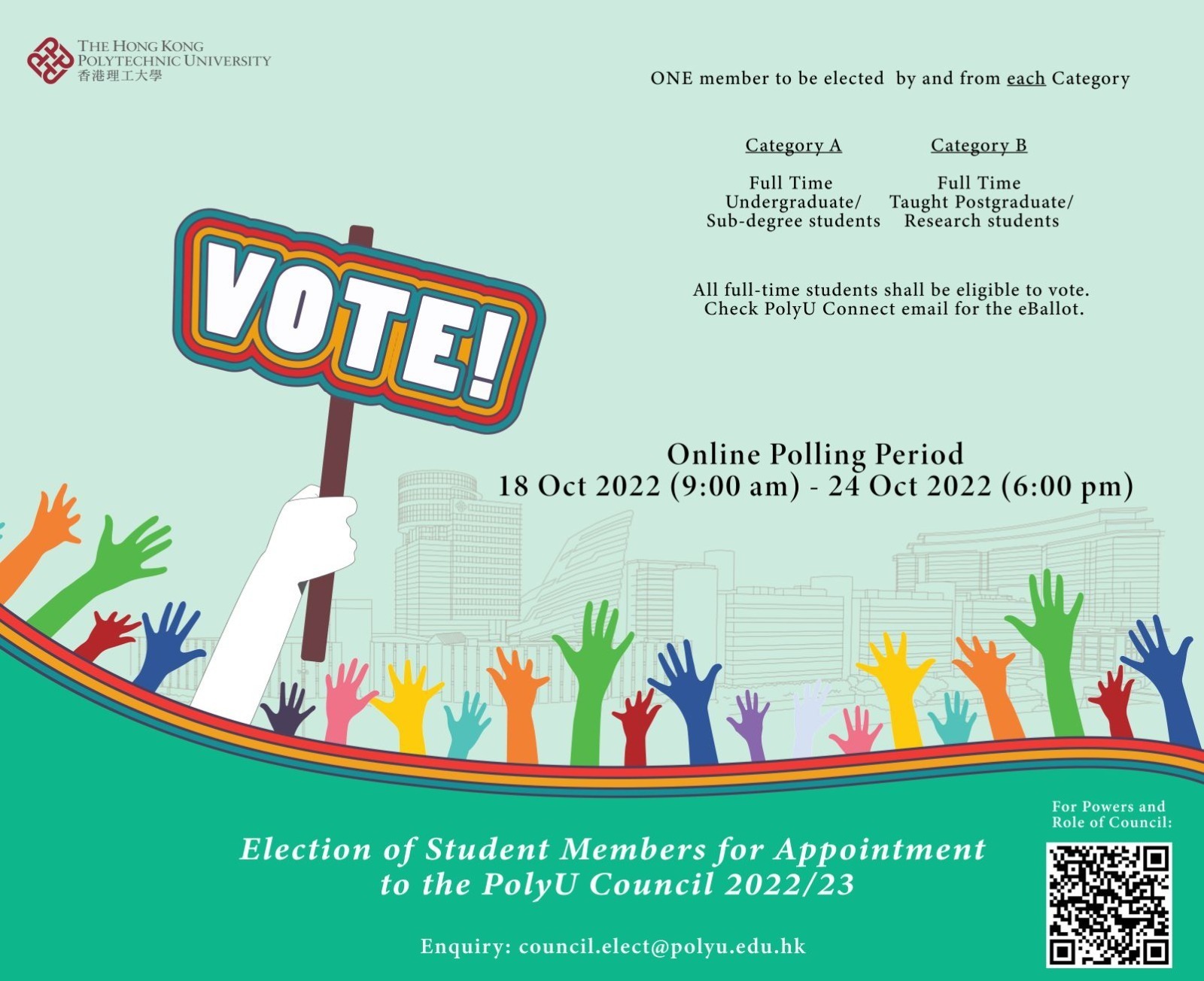 Election of Student Members for Appointment to the PolyU Council 2022/2023
In accordance with Section 10(1)(f) of The Hong Kong Polytechnic University Ordinance (Cap. 1075), the composition of the University Council includes 2 members from the full-time students appointed by the Council :
i. One student is to be elected by and from the full-time undergraduate and sub-degree students (Category A); and
ii. Another student is to be elected by and from the full-time postgraduate students (Category B).
An election is to be conducted among the full-time students to return the aforesaid student members for appointment to Council for one calendar year provided that they remain eligible members of their respective Category.
Enquiry: council.elect@polyu.edu.hk
Key Dates
All full-time students shall be eligible to vote or be elected.
Check important dates and key actions during the election period of student members of PolyU Council.
Nomination period: 8 – 21 September
Forms received after 18:00 of 21 September will not be accepted
Announcement of Nomination: 22 September
Nominations received will be announced through mass email from the Election Officer on 22 September.
Period for a possible withdrawal of nomination(s): 23-29 September
Nominee(s) may withdraw his/her consent to nomination by emailing the Election Officer at council.elect@polyu.edu.hk before Hong Kong Time 18:00 on 29 September.
Confirmation of the final list of nomination(s): 30 September
Polling Period (via E-Ballot): 18-24 October
Each full-time student (elector) will be invited to access the electronic polling platform via connect email.
Voting after the close of the polling period will not be accepted.
Each elector can only submit one ballot.
Announcement of results: 25 October
Period for lodging complaints: 26-27 October
Announcement of final election results: 28 October