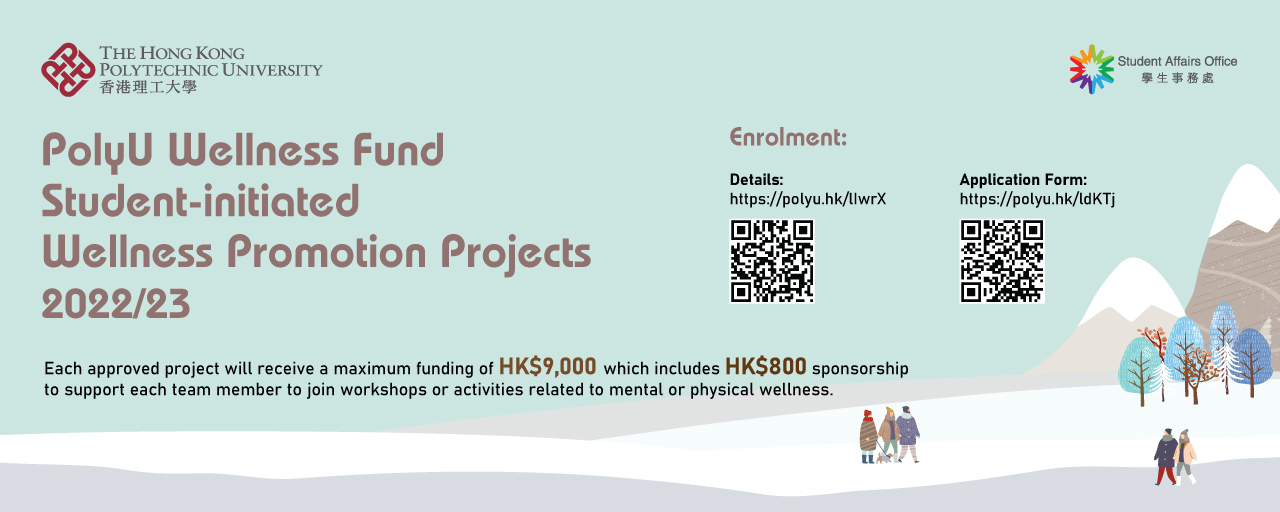 To face the challenges of the pandemic, the PolyU Wellness Fund was set up with the aim of promoting overall wellness, increasing connectedness and building a caring ambience in PolyU campus through the group-based student-initiated wellness promotion projects.
Funding:
Each approved project will receive a maximum funding of HK$9,000.
Sponsorship:
There will be a sponsorship to support students from each selected group to join workshops or activities to enhance their awareness or skills related to promotion of mental or physical wellness.
Each student will receive a maximum of HK$800 per head.
Best Practice Award:
Each awarded team will be rewarded with HK$2,000 gift voucher.
Wellness Promotion Projects on Campus:
Application Deadline: 30 January 2023
Promotional Video:
Take a minute to watch a promotional video HERE to have a quick understanding about Wellness Fund student-initiated projects.
Project Highlights:
Take a glance of our previous project HERE and share the happy moments together.
Information Session (Online):
Session 1: 3 January 2023
Session 2: 11 January 2023
Session 3: 19 January 2023 (NEW)
Time: 12.00-13.00
Zoom (Passcode can be found in the promotional email)
Enquiry:
2766-6800 (PolyU Wellness Fund)