National Team Olympians inspire audience at PolyU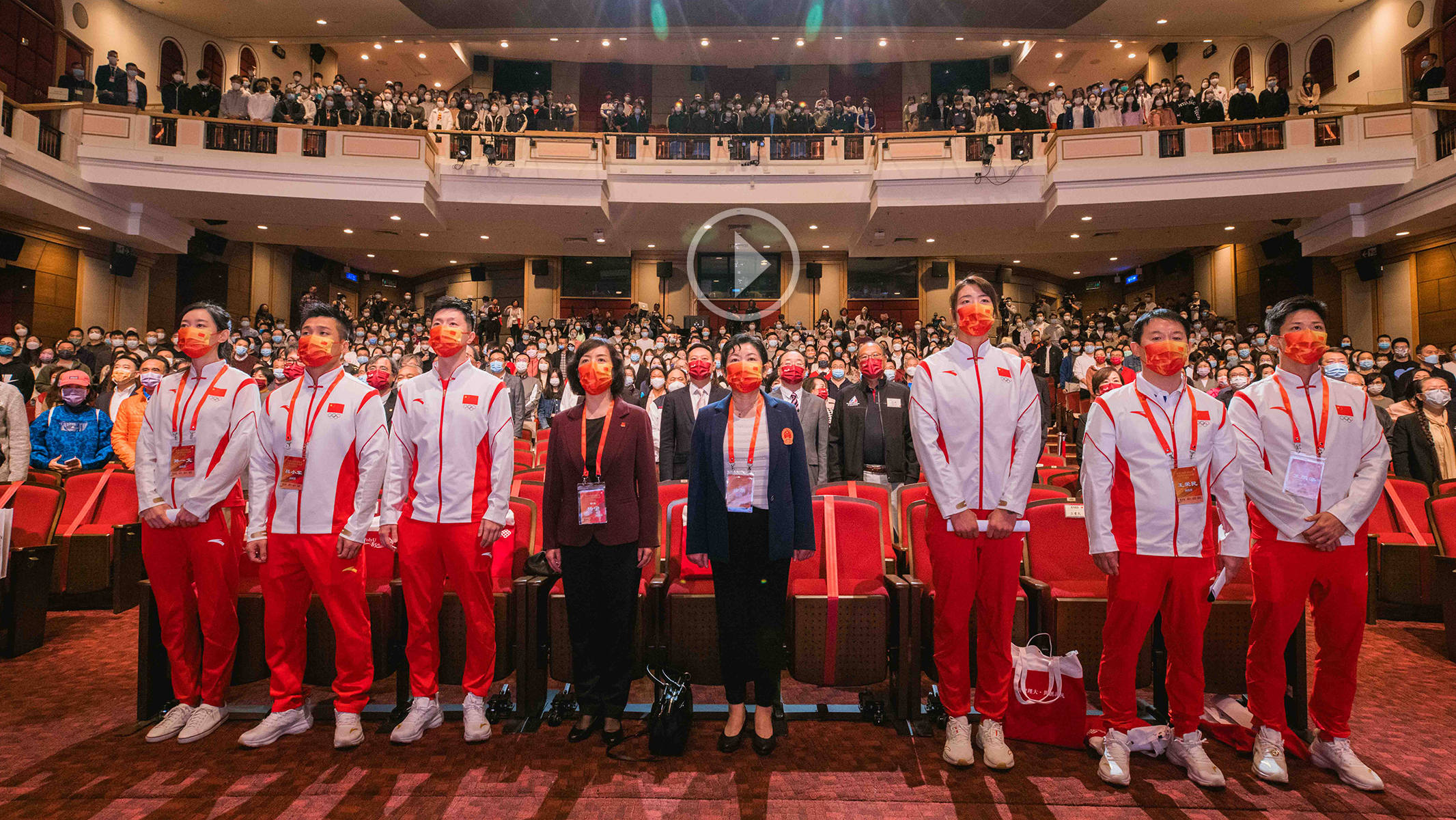 Six National Team Olympians who participated in the Tokyo 2020 Games shared their inspiring journeys with an audience of about 800 people at PolyU
Six National Team Olympians who participated in the Tokyo 2020 Games shared their inspiring journeys of exertion, willpower and tenacity as well as their patriotism with an audience of about 800 people at PolyU's Jockey Club Auditorium on 5 December.
The meet-and-greet session at PolyU, which was the last leg of the athletes' three-day visit to Hong Kong, was joined by over 1.2 million online viewers.
Su Bingtian, an Asian record holder and the first Chinese sprinter who has qualified for a men's 100-metre final in the Olympic Games, shared his admiration of Hong Kong's retired Paralympic track gold medallist So Wa-wai, whom he said has embodied an unrelenting spirit.
He added that sticking to one's goal could yield tremendous power.
"You would never beat me if I could run faster than you by 0.01 seconds everyday... so my daily training goal is to be 0.01 seconds faster than my original target," said Su. He pushed his 100-metre sprinting record from 11.72 seconds in his early days, to 9.99 seconds by 2015, and made a new Asian record at Tokyo with 9.83 seconds.
Fencer Sun Yiwen and rower Cui Xiaotong, both gold medallists at Tokyo, also shared their Olympic experiences with students, staff, alumni and members of the public at the auditorium. Cui said that in her sport, "if you can see all of your opponents, you are the champion." Meanwhile, Sun said what she treasured most in the Games was the process of challenging and surpassing herself.
Dr Lam Tai-fai, Council Chairman of PolyU, said he was proud of the exertion and achievements of both Mainland and Hong Kong athletes at the Tokyo Games, adding that PolyU is committed to supporting sports development.
"By leveraging our leadership in sports sciences and sports physiotherapy, PolyU will strengthen its teaching and learning as well as R&D in these areas, and nurture more outstanding athletes so as to further contribute to sports development," he said at the event.
Weightlifting gold medallist Lu Xiaojun, 37, echoed how recovery therapy and fitness training have become highly important to athletes like him, helping them to stay in the game.
"My secret to staying youthful in weightlifting is my scientific training programme," he said.
Wang Aimin, who coaches the national swimming team, added that a balanced life helps enhance one's performance.
"I practice calligraphy together with my swimming team members," he said. "It enriches their leisure time, reduces their stress in training and competition, and increases their ability to concentrate – these enable my team members to stay cool and think."
Ma Long, the first five-time Olympic gold medallist in table tennis, encouraged the audience, whatever their age, to act now in pursuit of their dreams. "Hold on to your passion and you will always be in your athletic prime," he said.
Watch the video highlights to learn more about their inspiring insights.