Helping people in the dark with empathy and patience – Professor George Woo at School of Optometry being recognised by the Hong Kong Humanity Award 2020
For nearly 20 years, Professor George Woo, Emeritus Professor and Senior Advisor at PolyU's School of Optometry (a.k.a. "Father of Optometry"), has been volunteering at the Samaritan hotline, contributing his own time outside of work hours picking up calls from distressed people. By listening to the problems callers have, and providing support and words of comfort, Professor Woo is hoping to bring them back from the brink of committing suicide.
In recognition of his devotion to helping people who are struggling with hard times in their life, he was nominated for and selected as one of the awardees of the Hong Kong Humanity Award 2020.

Professor Woo honoured with the Hong Kong Humanity Award 2020
"We grow old, but our aspirations don't."
Professor Woo received his Doctor of Optometry degree from the University of Waterloo in Canada and obtained his MSc and PhD degrees in physiological optics from Indiana University, USA. After many years of teaching, researching and consulting at institutions in different parts of the world, he returned to Hong Kong and founded the then Department of Diagnostic Sciences at the then Hong Kong Polytechnic in 1987, establishing a four-year Optometry degree programme in 1990.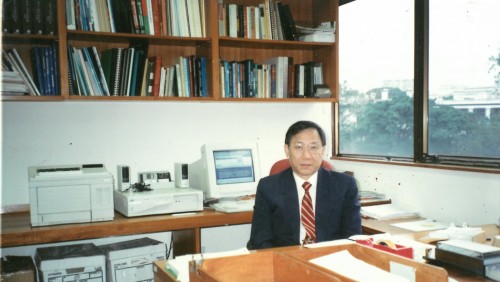 Good old days at FHSS Dean's office
Professor Woo is an eminent figure in the field of Optometry, dedicating his professionalism to elevating the development of optometry in Hong Kong. In 1997, Professor Woo was appointed Chair Professor of Optometry and Dean of the Faculty of Health and Social Sciences of PolyU. Later on, having decided to relinquish the deanship after eight years, he became the Associate Dean and CEO of PolyVision, and resuming his deanship from 2008 until his retirement in 2011. He was named Professor Emeritus by PolyU in July 2011.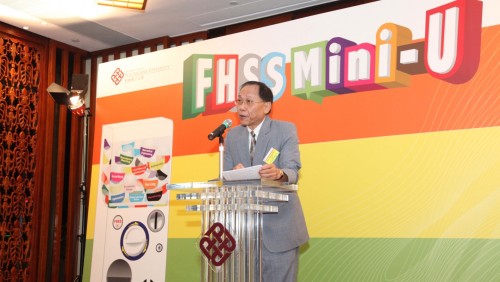 Giving a speech at FHSS Junior Mini - U for secondary school students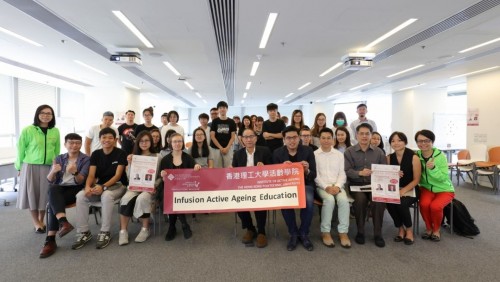 Promoting active ageing to the community
In earlier years, together with his brother, Dr Victor Chi Pang Woo who is an Ophthalmologist by profession, they set up the K.B. Woo Fund in memory of their father, Mr Keing Bai Woo, a pioneer in Hong Kong's optical industry who had advocated the formalisation of optical training to improve eye care. Over the years, donations have been made from the Fund or by them personally to the PolyU School of Optometry, in support of education and various initiatives.
"I realised that, there are a lot of psychological traumas which we can't see with our eyes."
"We should try our best to protect every precious life," said Professor Woo. Apart from looking after patients with visual impairment, Professor Woo believes it is his calling to provide care for people in other ways. He recalled that many years ago, a friend of his who was an Anesthesiologist lost his vision due to diabetes: "He told me about his suicidal thoughts. I spent lots of time comforting him by talking to him. Eventually, he gave up the idea of killing himself. It was not only a relief to me but also made me understand how critical it is to provide timely support to those that are struggling with their emotions." That was how the story began – where he started serving as a volunteer of the Samaritans back two decades ago.
In 2015, Professor Woo chaired the Board of Directors of The Samaritans, where he took his passion to serve to the next level by supporting the long-term development of the organisation. Professor Woo insists on continual improvement, and he hopes The Samaritans' services can be enhanced to help save more lives.
With empathy, patience and understanding, Professor Woo is hoping to be the light in someone's life, and make a real and meaningful difference.