PolyU wins TechConnect Global Innovation Awards for the fourth year
In November 2020, PolyU won three "Global Innovation Awards" at the TechConnect Business Virtual Summit and Showcase 2020 (TechConnect). It is the fourth year that PolyU research teams snatched the prestigious awards at the world's largest multi-sector event for fostering development and commercialisation of innovations.
The TechConnect Global Innovation Awards received over 400 submissions this year and only 13 were presented with the global awards designated for non-US-funded innovations across the world. PolyU's three award-winning innovations are:
"Water Dispersible Autofluorescent Polymer Dots Comprising of Non-Conjugated Polymers" by Professor Pei Li, Department of Applied Biology and Chemical Technology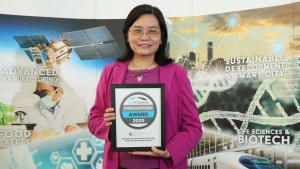 A novel type of autofluorescent polymer dots (APDs) has been developed using inexpensive nonconjugated polymers as building blocks. The APDs display ultra-bright and multi-colour fluorescence upon excitations in both water and dry states. They will find potential applications in diverse areas including bioimaging, trackable nanocarriers, photoluminscent nanofillers and chemosensors.
"PolyUStimulator – Ultrasound Driven Piezoelectric Stimulator for Neuromusculoskeletal Rehabilitation" by Professor Yong-ping Zheng and Dr Monzurul Alam, Department of Biomedical Engineering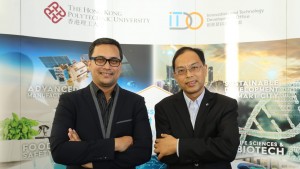 Electrical stimulators such as cardiac pacemakers and deep brain stimulators cure numerous health conditions and are the gold standard in rehabilitation treatment. Current electrical stimulators are, however, bulky and require major surgery to implant. To address this problem, the PolyUStimulator, a tiny injectable stimulator, has been developed.
"A Time-dependent Machine-Learning-based Prediction System for Progression of Knee Osteoarthritis (KOA)" by Mr Toby Li and Mr Justin Chan, MPhil students under the supervision of Dr Chunyi Wen, Department of Biomedical Engineering (submission made under CLAIRE Clinical AI Research)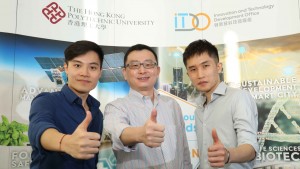 This project aims to develop a novel KOA progression prediction system with artificial intelligence and a big data analytic approach to facilitate short, mid, and long-term KOA treatment planning.
Our efforts in research, development and innovation at PolyU not only spark a fundamental scientific understanding of the world, but also focus on shaping the world by addressing global unmet needs through innovation. These awards reassure us about the strategic direction of our research and innovation and our goal of being a world-class research university.