PolyU Occupational Therapy students win five Global Student Innovation Challenge awards for developing innovative assistive tools
For people who are struggling with physical disabilities, the advancement of technology can help them manage some apparently simple but actually stressful everyday life tasks, such as wearing a pair of socks or hanging their laundry. This kind of technology is often called Assistive Technology (AT). AT refers to any tool or device that can help people with disabilities to effectively handle their everyday responsibilities so they can live a better, happier and more fulfilling life. One classic example is the wheelchair, by which people can improve not only their mobility but also their independence and quality of life.
In this year's Global Student Innovation Challenge (gSIC), an annual competition held at the International Convention on Rehabilitation Engineering and Assistive Technology (i-CREATe), our Occupational Therapy students from the Department of Rehabilitation Sciences went the extra mile to marry their academic knowledge with innovation and creativity, to come up with pioneering assistive tools that aim to help people with different physical disabilities. The PolyU student teams brought home the prestigious Silver and Bronze awards, as well as three other awards in this year's gSIC under the Design category. Congratulations to our students for their fantastic accomplishment!
---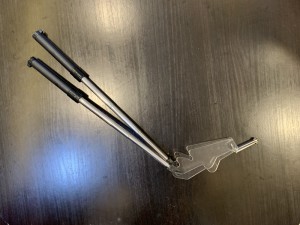 SILVER Award – Sockcess
Team members: Cheong Yuen Lam Jocelyn, Cheung Pui Chun Jane, Hon Ka Hang Esther, Lai Ka Yee Bonnie, Lee Po Yee Boey – Master in Occupational Therapy Programme
How it works? Sockcess is an innovative socking aid, which modifies the designs of current products to better suit user's needs. It improves the portability and efficiency of wearing socks with a socking aid. It allows users to put on ankle socks, which are typically not accommodated in traditional designs. Sockcess also has a relatively small size to prevent overstretching of socks and to allow users to bring it along with them when travelling.
---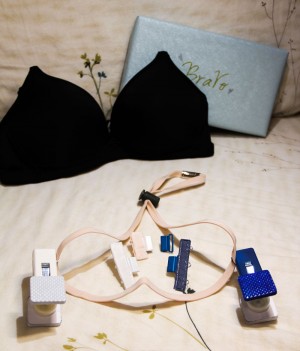 BRONZE Award – BraVo
Team members: Wong Yi Man Icy, Wong Ka Hei Kathy, Wong Suet Ying Sprindy, Pun Man Kit Angus – Master in Occupational Therapy Programme
How it works? BraVo is designed to assist women with one-sided weakness, either after a stroke or from other kinds of injuries, to put on a bra independently. It consists of two parts with the first one being two BraVo Pegs and an elastic loop connecting the two. The second part is the BraVo Buckles, which are magnetic snaps designed to facilitate easy attachment of both wings of the bra. The colour contrast feature allows users with decreased vision to easily identify different parts of the tool and match them accordingly.
---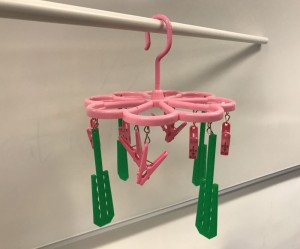 MERIT – Slide 2 Dry
Team members: Kwong Ho Yee Chloe, Chan Hoi Kiu Hannah, Shu Lin Feng Geisty, Ting Chung Yan Chloe – BSc in Occupational Therapy Programme
How it works? Slide 2 Dry is a practical, durable and affordable alternative for traditional clothes pegs, especially for people with weak pinch strength, hand dexterity, and/or disability inducing conditions. With its universal, jagged, dual-slot, transverse hole, single material, and single-piece design, it caters to a great variety of users.
---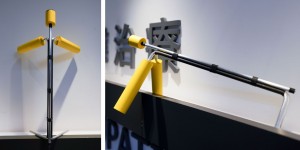 Best Presentation – Bedman
Team members: Yeung Chung Him Issac, Cheung Wing Yi Natalie, Keung Nga Yan Cherry, Lee Pui Yee Regina, Wong Hiu Long Felix – BSc in Occupational Therapy Programme
How it works? Bedman is made to aid bed sheet changing for people with physical difficulties such as hemiparesis, rheumatoid arthritis or reduced upper limb muscle strength. It also serves general users such as housewives, who may find changing bed sheets tiring and demanding. Traditional methods of changing bed sheets require great effort, but Bedman allows minimal lifting of the mattress and eliminates the need of pulling and inserting bed sheets with bare hands.
---
Best Prototype – Eager-to-Hang
Team members: Lam Ying Tung Christy, Hung Sze Wan Rita, Lam Wing Yin Anna, Lau Hiu Kwan Florence, Shing Hoi Yan Cathy – BSc in Occupational Therapy Programme
How it works? Eager-to-Hang is a brand-new idea derived from current commercial multi-clip hangers. It is designed for all people, especially for those who struggle with hanging small clothing items, such as people with rheumatoid arthritis and poor fine motor control. The device makes use of concave-shaped bars with hooks, instead of pegs. Eager-to-Hang succeeds in being a durable and safe clothes hanger that allows people to hang a number of small clothing items like underwear and socks efficiently and securely.