PolyU impactful startups to commercialise medical devices for societal benefit
With the support of the University, Ir Professor Zheng Yongping, PolyU's Chair Professor of Biomedical Engineering, has harnessed his research outcomes on ultrasound imaging technologies to co-found two startups of advanced medical equipment, benefiting teenaged scoliosis patients and those afflicted with liver fibrosis. Recently, the two startups, Telefield Medical Imaging Limited and Eieling Medical Limited, have been named in "Forbes Asia 100 To Watch 2023".
Scolioscan® to monitor spinal curve
Scoliosis is the abnormal twisting and sideways curvature of the spine. It affects millions worldwide and is the most common spinal disease among adolescents. X-ray imaging, the prevalent method of diagnosis and monitoring, can only capture two-dimensional images, but most spinal deformities are three dimensional. Usually, X-ray examinations are recommended for no more than once every 6 to 12 months owing to the risk of cancer. That can be a long time for growing teens with fast progressive scoliosis.
A safer and more cost-effective alternative has been developed by Professor Zheng and his PolyU research team, by applying 3D ultrasound imaging technology to generate a radiography-like image of the spine. The breakthrough in assessing spinal deformity, especially in adolescents, is behind the pioneering medical system called Scolioscan®, commercialised by Telefield co-founded by Professor Zheng in 2012.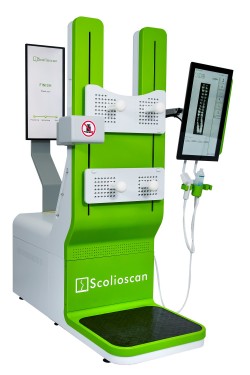 With more than 120 filed or granted patents, Scolioscan® can measure spinal curve as accurately as X-ray. As the world's first and only ultrasound scoliosis assessment system, Scolioscan® is currently in use in countries and cities including Australia, Bosnia, Germany, Italy, the Netherlands, Poland, Romania, Malaysia, Thailand, Mainland China, Macau, and Hong Kong, having helped more than 20,000 scoliosis patients worldwide reduce harmful exposure to radiation.
The invention also led to a comprehensive fiveyear school scoliosis screening programme with ultrasound assisted brace design and monitoring. At least 6,000 schoolchildren are expected to benefit from it. Voluntary organisations from around the world are also interested in acquiring Scolioscan® for children in Tanzania, Ghana, Sri Lanka and the UK.
In April, Telefield has completed the Pre-A round financing totalling nearly HK$40 million, with investors including Fosun Pharma, AEF Greater Bay Area Fund (managed by Gobi GBA), PolyU and other industry investors. So far, Telefield has secured more than HK$100 million for this innovative project.
A handy version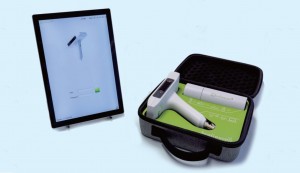 The PolyU system has a portable version known as Scolioscan Air, comprising
1. a palm-sized wireless ultrasound probe
2. an optical tracking device
3. a laptop or tablet computer
4. dedicated software
It weighs just 1 kg and fits into a suitcase. A typical scanning of the back of an adolescent patient takes only 30 seconds and can be done anytime, anywhere.
Liverscan to detect liver fibrosis and fatty liver
Liver fibrosis results from long-lasting injury or inflammation of the liver, and may develop into liver cirrhosis, dysfunction or cancer. In recent years, transient elastography (TE) diagnostic technology has emerged as a non-invasive method to assess liver fibrosis by measuring the organ's stiffness, but it is expensive, difficult to operate, and not fully accurate.
Professor Zheng and his PolyU research team combined TE with a real-time ultrasound image guided system to develop a better solution called Liverscan.
The portable Liverscan is effective in detecting liver fibrosis.
"TE does measure the stiffness of a certain spot accurately, but the operator needs much experience and expertise to ensure the spot being measured does not contain other non-liver tissues that may interfere with the result, such as blood vessels or tumours," Professor Zheng explained. "Liverscan has a patented B-mode ultrasound image guided feature, so that the stiffness of liver tissues can be measured by TE with real-time guiding. This way, the operator is given a map of where to measure and where to avoid, greatly improving the accuracy."
Startup for social good
Liverscan is a palm-sized wireless device. The light and portable design of the cost-saving solution allows medical staff to perform liver fibrosis detection for patients anytime, anywhere. It is being commercialised by Eieling, founded by Professor Zheng in 2018.
"It has always been my dream to benefit the public at large with our research outcomes. Once we license the technology to a company, we often have no say on the project whatsoever. Companies have their own concerns and the product may not turn out the way we envisioned. That's why we founded a startup company to commercialise the technology," Professor Zheng said.
Liverscan makes liver fibrosis and fatty liver assessment more accessible by the public. Eieling has secured funding from PolyU Tech Launchpad Fund and a private investor. It has also been accepted into the Incu-Bio incubator programme at the Hong Kong Science and Technology Parks. Clinical trials are now being conducted on the device with a plan for local release this year, registration in Mainland China in 2024 and USA in 2025, and a full-scale worldwide launch in 2026.
Professor Zheng Yongping
• Henry G. Leong Professor in Biomedical Engineering
• Chair Professor of Biomedical Engineering
• Director of Research Institute for Smart Ageing
• Director of Jockey Club Smart Ageing Hub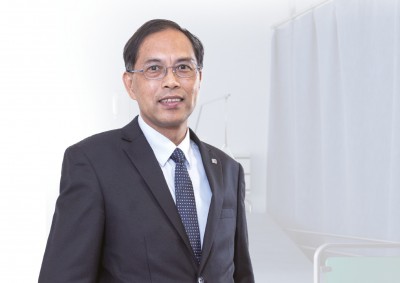 Professor Zheng has filed over 150 patents and was ranked among the world's top 2% most-cited scientists in rankings compiled by Stanford University in 2021 and 2022. Recently, he has been awarded the inaugural BOCHK Science and Technology Innovation Prize for his outstanding contributions in the field of "Life and Health".