PolyU and GL Ventures join hands to back promising tech startups
PolyU has been building partnerships with like-minded investors to nurture its high-potential research teams and startups. Recently, the University and GL Ventures signed a Memorandum of Understanding (MoU) to collaborate in promoting the integration of the University's scientific research with innovative industries. The collaboration will advance the transformation of the University's research outputs into practical applications and the commercialisation of its technological innovations, contributing to the innovation and technology (I&T) development of Hong Kong and the Greater Bay Area (GBA).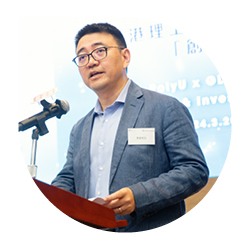 Addressing the signing ceremony, Mr Luke Li hailed PolyU as one of the world's top 100 universities. He said that GL Ventures, with its capability built from promoting the development of innovative industries for years, would forge closer ties with PolyU to explore new ideas and solutions in the areas of technological innovation and talent development for industries.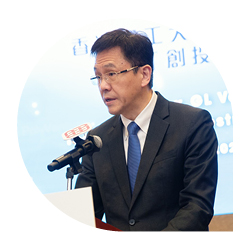 The partnership was welcomed by the HKSAR Government. Secretary for Innovation, Technology and Industry Professor Sun Dong commended the PolyU-GL Ventures partnership as a fine example of industry-university-research collaboration. Leveraging Hong Kong's distinct advantages of enjoying the strong support of the Nation and being closely connected to the world, the partnership seizes the golden opportunities offered by the GBA's development.
Connecting innovation with investment
After the MOU signing the University held the Innovation & Investment Connect Panel Session to bring together industry leaders and I&T stakeholders for a stimulating panel discussion titled "How to facilitate research commercialisation from policy maker and investor perspectives".
Mr Duncan Chiu, Legislative Council member, Technology and Innovation Constituency; Ms Yan Li; and Professor Zheng Yongping, PolyU's Chair Professor of Biomedical Engineering had an in-depth exchange about the opportunities and challenges of unlocking the University's scientific research for successful commercialisation.
Two thematic parallel sessions were also held with the participation of PolyU scholars and representatives from six investees of GL Ventures.
Parallel Thematic Session 1 - Opportunities in the Biomedical Innovation Ecosystem in Hong Kong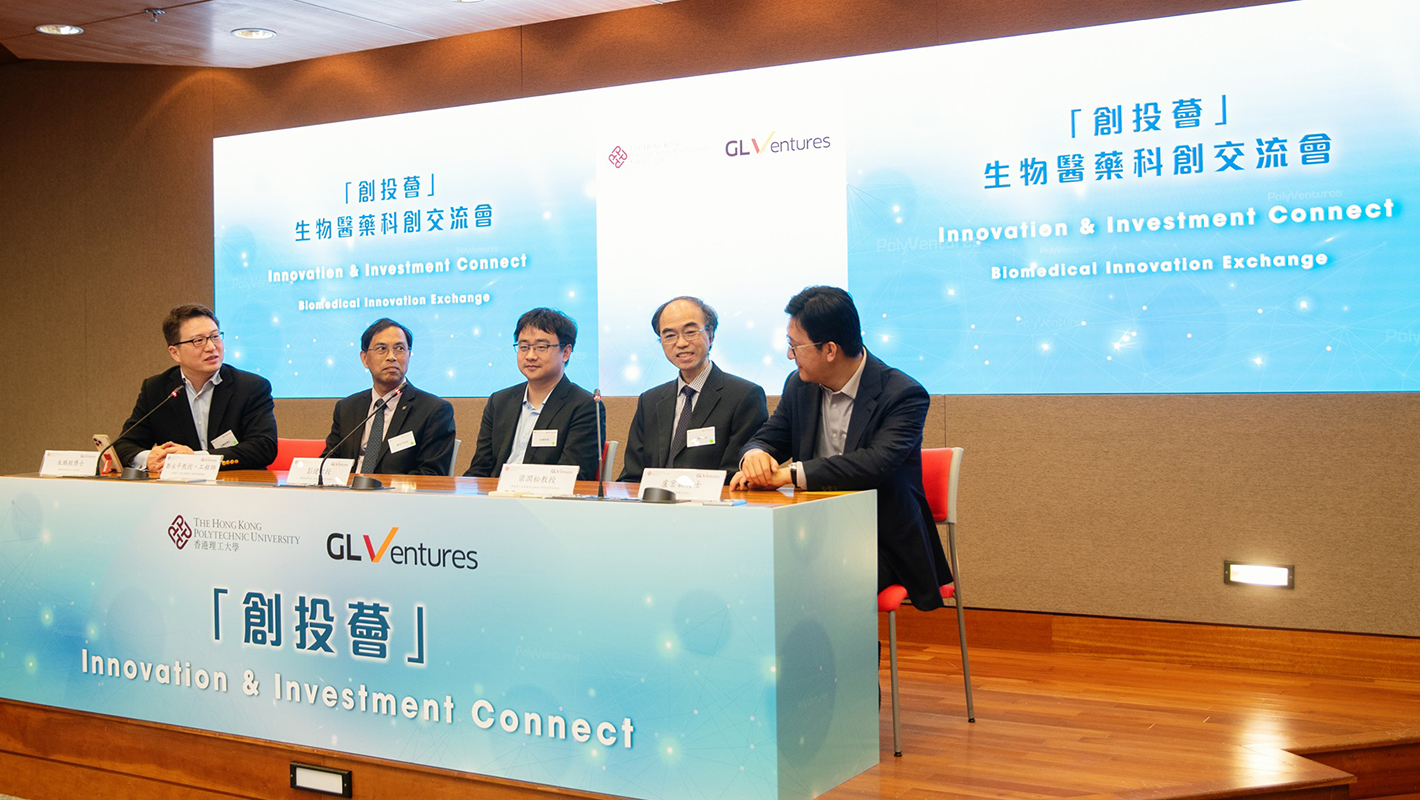 In this session, Professor Zheng Yongping (second from left) and Professor Thomas Leung from the Department of Applied Biology and Chemical Technology (second from right) were engaged in discussion with representatives from GL Ventures' investees including ATLATL, Helixon and Elpiscience.
Parallel Thematic Session 2 - Clean Energy Technologies and Related Industry Development Trends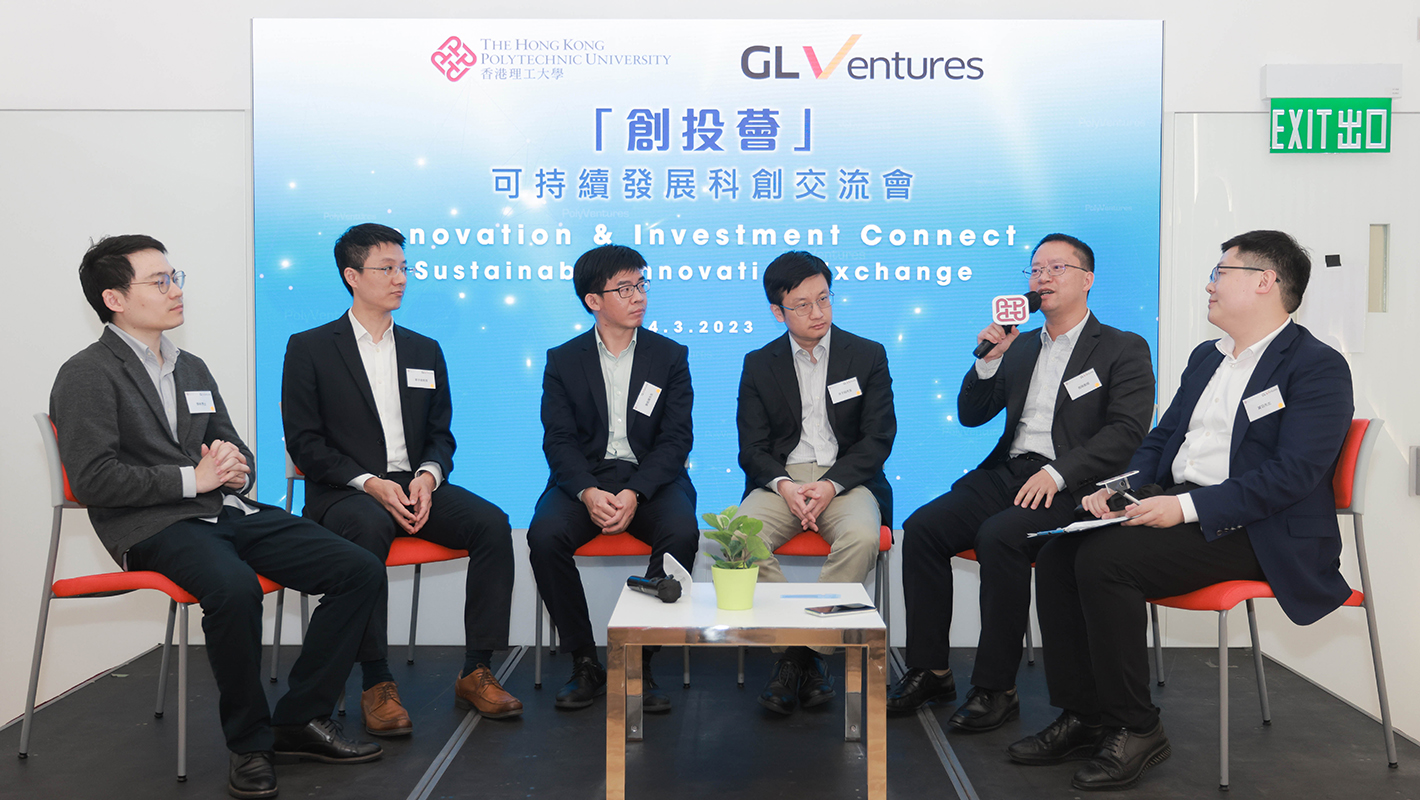 The other parallel session saw the participation of PolyU's Associate Dean (Faculty of Construction and Environment) from the Department of Building and Real Estate Professor Ni Meng (second from right) and Chair Professor of Soft Materials and Devices Professor Zheng Zijian (second from left). They exchanged views and ideas on sustainable innovation with Dr Bin Chen (first from left), Founder of HydroPro, a PolyU startup, and representatives from Yaoneng Technology, CIQTEK and CarbonStop, three other GL Ventures' investees.