Laying the foundation of future Smart Cities with Urban Informatics
The development of smart cities involves many sectors. However, a systematic guide to finding better compromised solutions between different sectors and stakeholders was missing. Professor Shi Wenzhong, Director of Otto Poon Charitable Foundation Smart Cities Research Institute (SCRI), Chair Professor of Geographical Information Science and Remote Sensing, and Otto Poon Charitable Foundation Professor in Urban Informatics, noticed this gap more than ten years ago. Together with his team in 2013, he proposed the study of urban informatics as the scientific and technological foundation for smart city development.
Leading a new interdisciplinary field for Smart Cities
"Urban informatics is an interdisciplinary approach integrating urban science, informatics, and geo-informatics for understanding, managing, and designing the city using systematic theories and methods based on new information technologies," Professor Shi explains. "It takes computation as the core to fuse the dynamics and interests of multiple sectors in the understanding of cites and investigation of urban solutions."
Leading the development of the discipline, Professor Shi and his team proposed a theoretical framework of urban informatics comprising five dimensions: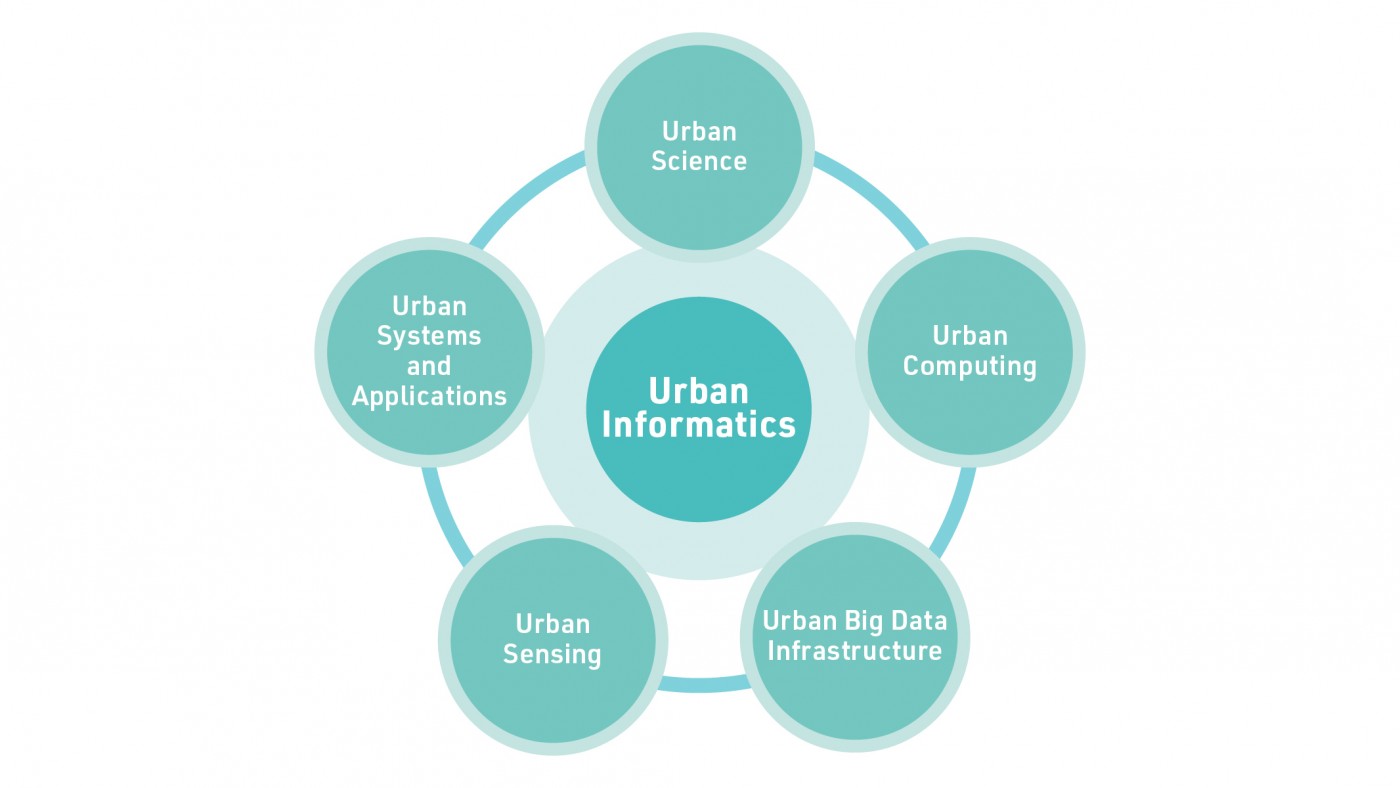 A theoretical framework of urban informatics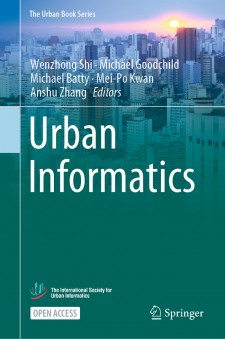 Following this framework, the PolyU team published a book titled Urban Informatics, which is the first to systematically introduce the principles, technologies, and smart cities applications of urban informatics. Bringing together over 140 authors from more than 40 world-leading research teams, including those from University College London (UCL) and Cambridge University, the book provides a comprehensive reference for researchers, professionals, and students in many disciplines related to smart cities, e.g., planning, geography, environment, transportation, and data science.
Since its release in April 2021, the book has attracted more than 1.32 million chapter downloads. Commented as a 'must-read book' and 'the best introduction book to the smart cities field (for planners)', Urban Informatics has been selected as a textbook or reference book by many universities worldwide, including MIT.
Leading global development of urban informatics research and education
As one of the world's pioneering universities to offer education in urban informatics, PolyU offers programmes available at the BSc, MSc and PhD levels. To further strengthen the academic development of urban informatics for smart cities, The International Society for Urban Informatics (ISUI) and international journal Urban Informatics (UI) were founded in 2019, with the full support of international leading scholars and Professor Shi serving as ISUI's founding President and UI's founding Editor-in-Chief. ISUI and UI have helped put the new discipline in the limelight among global academia. For example, the Webinar on Urban Informatics held by ISUI in March 2022 attracted around 200,000 participants from various livebroadcasting platforms.
Professor Shi and his team also held the International Conference on Urban Informatics (ICUI) twice in 2017 and 2019 respectively at PolyU with an overwhelming global response. The third ICUI and the Global Smart Cities Summit 2023, scheduled to take place in August 2023, are expected to attract worldwide attention to Hong Kong's world-leading position in smart cities.
Establishing the Smart Cities Research Institute (SCRI)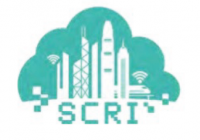 With a generous donation from the Otto Poon Charitable Foundation, PolyU established SCRI as a constituent unit of the PolyU Academy of Interdisciplinary Research (PAIR) in 2020. SCRI aims at becoming a global centre of excellence in urban informatics and a living smart cities laboratory for Hong Kong and the Guangdong-Hong Kong-Macao Greater Bay Area in order to promote smart cities development. In response to the Hong Kong Smart City Blueprint laid down by the HKSAR Government in 2017, SCRI sets its research focus on areas including:
High-Definition Map for Autonomous Driving

Connected Environment for Urban Mobility

Smart Positioning and Navigation

Ageing Mobility Analytics

Data Science for Smart Cities

Smart Environment

Smart Living

Smart Government

Smart Economy
SCRI has been bringing benefits to society with its research on smart cities applications. For example, based on its long-term advantage in the field of spatiotemporal big data analytics and smart cities software platform, a research team led by Professor Shi developed the extended Weighted Kernel Density Model for continuously predicting the COVID-19 symptom onset risk with an accuracy of more than 85%.
Another example of SCRI's societal contributions is a portable 3D Mobile Mapping System which can build spatial data infrastructure to provide accurate 3D maps to support smart city applications in many fields. The System is particularly suitable for use in high-density and complex urban landscapes, such as reconstruction and maintenance of old residential buildings.
SCRI is collaborating with some of the world's top universities including the University of Cambridge and UCL, as well as major industrial players to develop innovative solutions. Its innovations have received worldwide recognition and won three Gold Medals at the 2021 and 2023 Geneva International Exhibitions of Inventions and two prizes in the 2021 Smart 50 Awards.
SCRI aims at becoming a global centre of excellence in urban informatics and a living smart cities laboratory for Hong Kong and the GBA in order to promote smart cities development.
Professor Shi Wenzhong
Director of SCRI

Chair Professor of Geographical Information Science and Remote Sensing

Otto Poon Charitable Foundation Professor in Urban Informatics