A conversation with Associate Vice President (Global Partnerships) Professor Geoffrey Shen - Strengthening PolyU's Global Connections
Professor Geoffrey Shen has been a part of PolyU for 28 years and has achieved remarkable success in construction management and value management research, leading to his promotion to Chair Professor of Construction Management in 2008. He was appointed Director of Global Engagement in 2021 and Associate Vice President (Global Partnerships) in 2022. He is leading PolyU's efforts to build closer partnerships and networks worldwide, attracting the best students to study at PolyU, and preparing students to succeed and thrive in the global environment.
---
PolyU has been ranked sixth in the Times Higher Education "World's Most International Universities 2023" list. What are the factors contributing to this recognition?
This recognition reflects our longstanding commitment to internationalisation, which has been a key focus of PolyU for many years. We have established strong partnerships with more than 280 leading universities and institutions spanning 40 countries and regions for student exchange. Our emphasis on global engagement, along with our world-class research and teaching, has helped us attract talented students and faculty members from more than 70 countries and regions around the globe to study and work at PolyU, furthering academic exchanges and research collaborations.
What distinguishes PolyU from other universities around the world?
PolyU is an innovative world-class university with a unique blend of academic excellence, professional relevance, a global outlook, and a dedication to strong societal impact. We have more than 200 scholars who are ranked among the world's top 2% most-cited scientists in an index compiled by Stanford University. We are also highly ranked in a number of disciplines, such as hospitality and leisure management, architecture and built environment, and art and design. All of them are among the top 20 worldwide, according to the QS World University Rankings by Subject 2023.
What are PolyU's strategies and initiatives for building global partnerships and networks?
We proactively search and connect with world-class universities around the globe through academic collaborations and student exchange programmes. We also actively participate in global conferences on international education to maintain good relationships with existing partners and establish dialogues with potential partners to create more exchange opportunities for our students.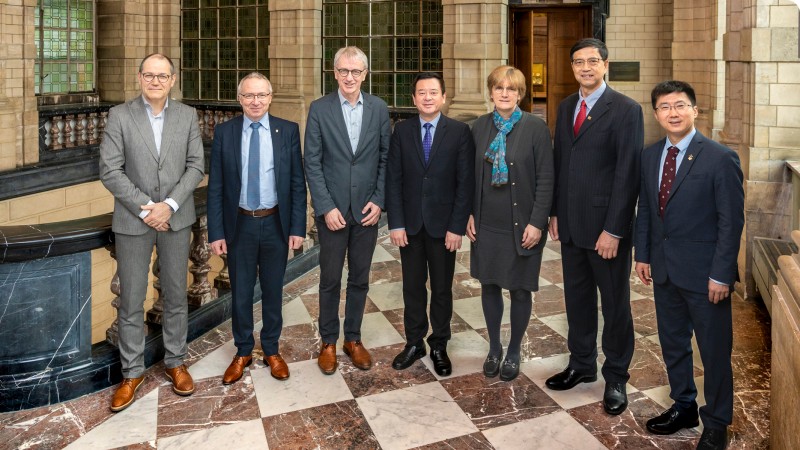 Prof. Geoffrey Shen (second from right) visited universities in Europe recently, with a view to further expanding the University's network of partnerships with tertiary and research institutions worldwide.
As Chair Professor of Construction Management, you have a keen interest in sustainable construction and are an expert in value management. You have led a large number of research projects. Can you share your recent projects and research expertise with us?
I have participated in several large research projects funded by the Research Grants Council, the Innovation and Technology Commission in Hong Kong, the Ministry of Science and Technology in China, and other external funding bodies such as the Qianhai Authority in Shenzhen. I also feel very proud that I led the submission of a research proposal under the Theme-based Research Scheme of the Research Grants Council this year to tackle grand challenge problems in the assembly process of modular integrated construction. It has been shortlisted for the selection interview in June.
As a certified Value Management Facilitator (List A), I have professionally designed and facilitated a large number of value management and related workshops for various large and complex construction projects. I have also received the Presidential Citation Award from SAVE International (the premier international society in advancing and promoting the Value Methodology) for my "energetic and engaging effort to enhance value research and education".
You completed your undergraduate studies at Tsinghua University in China and pursued your PhD studies in the UK. How did these experiences help shape your global outlook?
As an undergraduate student at Tsinghua University, I was privileged to attend lectures and seminars by famous professors locally and internationally. In addition, I was honoured and grateful to receive a scholarship in 1988 to pursue my PhD in the UK, which enabled me to gain significant exposure to different cultures and develop my global outlook.
What advice would you give to young people?
We hope our students will make the most of their opportunities at PolyU, realising their aspirations and full potential to develop themselves into future leaders who positively contribute to society.
Do you have a motto that you live by?
Be humble and be grateful.
What are your hobbies?
I like all sorts of sports, such as table tennis, hiking, and swimming. I was also a sports team member representing Tsinghua University in many competitions when I was a student. I also like to listen to classical music and sing songs when I have time.