Innovations that benefit society honoured with global awards
Research teams from The Hong Kong Polytechnic University (PolyU) have won three prestigious Innovation Awards in the areas of artificial intelligence (AI), materials science, and biotechnology at the TechConnect World Innovation Conference and Expo 2022. The event is the world's largest multi-sector conference for fostering the development and commercialisation of innovations. It is the sixth consecutive year that PolyU research teams have been honoured with the awards, and the University was the only higher education institution in Hong Kong that took home the awards this year.
AI-Enhanced Clinical Imaging Technique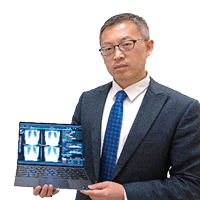 Researcher: Professor Cai Jing, Department of Health Technology and Informatics
Innovation: AI-Empowered Chest X-Ray and CT Quantitative Analysis for COVID-19 Patient Management
Novelty: The AI-enhanced techniques for COVID-19 clinical applications provide accurate and low-cost imaging solutions for the diagnosis, severity stratification and prognosis of COVID-19 patients.
Benefits: The innovation's high accessibility will benefit developing countries that do not have the necessary resources to accurately diagnose and monitor COVID-19.
Eco-friendly Moisture Absorbing Fabric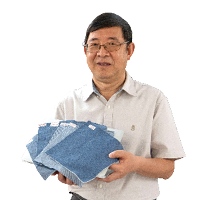 Researcher: Professor Hu Hong, School of Fashion and Textiles (formerly known as Institute of Textiles and Clothing)
Innovation: Moisture-Absorbing and Sweat-Releasing Multilayer Polylactic Acid Fabric and Manufacturing Technology
Novelty: By employing double weft knitting technology, the new multilayer fabric structure, which has improved moisture-absorbing and sweat-releasing properties, can be manufactured through a single process. It also has inherent biological resistance properties.
Benefits: The fabrication technique is simpler, cheaper, and more environment-friendly than alternatives. The fabric is ideal for use for school uniforms and sportswear, etc.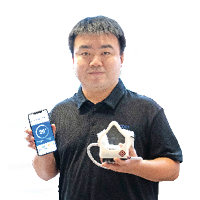 Automatic Temperature-Controllable Mask
Researcher: Dr Shou Dahua (right photo), Professor Fan Jintu and Dr Huang Guanghan, School of Fashion and Textiles
Innovation: Omni-Cool-Breath - a Smart Air-Conditioned Mask
Novelty: It is the first automatic temperature-controllable mask. It reduces the temperature by 12°C and humidity by 65% through a low voltage, innovative miniature thermoelectric cooling system.
Benefits: It offers revolutionary access to all-day cool breathing and thermal comfort under various activities and thermal conditions.