Harnessing artificial intelligence technology to fulfill key environmental goals
To foster interdisciplinary research, partnership with world-renowned scholars, and the transfer of technologies to stakeholders, PolyU has recently established the PolyU Academy for Interdisciplinary Research (PAIR), which comprises 16 research institutes and centres, each focusing on a distinct research area.
Two of the research institutes under PAIR, the Research Institute for Artificial Intelligence of Things (RIAIoT) and the Otto Poon Charitable Foundation Research Institute for Smart Energy (RISE), are working together to generate synergy to enhance buildings' energy efficiency by leveraging data analytics and artificial intelligence. The interdisciplinary research is poised to help reach the Government's goal of achieving carbon neutrality by 2050.
Buildings account for 90% of electricity consumption and 60% of carbon emissions in Hong Kong. Worldwide, over 40% of carbon emissions come from buildings. It is therefore imperative for efforts to be made to minimise energy consumption in built environments, through optimising building operations and energy management systems; and that is the focus of the joint research.
When AI meets smart energy
RISE draws on the strengths of researchers from different departments and focuses on developing innovative and sustainable energy technologies and solutions, such as smart buildings and advanced energy storage technologies. For more than a decade, it has deployed a solution called ̓IBmanager' at the International Commerce Centre (ICC), as well as other edifices in Hong Kong. By analysing the collected data to generate better control decisions for air systems and the chiller plant in the ICC building, IBmanager has helped it save more than 10GWh of energy, or about 18% of the total consumption, per year. The savings from the institute's other projects related to buildings ranged from 15% to 40% of the overall consumption.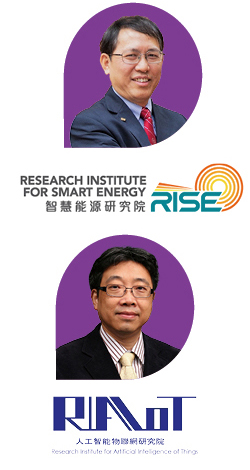 At RIAIoT, a cross-disciplinary platform developing next generation smart Internet of Things (IoT) empowered by AI, its researchers are seeking to develop novel building automation and energy management platform solutions that leverage and integrate different technologies, including IoT, edge computing, big data, and AI technologies, for smart buildings.
Director of RISE Professor Wang Shengwei, who is also Chair Professor of Building Energy and Automation at the Building Environment and Energy Engineering (BEEE) Department, is leading the project. Co-principal investigators from RIAIoT and RISE include Professor Jiannong Cao, Director of RIAIoT, Chair Professor of Distributed and Mobile Computing, and Otto Poon Charitable Foundation Professor in Data Science; Professor Wang Dan of the Department of Computing; and Professor Xiao Fu of BEEE.
A new generation of smart buildings
The system solution to be developed through the RISE and RIAIoT collaboration is an AIoT platform for enhancing buildings' energy efficiency. Researchers from RIAIoT are working on developing the big data analysis framework to collect data and deploying data-driven analytics solutions to generate insights and knowledge for real-time control and optimisation.
On the other hand, researchers from RISE are working on designing cross-system coordination and real-time optimal control strategies by combining their expertise on building and energy management with data-driven knowledge. The system will be deployed in parallel with existing building management systems, so that insights from the AIoT platform can be used to optimise the existing systems.
Professor Wang has no doubt that the combination of their specialised knowledge and advanced control, IT and data science technologies can bring forth a new generation of smart buildings capable of responding and adapting to changing operational conditions and requirements. This helps create a more comfortable, healthy, efficient and safe environment in a sustainable manner.
Strengths of AIoT-empowered smart buildings and energy management system:
Different types of devices and subsystems are connected for efficient interaction and collaboration.

Large amounts of building data are collected in a big data analysis framework.

Insights and knowledge from building data are generated for cross-system coordination and design of real-time optimal control strategies.

The health monitoring and diagnosis of energy systems and different components run automatically in complex building management system.

The system can help significantly reduce energy, management and maintenance costs.
Backing from multiple sectors
The RISE and RIAIoT collaboration is backed by several research and industry grants, including a HK$ 6.14million funding from the Research Grants Council (RGC)'s Collaborative Research Fund (CRF). Grants have also been received from the International Commerce Centre, MTR, hospitals, and multiple pharmaceutical factories.