Gathering donations and assistance to battle the epidemic
During the severe fifth wave of the COVID-19 pandemic in Hong Kong, PolyU alumni, staff and students have shown concern and support for the community. They have actively contributed ideas, raised funds and donated anti-epidemic gear, demonstrating their commitment in standing united with Hong Kong and PolyU in this challenging time.
RS students do their bit at hostels for persons with disabilities and the elderly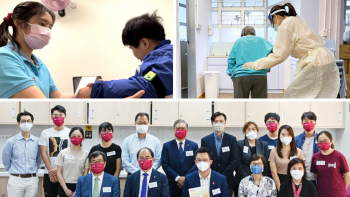 Fifty PolyU fourth-year students from the Occupational Therapy and Physiotherapy programmes, Department of Rehabilitation Sciences, have joined a scheme to support frontline healthcare services for the residents in hostels for the disabled and elderly homes. Backed by online support from 20 teachers in the Department, the students will serve those in need with professional rehabilitation services, assessing their health conditions and formulating suitable trainings to enhance the mobility of residents to prevent complications caused by prolonged inactivity.
Under Secretary for Labour and Welfare Mr Ho Kaiming visited one of the beneficiaries, and encouraged the students to leverage their professional skills to make contributions to society.
Anti-epidemic supplies for staff and elderly in nursing homes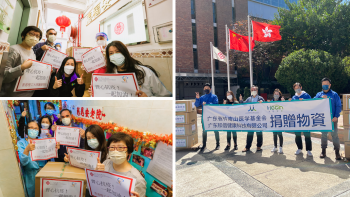 The School of Nursing has partnered with enthusiastic local and Mainland donors and partners to donate a series of anti-epidemic supplies to more than 200 elderly residential care homes. These supplies include 44,000 rapid antigen test kits, 200,000 sets of personal protective equipment consisting of face shields and N95 respirators, and 100 pulse oximeters
Alumnus provides expertise in handling large scale emergency work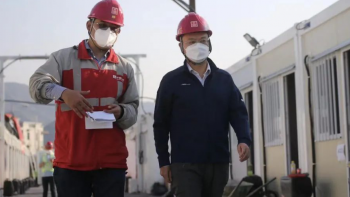 Alumnus Yang Ou, Executive Director and Chief Executive Officer of China Overseas Property Holdings Limited, is supporting Hong Kong's anti-epidemic initiatives. With solid experience in handling large scale emergency work, Dr Yang is participating in the management and operation of mobile field community isolation facilities, providing guidance on patient admissions, infection control measures, pain point assessments and more.
Joining hands with Anti-Coronavirus Link to distribute anti-epidemic packages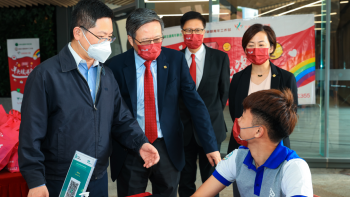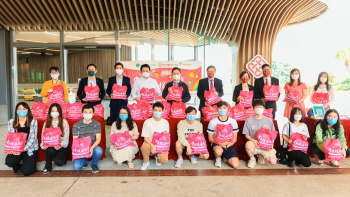 Mr Alfred Sit, Secretary for Innovation and Technology; Mr Kenneth Leung, Convenor of the Youth Anti- Coronavirus Link; Dr Johnny Ng, LegCo Member and alumnus of PolyU; Prof. Jin-Guang Teng, PolyU President; and a group of Hong Kong United Youth Association members and PolyU student volunteers distributed anti-epidemic packages at the campus to students in need.
The packages include masks, COVID-19 rapid antigen test kits, SIM cards, etc. Donated by some local and mainland organisations, the HK$150 million worth of anti-epidemic supplies were gathered and further distributed by the Link to young people, children and their families.
Students raise funds and donate anti-epidemic gear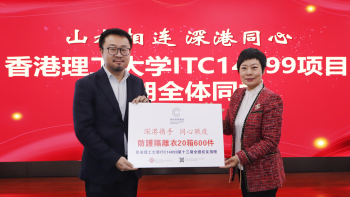 Mainland students from the Class of 2020, Master of Arts in Fashion and Textiles (Fashion Merchandising), raised funds to donate 600 sets of medical protective clothing to PolyU. The supplies were delivered to Hong Kong with the support of the Shenzhen Charity Federation.
Alumni donate medical protection coveralls
| | |
| --- | --- |
| To support Hong Kong and PolyU to fight against the pandemic, the PolyU Pearl River Delta Alumni Network has donated 1,000 medical protection coveralls to the University, exemplifying the power of unity across geographies. | |
| Graduates from the 2013 chort of the Master in Occupational Therapy programme (China) have provided scented sachets for the Department of Rehabilitation Sciences, helping them improve their working environment and protecting them from COVID-19. | |
| | Additionally, the Shanghai Alumni Network and the School of Hotel and Tourism Management Mainland Alumni Network have donated rapid antigen test kits, and alumnus Jack Chan has donated Chinese medicine "Lianhua Qingwen Jiaonang" to his alma mater. |
The care and support we have shown to each other in these challenging times are how we will beat COVID-19.