New scheme to support innovation by young scholars
PolyU is committed to providing support to its scholars and scientists in their pursuit of academic and research excellence. The University has launched the Endowed Young Scholars Scheme, in which it partners with donors to support promising early-career academics at Associate Professor or Assistant Professor level.
The University matches the contributions made by donors and sets up an endowed fund, generating annual funding to support appointees' research and scholarly activities. The fund can serve as seed funding to enable them to pursue ideas with the potential to have a positive impact on society.
After a rigorous selection process, three outstanding young scholars have been appointed under the Scheme.
Tsui Tack Kong Young Scholar in Civil Engineering
Dr Zhou Chao (left), Assistant Professor, Department of Civil and Environmental Engineering
Donor: Ir Tsui Tack-kong (right), Director, T.K. Tsui & Associates Ltd

The Endowed Young Scholars Scheme enables me and my team to engage in more ground-breaking research in civil engineering. Such outputs contribute to the improved safety and performance of infrastructure, which is vital to the smooth operation of any modern city.
- Dr Zhou Chao
PolyU alumnus Ir Tsui is a long-time supporter of his alma mater on multiple fronts. He is a Founding Member of the PolyU Development Foundation and a member of the Governing Committee of the PolyU Foundation. With more than 60 years' experience in the construction field, Ir Tsui serves as the Senior Advisor to the President on various campus development projects.
Ir Tsui said: "I support PolyU in its pursuit to be a leading university which offers world-class research and education, and that implies the importance of nurturing outstanding young scholars like Dr Zhou. Giving them sustainable support and our trust will be the key to success. I hope my contribution can make a difference to the University and the industry."
Dr Zhou has a keen research interest in civil engineering, including fundamental thermo-hydromechanical behaviour of saturated and unsaturated soils, theoretical constitutive modelling of soils, energy foundation engineering and pavement engineering. Having published more than 50 SCI (Science Citation Index) papers in leading international journals, he was awarded the Excellent Young Scientists Fund (Hong Kong and Macau) by the Natural Science Foundation of China, and the Bright Spark Lecture Award by the International Society for Soil Mechanics and Geotechnical Engineering.
--
The University has also established Limin Endowed Young Scholar positions with a donation from PolyU Technology and Consultancy Company Limited, its strategic professional service arm that provides consultancy and technology transfer services. The Chinese characters "Limin"( 利民), literally "to benefit people", are taken from PolyU's motto "To learn and to apply, for the benefit of mankind 開物成務 勵學利民". The naming thus reflects the objective to benefit society through knowledge transfer.
Limin Young Scholar in Aerospace Navigation
Dr Hsu Li-ta, Associate Professor, Department of Aeronautical and Aviation Engineering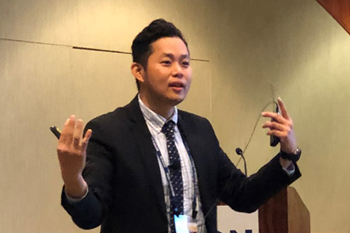 Dr Hsu has long been researching aerospace navigation and has undertaken many R&D projects on three-dimensional Global Navigation Satellite System (GNSS) positioning for smartphones and intelligent vehicles. His research interests include GNSS real-time kinematic positioning and ways to improve GNSS performance under challenging reception conditions. He has made significant contributions to the localisation and navigation of unmanned autonomous systems for drones and unmanned vehicles in smart cities with the integration of multiple sensors.
I am deeply honoured by this appointment. I will continue to strive for research excellence, creating impactful and translational benefits for the betterment of society, the Nation and the world.
- Dr Hsu Li-ta
Limin Young Scholar in Medical Laboratory Science
Dr Gilman Siu, Associate Professor, Department of Health Technology and Informatics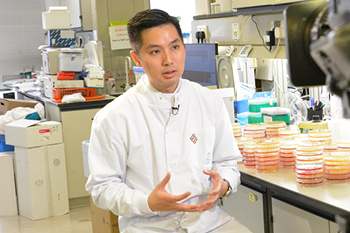 Dr Siu's work in rapid sequencing has helped to identify transmission chains of COVID-19 locally and provided scientific support for the Government to formulate anti-pandemic measures. Dr Siu has been actively conducting research in microbial genomics, encompassing domains such as advanced molecular testing for rapid diagnosis of infectious diseases; genetic mechanisms for antimicrobial resistance and virulence in highly infectious bacteria and viruses; and molecular epidemiology for newly emerging infectious agents.
The accolade of Endowed Young Scholar is the greatest honour to me ever. I regarded my work on COVID-19 as the duty of a healthcare professional and an academic during the pandemic. I am glad that my research is helpful in establishing health policies and infection control measures.
- Dr Gilman Siu