GBA PolyVentures 2025 – Empowering the next generation of entrepreneurs and innovators
As one of the top 100 universities in the world, PolyU strives to play a part in supporting Hong Kong's development into an international innovation and technology hub. The University has rolled out its "GBA PolyVentures 2025" initiative in partnership with industries and investors to help translate PolyU's research outcomes into real-world impact. Specifically, the initiative aims to promote the development of research and entrepreneurship in the GBA and to nurture future research talent to address societal needs. It will provide comprehensive support to startups at different stages from education and incubation, to accelerating and strengthening their development.

The goal is to convert more than 300 seed stage innovation startups into at least 20 deep tech ventures each year, and to nurture 25 impactful scale-ups in the GBA in the next few years through collaboration with strategic partners and various supporting initiatives.

To start the initiative, the University has signed memoranda of understanding (MoU) with three strategic partners, namely Everbright Limited, StartupHK Fund and Hai Robotics.
According to the MoU, PolyU and Everbright Limited will help accelerate the development of startups through matching technology with industry needs and investing resources in promising research projects. The partners will also jointly roll out an internship programme to nurture innovation talent.
PolyU and StartupHK Fund will co-invest in PolyU's startups, helping them to enter the GBA market, and launch initiatives to strengthen entrepreneurship education.

PolyU and Hai Robotics will explore establishing a joint innovation centre to promote PolyU's education in innovation and entrepreneurship, nurture talent in "New Engineering" and conduct applied research in robotics-related topics.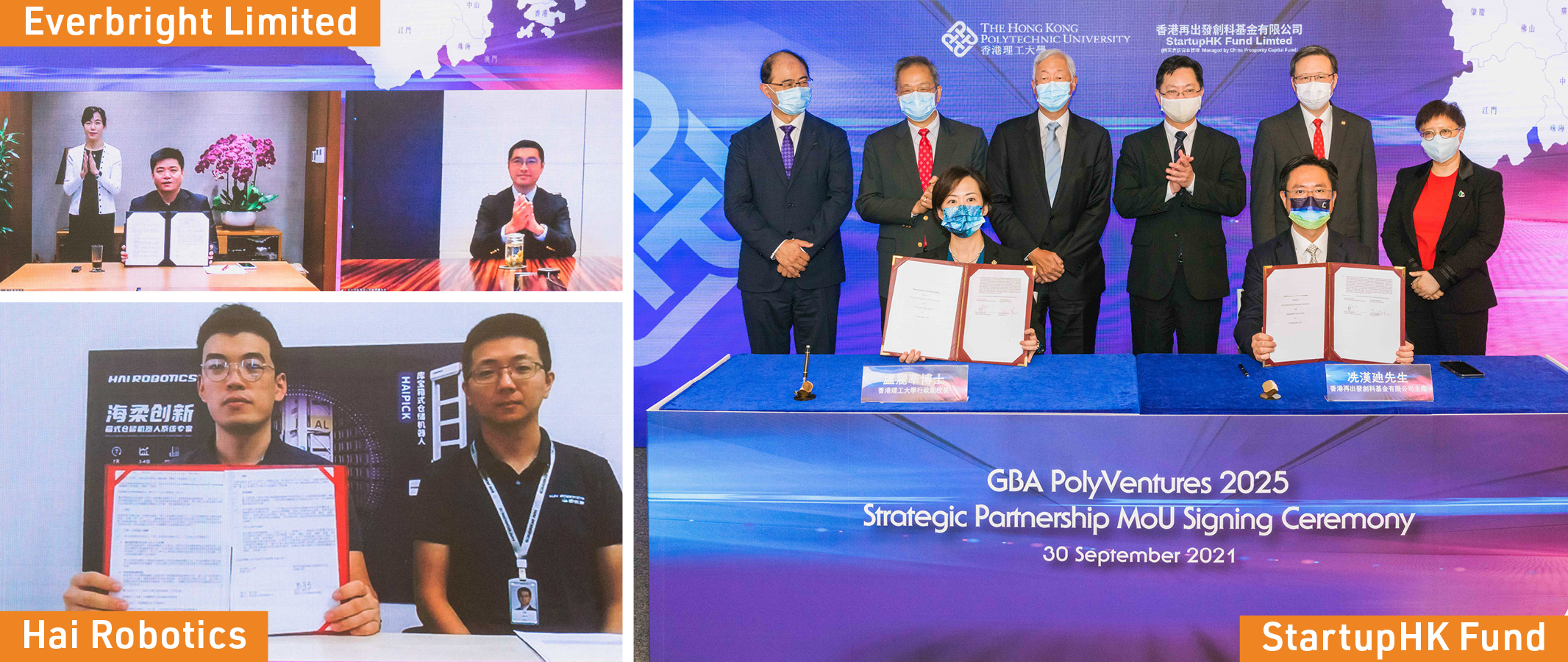 PolyU signed the GBA PolyVentures 2025 Strategic Partnership MoUs with three partners: (1) Everbright Limited represented by Mr Wang Yizhe, Managing Director (second from left); (2) StartupHK Fund represented by Mr Hendrick Sin, Chairman (front right); and (3) Hai Robotics Co., Limited represented by Mr Richie Chen, CEO and Founder (left).
A vision to nurture impactful scale-ups
Addressing the signing ceremony, the Secretary for Innovation and Technology of the HKSAR Government, Mr Alfred Sit, commended the GBA PolyVentures 2025 blueprint, adding that deepening collaboration with the Mainland, active participation in the development of the GBA and integration into the Nation's development were pivotal to future innovation and technology development in Hong Kong.
Dr Lawrence Li Kwok-chang, PolyU's Deputy Council Chairman, said: "The signing of the MoUs between PolyU and its strategic partners echoes the needs of our Nation and leverages the strengths of PolyU and other parties in working together for the development of innovation and technology in the GBA."
PolyU-HKSTP joint GBA entrepreneurship programme nurtures technopreneurs
PolyU places a high emphasis on nurturing technology ventures. The University has signed another MoU with the Hong Kong Science and Technology Parks Corporation (HKSTP) to launch pre-incubation at university through the PolyU Micro Fund Scheme 2.0, which provides six months of entrepreneurship training to help entrepreneurial projects enter HKSTP's startup incubation programme.
The collaboration will leverage PolyU's expertise in entrepreneurship education and knowledge transfer as well as HKSTP's ideation and pre-incubation framework to provide full-strength support to students and graduates to accelerate the development of their ventures at the startup stage.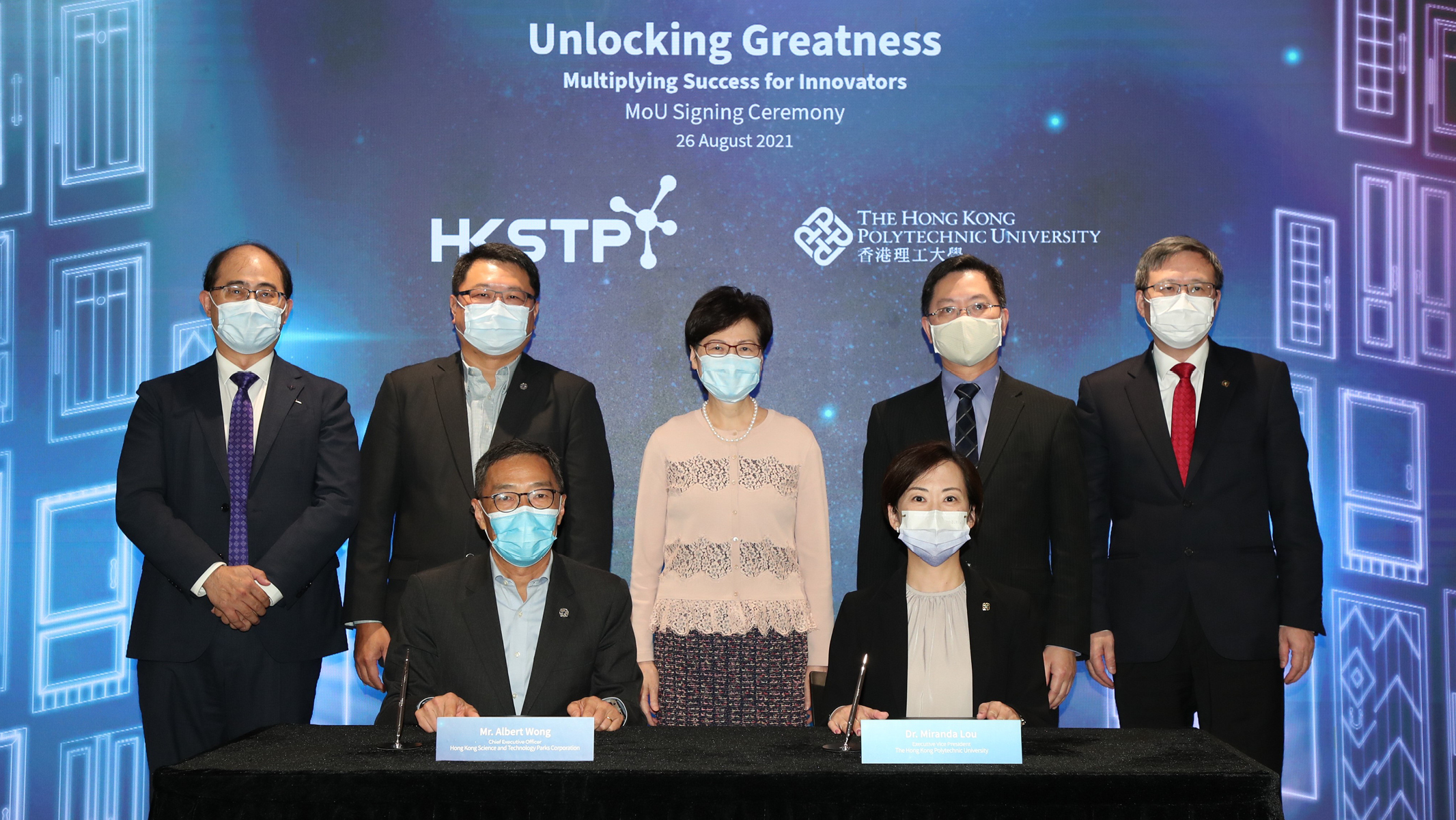 Dr Miranda Lou, Executive Vice President of PolyU (front row, right), and Mr Albert Wong, CEO of HKSTP (front row, left) signed an MOU to form a joint GBA-focused entrepreneurship programme to nurture young R&D talent to become tech entrepreneurs. The signing was witnessed by Mrs Carrie Lam, Chief Executive of HKSAR (back row, middle); Mr Alfred Sit, Secretary for Innovation and Technology (back row, second from right); Dr Sunny Chai, Chairman of HKSTP (back row, second from left); Professor Jin-Guang Teng, President of PolyU (back row, right) and Professor Wing-tak Wong, Deputy President and Provost of PolyU (back row, left).
Chief Executive of the HKSAR Mrs Carrie Lam, who witnessed the signing, said: "Talent is a key element in the success of innovation and technology. I encourage different sectors of the community to join hands with the HKSAR Government to seize the valuable opportunities to contribute to the development of our country into a science and technology power."
GBA Maker Express programme
The partnership between PolyU and HKSTP also comprises the GBA Maker Express programme. It combines the PolyU Maker Fund scheme and the HKSTP iDM-Square hardware acceleration platform to help Hong Kong's young hardware innovators accelerate their product development from ideas to market-ready products.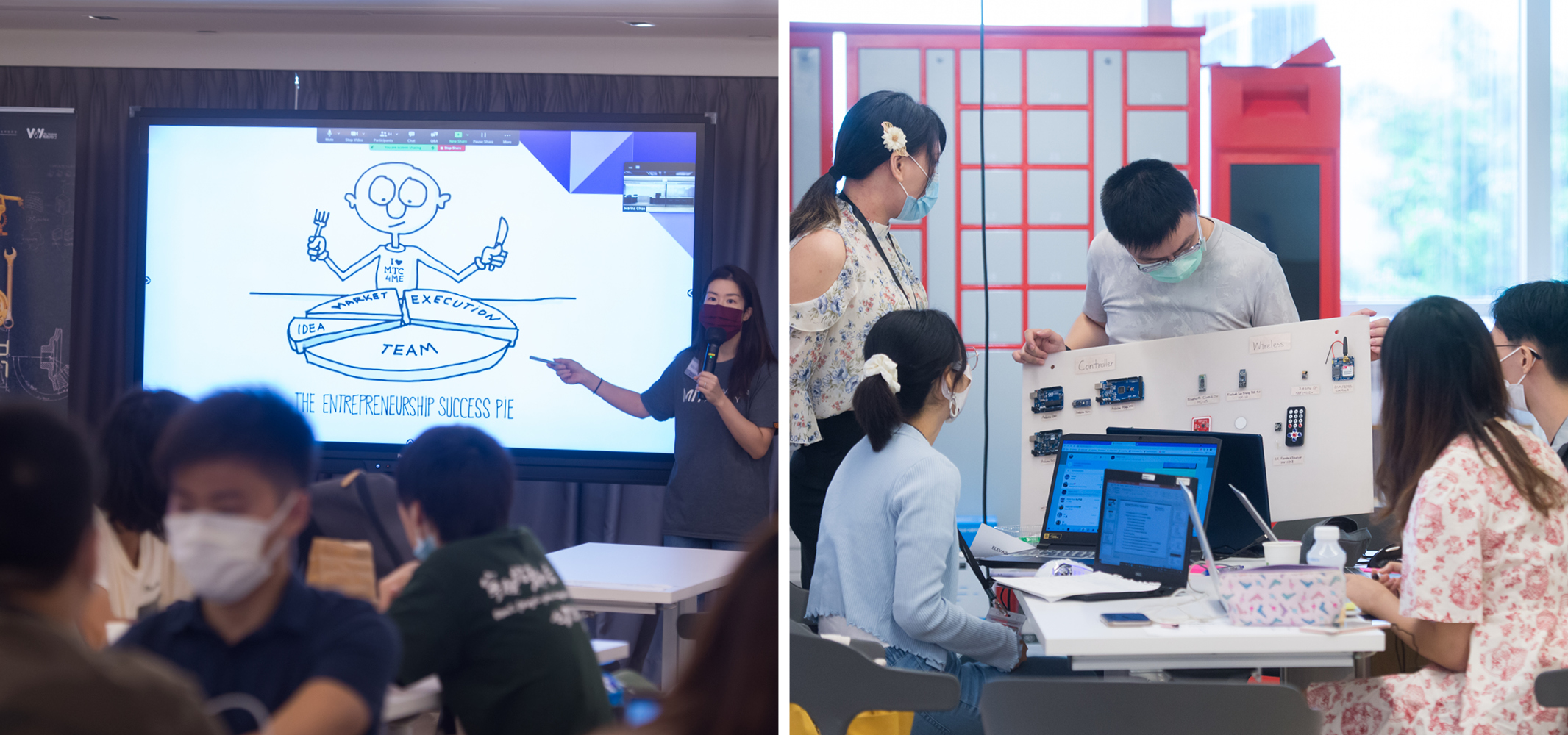 Launched in 2021, PolyU Maker Fund aims to help young people in Hong Kong embrace hardware startup opportunities in the GBA.
GBA Startup PostDoc programme
HKSTP will also collaborate with PolyU to deepen the support for PhD graduates in PolyU's GBA Startup PostDoc programme, which is targeted at PhD graduates who want to start their own businesses. Under dual academic and industrial mentorship, participants can simultaneously continue with their research and start their own businesses for the commercialisation of their research outputs.

Mr Albert Wong, CEO of HKSTP, said: "HKSTP's partnership with PolyU is a signal of our commitment to turning Hong Kong's world-class academic and R&D talent into future generations of pioneering entrepreneurs and innovators."
Enhancing students' innovation capabilities
PolyU will implement departmental scheme-based admissions from the 2022/23 academic year onwards, and will embed the elements of "Artificial Intelligence and Data Analysis" and "Innovation and Entrepreneurship" into all undergraduate programmes. In addition, PolyU has launched the Undergraduate Research and Innovation Scheme to provide opportunities for undergraduate students to conduct scientific research under the supervision of PolyU's professors. Participating students will be automatically admitted to PolyU's College of Undergraduate Researchers and Innovators and be given priority in the allocation of hostel space at the University's Residential College. Both colleges are newly established to encourage undergraduate students to undertake research.
A decade's commitment to entrepreneurship
PolyU is known to be a pioneer among local institutions in promoting innovation and entrepreneurship, with the launch of the PolyU Micro Fund in 2011.
Over the years, PolyU has further established various schemes, including the Tech Launchpad Fund, the Entrepreneurship Investment Fund, and the Lab-to-market Validation Programme, to support academic and student-led startups that aim to commercialise PolyU's technologies for societal benefits.