PolyU scientist conducts genomic sequencing to help limit the spread of COVID-19
The rapid sequencing of COVID-19 cases has played an important role in identifying and stopping transmission chains in Hong Kong. The work of Dr Gilman Siu Kit-hang, Associate Professor of PolyU's Department of Health Technology and Informatics, and his team has helped limit the spread of COVID-19 locally, and provided scientific support for the Government's anti-pandemic measures. PolyU recently named Dr Siu as "Limin Endowed Young Scholar in Medical Laboratory Science" for his contribution to society through research excellence.
Identifying transmission chains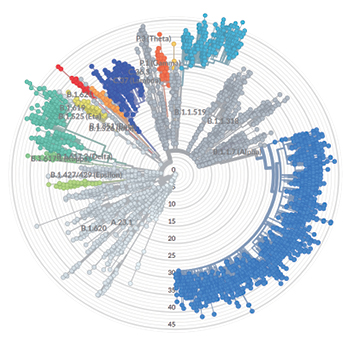 During the first wave of COVID-19, Dr Siu used whole viral genome sequencing to identify the source patient of the Buddha worship hall super-spreader event. His work, which was published in the journal Emerging Infectious Diseases, demonstrated for the first time that an asymptomatic carrier of SARS-CoV-2 could be the source of a community outbreak. It highlighted the importance of testing all close contacts of a COVID-19 case, regardless of whether they had symptoms.
In April 2021, Dr Siu used phylogenomic analysis to identify the transmission link between Filipino domestic helpers and an Indian businessman who had travelled from Dubai and tested positive for a variant of concern. His work enabled the Centre for Health Protection (CHP), under the Department of Health, HKSAR Government, to trace the entire transmission chain and their close contacts, preventing the further spread of this variant in the community.
Later in June 2021, Dr Siu's research team uncovered the first local case of the Delta variant and showed the case was likely infected by inbound travellers from Indonesia. The team reported its sequencing analysis to CHP, enabling it to identify the source of infection.
Closing loopholes
In the summer of 2020, Dr Siu identified a new SARS-CoV-2 lineage in multiple local cases with a viral genome identical to that found in aircrew and sailors, who were exempt from compulsory quarantine. The Government subsequently suspended the practice of allowing unrestricted crew changes in Hong Kong.
During Hong Kong's fourth wave of COVID-19, Dr Siu's research showed that locally acquired cases were phylogenetically more closely related to cases imported from Nepal in September and October 2020. His findings, which were published in Emerging Microbes & Infections, highlighted flaws in hotel quarantine arrangements, under which travellers could still receive visitors. The Government later adopted the policy that inbound travellers should be quarantined at designated hotels and not be allowed visitors.
Investigating hospital outbreaks
In December 2020, the United Christian Hospital experienced a large outbreak of SARS-CoV-2 in a palliative care and medicine ward. Later in January 2021, two healthcare workers from North District Hospital tested positive after taking care of COVID-19 patients. In both cases, Dr Siu conducted genome analysis, enabling the hospitals to trace the transmission chain and prevent further cases. The findings of the two studies were published in Clinical Infectious Diseases and the Journal of Hospital Infection respectively.