President's Awards For Outstanding Achievement
PolyU recognises the distinguished accomplishments and contributions of staff members through the President's Awards for Outstanding Achievement. Categorised into individual and team awards, the accolades are given in the areas of teaching, research and scholarly activities, and services. For the year 2019/20, the awardees are:
Individual Awards – Teaching
Individual Awards – Research and Scholarly Activities
Team Awards – Services (Non-academic staff)
Congratulations to all the award recipients! The awards are fitting recognitions of their dedication and professionalism, which exemplify the PolyU spirit.
Teaching
Dr Shirley Ngai - Growing step by step with students
Dr Shirley Ngai is keen to explore and develop new teaching methods and enrich curricula to address physiotherapy students' needs and enhance their learning experience. The innovative learner-centred pedagogies she has adopted include providing onsite support to students in clinical placements through a mobile app, using interactive games in class, developing online faculty-led and student-led learning modules, and setting up a Massive Open Online Course entitled "Interdisciplinary management in cardiopulmonary health and disease".
Most notably, she has incorporated the Computerised Medical Simulation Flipped Classroom into the teaching of cardiopulmonary physiotherapy. It enables students to apply their knowledge to analyse the changing conditions of simulated patients and make on-the-spot decisions, bridging the gap between classroom learning and real clinical practice.
Currently, Dr Ngai is working on a funded project to develop online resources and guiding principles for clinical educators, who devise clinical training and conduct skill assessments for physiotherapy students, to ensure fair and consistent assessments for students.
I hope to accompany my students in their learning journeys, addressing their needs, standing by them and growing with them.
Dr Ngai also observed that physiotherapy students tended to focus on acquiring professional knowledge and competency but often overlooked the importance of developing soft skills. To fill this gap, she developed the student-led professional competency case reasoning modules to enhance their communication skills, and a cultural competency module to prepare them to work with healthcare professionals, patients and caregivers from different cultures.
Living by the motto "growing step by step with students", Dr Ngai said: "I hope to accompany my students in their learning journeys, addressing their needs, standing by them and growing with them."
She has received multiple awards, including the 2016 UGC Teaching Award (Early Career Faculty Member) from the University Grants Committee (UGC) and the 2018 National Teaching Achievement Award (Higher Education) (Second Class Prize) from the Ministry of Education of China.
"I am grateful to PolyU, the Department of Rehabilitation Sciences, colleagues and students for their trust and support in my efforts to explore new pedagogies," Dr Ngai said.
Dr Fridolin Ting - Fostering engagement and enjoyment in learning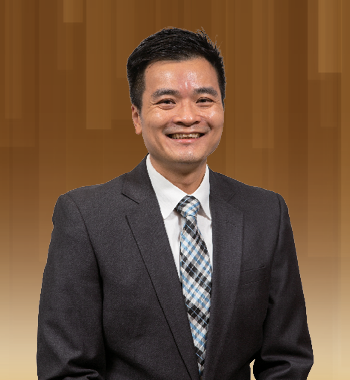 Dr Fridolin Ting is committed to advancing STEM (science, technology, engineering and mathematics) education by providing an environment in which students are engaged and enjoy learning. He uses evidence-based, active learning pedagogies supported by mobile applications to create this environment.
Dr Ting led a PolyU team, in collaboration with Hong Kong Baptist University, the Chinese University of Hong Kong and the University of Hong Kong, to pursue a project on "Developing Active Learning Pedagogies and Mobile Applications in University STEM Education (PALMS)". Funded by UGC and involving more than 40 academics, PALMS developed a range of active teaching methods and corresponding mobile solutions.
As part of the project, Dr Ting led a team to create YoTeach!, a web-based chat platform enabling students to ask questions or make comments during lectures; and Badaboom!, a student response system with game elements. He also led a team to create Cell Game, an online multiplayer competitive survival game offering learning through entertainment; and Collaborative Problem-Based Learning and Peer Assessment using interactive online whiteboards.
I am truly humbled, honoured and grateful to have received the President's Award, which would not have been possible without the support of PolyU's senior administrators and my colleagues.
Best practices in active learning developed by PALMS have been applied by about 700 universities, schools and corporations in 280 cities in more than 70 countries. The team has won 10 international awards, including the Gold Award of Exemplary Teaching and Learning Award presented by eLearning Forum Asia in 2020, and the Silver Award in the category of Natural Sciences Discipline Awards at the Wharton-QS Reimagine Education Awards in London in 2019.
Dr Ting said, "It has been both a humbling and an adventurous road on which our PALMS team has travelled, resulting in recognition by these prestigious international awards." He added that it is the team's goal to improve students' learning through active teaching methods supported by technology.
Among his achievements, Dr Ting won the "Best Teacher Award" in the Department of Applied Mathematics in 2014, received the Silver Award in EdTech Leader in Asia (Tertiary Category) at the EduTech Asia Awards in 2019, and was named the winner of "School Leader Setting a Trend" by EdTech Digest in 2020.
Research and Scholarly Activities
Dr Chai Yang – Delving into low-dimensional material research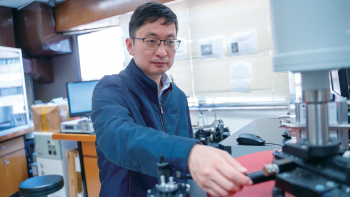 Dr Chai Yang's research focuses on low-dimensional materials for electronic and energy devices. A low-dimensional material has at least one of its dimensions on the nanoscale, displaying unexpected and sometimes extraordinary electronic, optical, thermal, mechanical and chemical properties. Recent advances in this research field have paved the way for revolutionary applications in electronics, photonics, biomedical, aviation, pollution control, and other areas.
Together with his team, Dr Chai has developed an optoelectronic device that mimics the functions of human retina in image sensing, memorisation and pre-processing. Dr Chai's innovation offers higher image recognition rates and processing efficiency than existing artificial visual systems. It has great potential to be used in a neuromorphic visual system to enhance the efficient processing of high volumes of dynamic visual information.
I am honoured and humbled to receive the PolyU President's Award. I am immensely grateful to all my colleagues, group members and collaborators, and hope to make further progress in research.
A research paper on the device was published in Nature Nanotechnology in 2019. Dr Chai, who joined PolyU in 2012, has published around 100 papers in academic journals including Nature Electronics, Nature Communications, Science Advances, and Advanced Materials, attracting significant attention from the scientific community. Some of his papers have been highly-cited and were highlighted in the media.
Dr Chai has also secured a total of HK$6.38 million of external research funding, including from the Germany/Hong Kong Joint Research Scheme facilitated by the Research Grants Council, the National Natural Science Foundation of China, and the China Electronic Technology Corporation.
He has been an active Distinguished Lecturer for the Electron Devices Society of the Institute of Electrical and Electronics Engineers (IEEE) since 2016. He is currently Vice President of the Physical Society of Hong Kong, as well as the chair of the IEEE Hong Kong Joint Chapter of Electron Devices and Solid- State Circuits. He also has extensive experience serving as a guest editor and reviewer for highlyregarded journals and as chair or co-chair at international conferences.
Dr Chai studied at Stanford University and the University of Illinois at Urbana-Champaign before he joined PolyU as Assistant Professor in 2012. He was promoted to Associate Professor in 2018.
Professor Jin Wei – Leading fibre-optic gas sensing research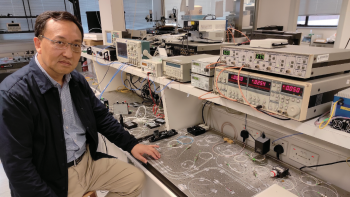 Professor Jin Wei has a wide range of research interests, including photonic crystal fibre devices, optical fibre sensors, fibre lasers and amplifiers, and optical gas detectors, as well as monitoring electrical power transformers, and civil and mechanical structures.
A pioneer and authority in microstructured optical fibre gas sensing, Professor Jin's research has focused on practical applications, such as harmful gas detection, for more than 20 years. In 2014, he and his research team developed a microstructured hollowcore fibre photothermal spectroscopic technique, which enhances the sensitivity and the dynamic range of optical fibre gas sensors by three orders of magnitude. The results were published in Nature Communications.
Careful observation plus some imagination and reasoning can bring you closer to the truth.
Recently, Professor Jin and his research team have developed an even more advanced technique, namely Mode-phase-difference Photothermal Spectroscopy, which significantly outperforms state-of-the-art electrochemical and semiconductor gas sensors. His impressive work was published in Nature Communications with a review commending his method as being "a landmark technique in fibre-optic gas sensing". The novel technique was selected by the Chinese Laser Press, Optical Society of China (OSC) as one of the 2020 China's Top 10 Optical Breakthroughs. His work enables multi-component gas detection with a single sensing element and paves the way for ultraprecision gas sensing for various applications. His two recent projects are related to applications for harmful gas monitoring in space stations and breath analysis for medical diagnosis.
For his optical sensor research, Professor Jin has secured total funding of more than HK$50 million. He has received much recognition for his research achievements, including a Distinguished Young Scholar Award (Category B) from the National Science Foundation of China in 2006, a Chang Jiang Chair Professorship from the Ministry of Education of China in 2009, and the 2018 Shenzhen Science and Technology Awards - Natural Science (First Class Prize).
Professor Jin has authored or co-authored two books, 10 book chapters and 300 journal papers, among many other scholarly publications. His work has been cited more than 7,000 times with an h-index of 45 (SCI). He is a fellow of The Optical Society and a director of the OSC. He received his PhD in Optoelectronics from the University of Strathclyde, UK, and joined PolyU as Assistant Professor in 1996. He was promoted to Associate Professor in 1998 and Professor in 2003.
Services
Speedy development of 3D printed eye visors and face shields to meet urgent needs during the pandemic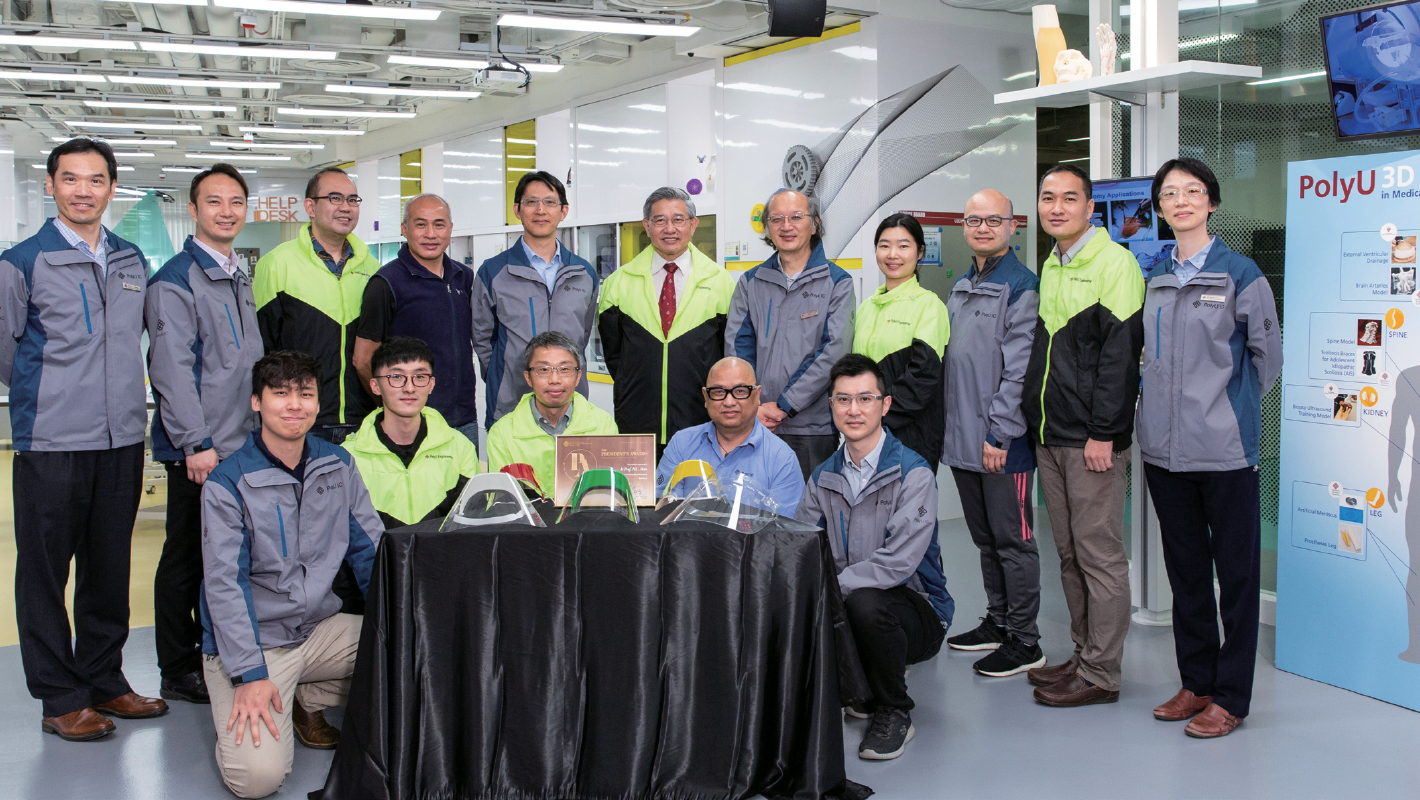 The U3DP and IC team, under the leadership of Professor H. C. Man (back row, middle), quickly designed and produced eye visors and face shields to help the community combat COVID-19.
Soon after the coronavirus was first confirmed to have spread to Hong Kong, the Queen Elizabeth Hospital (QEH) and the Hospital Authority (HA) approached PolyU to explore solutions for the serious shortage of eye visors and face shields for frontline medical staff.
In view of the urgency, PolyU's University Research Facility in 3D Printing (U3DP), Hong Kong's largest research centre in 3D printing in terms of the range and quantity of facilities, and Industrial Centre (IC) immediately joined hands to take on the challenge. In just 10 days, they fabricated 500 reusable eye visor frames, and 200 single-use frames for QEH, using a highly resistant material.
At the same time, Professor H. C. Man, Cheng Yick-chi Chair Professor in Manufacturing Engineering, Dean of Faculty of Engineering and Director of U3DP, swiftly put together a team to design a face shield. Ir Sidney Wong, Engineering Manager (IC Additive Manufacturing Stream), coordinated the work between U3DP and IC, while Mr Tab Cheng, Senior Engineer at U3DP, took the lead in the design work. The team took six days to finalise the design after six iterations. The design leveraged PolyU School of Design's study in the head sizes of Asians to design a face shield that would better fit Chinese wearers.
Making use of all of the 3D printers on campus, the team worked round the clock for 11 days to produce more than 1,800 face shields, providing enough for not only the HA, but also the Fire Services Department and the Government Logistics Department. By the end of February, a local manufacturer was engaged for the mass production of the PolyU face shield, ensuring the HA had a daily supply of 10,000 pieces, which rose to 30,000 by the end of March.
In preparation for the long battle against COVID-19, the team also designed and produced two types of low-cost reusable face shields, namely "General Use Face Shield" and "Extra Protection Face Shield", for the PolyU community, non-profit organisations and the public. With the support of a local manufacturer, free samples were distributed to different NGOs, including Po Leung Kuk, Helping Hand, and St James's Settlement. The team's work also led to enquiries from 12 overseas parties seeking technical advice and production assistance.
The U3DP & IC team
From U3DP
Ir Professor H. C. Man (team leader)
Director of U3DP
Mr Tab K. F. Cheng
Senior Engineer
Mr Ngai Chi-hang
Senior Engineer
Dr Zhang Yifan
Engineer
Dr Esther Ma
Associate Engineer
Mr Freddy Yuen Chun-fai
Assistant Engineer
From IC
Ms Cheng Ka-po
Senior Engineering Manager
Ir Dr C. C. Cheung
Senior Engineering Manager
Ir Sidney Wong Wing-fai
Engineering Manager
Mr Ho Kin-man
Associate Engineer
Mr Paddy Cheong Kung-pan
Assistant Engineer
Joining hands to restore the campus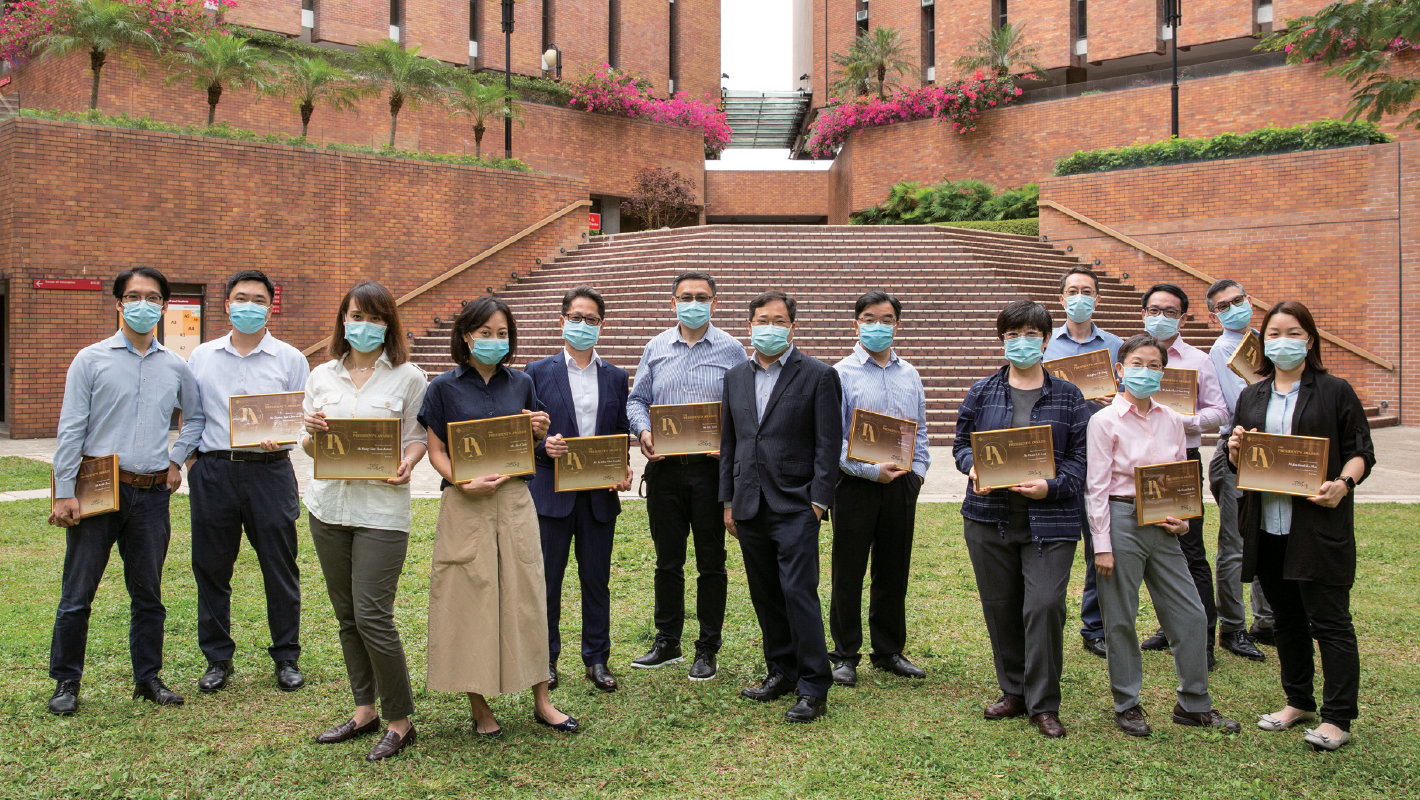 The recovery team from FMO and Director of Facilities Management Mr Lawrence Lau (seventh from left) embrace the spirit of HOPE while offering their services.
The University campus was severely affected as a result of the social incidents in November 2019. In response, the Facilities Management Office (FMO) set up a recovery team to offer dedicated support to the University Crisis Response Team and take on the challenges of large-scale restoration work.
Once the incident was peacefully resolved, the FMO recovery team collaborated with the Campus Development Office and the Health, Safety and Environment Office to carry out recovery works. After conducting a campus safety assessment, the team set well-defined targets and came up with various solutions to help restore the campus in an efficient manner.
Embracing the spirit of HOPE (which stands for Heart, One team, Professionalism, and Excellence), the team facilitated the re-opening of the campus by phases, with most campus operations able to resume as normal before mid- January 2020.
The FMO team
Mr Kent Yau (team leader)
Associate Director of Facilities Management
Mr Thomas Tam Chun-man
Associate Director of Facilities Management
Mr Keith Chan
Senior Facilities Manager
Mr T. C. Chik
Senior Facilities Manager
Ms Bonnie Hung Chui-shan
Senior Facilities Manager
Mr Jeffrey C. T. Wong
Senior Facilities Manager
Ms Vivien S. K. Lau
Senior Administrative Manager
Mr Jacky Chau Chun-keung
Manager
Ms Ada Chan
Facilities Manager
Mr Lawrence Cheung
Facilities Manager
Miss Kwan Man-yee
Facilities Manager
Ms Jan Kwok Ka-man
Facilities Manager
Mr Frankie Yee Chiu-mun
Facilities Manager