Students' creativity brings innovative solutions for daily life
This year, the PolyU Design Annual Show showcased more than 200 design projects of fresh graduates of the School of Design, covering a variety of design disciplines covering advertising, communication design, digital media, environment and interior design, interactive media, multimedia design and technology and product design. Themed "Beyond the surface", the Annual Show encouraged students to think out of the box during their design process, so as to come up with designs to address a wide array of issues.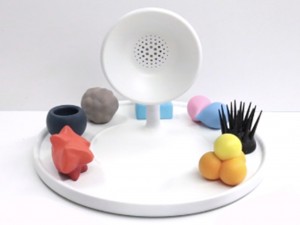 Dwarfs - Educational kit about emotions for ASD children
Jack Wong Man-wai
Student in Product Design
How can product design help autistic children express their emotions better? "Dwarfs" is a set of interactive educational kit that encourages autistic children to express their thoughts and manage their emotions through visual, tactile and auditory stimulation.
"Inspired by the seven dwarfs in the fairy tale Snow White, I created dwarfs of different shapes to represent seven positive and negative emotions. For instance, if a child places the black-coloured urchin-shaped dwarf which represents fear on the auditory palette, it will give out a loud and ear splitting sound. This represents the negative emotion of fear." Jack shared.
"The seven dwarfs represent negative emotions (anger, fear, sorrow and disgust) and positive emotions (love, peace and joy), When a child places a dwarf representing a negative emotion on the auditory palette, the corresponding sound will be triggered. The child will be asked to place another dwarf representing positive emotion on the auditory palette to overcome this negative emotion. The sound will get softer. This helps autistic children learn how to overcome their negative feelings with positive emotions." He explained.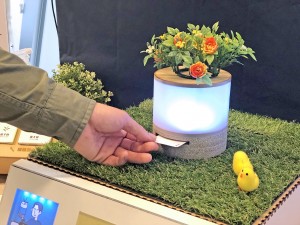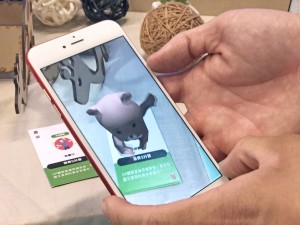 Health care for Diabetes Type II: Decktics
Keneth Ng Labante and Cat Leung Ming-wai
Students in Interactive Media
In Hong Kong, diabetes is one of the top ten causes of death. About 90% to 95% of diabetic patients belong to type 2 diabetes. "Decktics" makes use of interactive media that combines horticultural therapy, a mobile application and a set of tailor-made mission cards, to encourage diabetic patients to develop better daily habits.
Patients will be assessed based on their level of self-control and receive a corresponding set of mission cards, a pot and seeds. "As the patient takes care of the potted plant, mission cards will be provided regularly via a slot at the bottom part of the pot. Based on the patient's condition, the missions will provide dietary, sports or emotional-related reminders to the patient accordingly", Keneth explained.
Utilising augmented reality technology, the mission cards can be viewed via a mobile application. Cat added, "this make it more interesting for patients while providing them with useful information such as accurate sports postures."