Polishing freeform surfaces made easier with new ultra-precision technology
Prof. Benny Cheung, Head of PolyU's State Key Laboratory of Ultra-precision Machining Technology, has developed a novel curvature-adaptive multi-jet polishing (MJP) technology.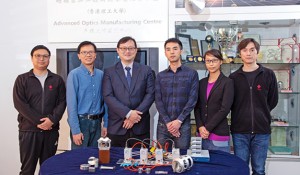 "Surface polishing can improve a product's functionality and aesthetics. However, the process can be time consuming, labour intensive and error prone when polishing curved designs or surface."
Prof. Benny Cheung (third from left)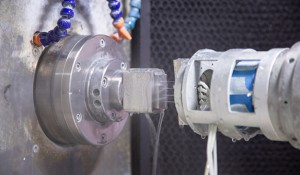 Multi-jet polishing works wonders
The research team has developed the multi-jet nozzles and a computerised system to automate the polishing process. The machine can automatically adjust the fluid pressure and processing time of each jet according to the shape, variation of curvature and surface polishing requirements of a product.
This greatly enhances the efficiency and accuracy of surface polishing for high-value-added products with different kinds of freeform surfaces, such as compound lenses in 3D imaging, head-up display lenses used in automotive, optical components for augmented reality and virtual reality headsets, artificial joints, aeroplane turbine blades and many others with complex geometric shapes.
High efficiency, low cost
Currently, Fluid Jet Polishing (FJP) is used in polishing components with complex shapes or curved surfaces. The costly FJP machine pumps abrasive particles and water through a nozzle towards a target surface. The single jet nozzle limits its efficiency and the technology has only been used to process small sized surfaces.

With multi-jet nozzles, the limitations of FJP have been overcome. In addition, the production cost of a MJP machine is only about two-thirds of the cost of the FJP machine. It can also be integrated into polishing machines or robotic arms, and this will further lower the cost.
Future plans
The research team plans to further improve this technology by developing apparatus fit for plugging in 3-dimensional (3D) printers, so as to enhance the efficiency of post-process finishing of 3D-printed complex components.