RCSV-SO Joint Distinguished Lecture: Visual Cues Controlling Myopia and Emmetropization
Conference / Lecture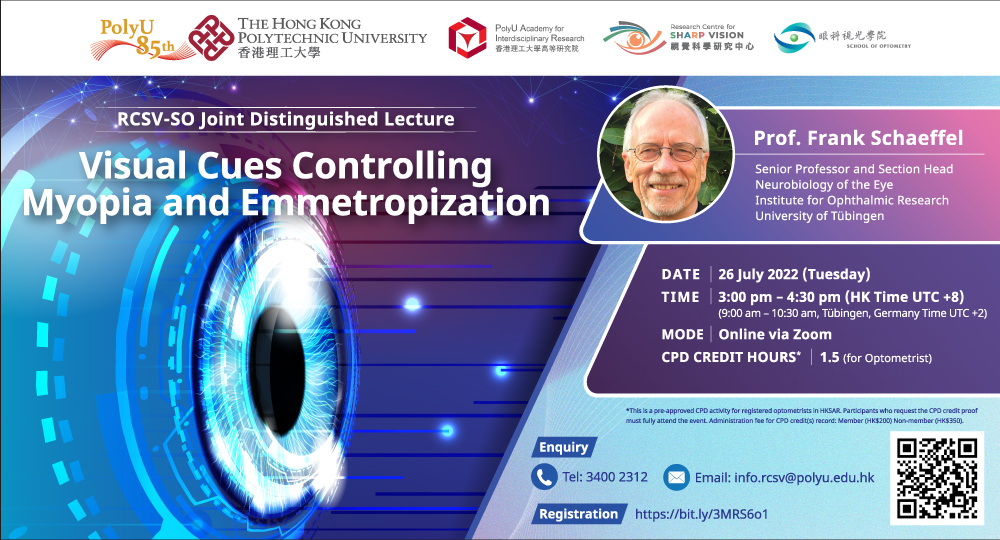 Organiser

Research Centre for SHARP Vision (RCSV) and School of Optometry (SO)
Speaker
Prof. Frank Schaeffel
Summary
Myopia is largely controlled by visual input. There is ample experimental evidence that emmetropization uses defocus as an error signal for fine-tuning axial eye growth. At present, it remains incompletely understood how much sign of defocus are detected by the retina. Nevertheless, even without complete understanding, a promising area of research is to develop visual stimulation protocols that can non-invasively inhibit myopia. They include changes in illuminances, use of spectrally confined light sources, modifications of chromatic aberration, changes in the balance of ON/OFF stimulation, adding multiple focal planes and adapting the spatio-temporal patterns imaged in the periphery of the retina (which is the major controller of emmetropization).
Keynote Speaker
Prof. Frank Schaeffel
Senior Professor and Section Head of Neurobiology of the Eye
Institute for Ophthalmic Research, University of Tübingen, Germany
Prof. Frank Schaeffel studied biology and physics at the University of Freiburg, followed by a PhD in biophysics on the fruit fly's visual system. After two postdoctoral positions at Cornell University (Ithaca, NY, USA) with Howard Howland (1985-1988) and at the Max-Planck-Laboratory at the Eye Clinics (Munich, Germany) with Prof. Eberhard Zrenner (1988-1989), he became research associate and Schilling Foundation Professor at the University Eye Clinics Tübingen (Germany). Since 2000, he has been a C3 Professor and Head of the Section of Neurobiology of the Eye at the Research Institute of Ophthalmology in Tübingen. Prof. Schaeffel has been a Senior Professor since 2019 and a Guest Professor at the Institute of Molecular and Clinical Ophthalmology Basel (IOB) since 2020. Prof. Schaeffel has published about 200 research papers, obtained research grants for around 14 million euros and received several prestigious awards.