Forum on Integrating I&T into GBA and the National System cum Launch Ceremony of PReCIT
Conference / Lecture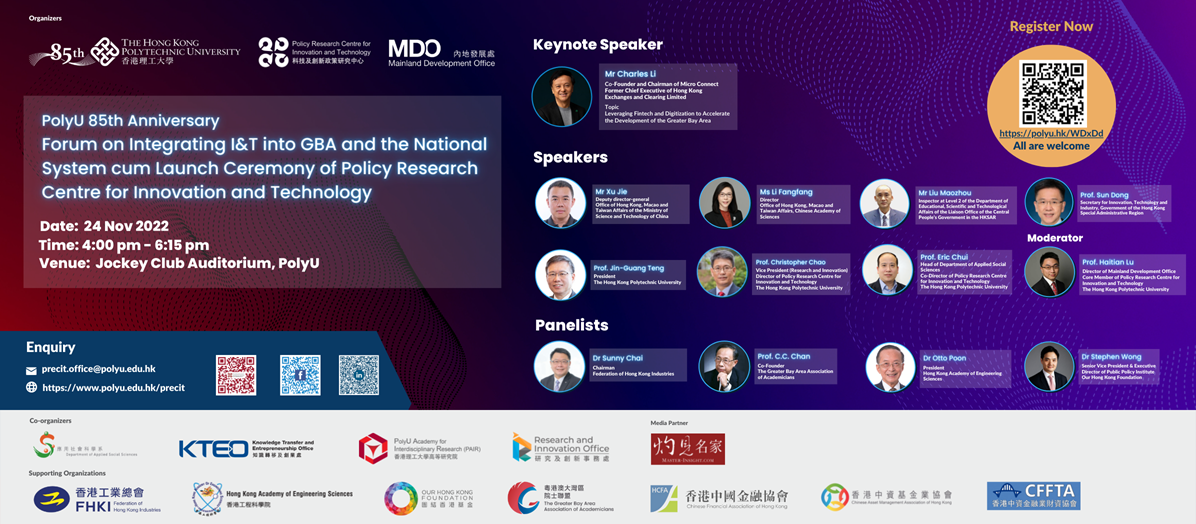 Organiser

Policy Research Centre for Innovation and Technology and Mainland Development Office of PolyU

Venue

Jockey Club Auditorium, PolyU
Summary
To celebrate PolyU's 85th Anniversary and the official launch of the Policy Research Centre for Innovation and Technology (PReCIT), the "Forum on Integrating I&T into GBA and the National System cum Launch Ceremony of PReCIT", jointly hosted by PReCIT and Mainland Development Office and co-organised by PAIR, will be held on 24 November 2022 (Thursday) from 4:00 pm to 6:15 pm at the Jockey Club Auditorium, PolyU.  Leaders from different sectors will share their insights on leveraging Fintech and digitalisation to accelerate the development of the GBA and explore building Hong Kong into an international I&T hub by integrating I&T into the GBA and national development.  Guest speakers include:
• Mr Charles Li, Co-Founder and Chairman of Micro Connect, and Former Chief Executive of Hong Kong Exchanges and Clearing Limited
• Prof. C.C. Chan, Co-Founder of The Greater Bay Area Association of Academicians
• Dr Otto Poon, President of Hong Kong Academy of Engineering Sciences
• Dr Stephen Wong, Senior Vice President and Executive Director of Public Policy Institute, Our Hong Kong Foundation
• Dr Sunny Chai, Chairman of Federation of Hong Kong Industries
Seats are on a first come first serve basis. Don't miss the chance!
Please register now at: https://www.polyu.edu.hk/pfs/index.php/356197?lang=en