The Centre consists of staff members from Mechanical Engineering (ME), Building Services Engineering (BSE), and Electrical Engineering (EE) within PolyU and from Mechanical Engineering of HKU. Currently, there are GRF and other projects on-going within the Centre and they cover five areas:
fundamentals of FSI and its control
numerical code development
application to 3-D structures
air flow in human lungs
blood flow in micro vessels
Indeed, the Centre is carrying out its mission of doing research that is germane to Hong Kong.
Director: Dr H Tang (ME/PolyU)
Members:
Dr RCK Leung (ME/PolyU)
Dr Y Liu (ME/PolyU)
Dr Y Ma
Dr HH Ruan (ME/PolyU)
Dr CL Wang (ME/PolyU)
Dr HM Yao (ME/PolyU)
Prof. W Jin (EE/PolyU)
Prof. HX Yang (BSE/PolyU)
Prof. SK Tang (BSE/PolyU)
Prof. CK Chan (AMA/PolyU)
Dr LX Huang (ME/HKU)
Seek understanding of the fundamentals of fluid-structure interactions through experimental, numerical and theoretical studies and postgraduate training, and apply such knowledge to resolve problems that are germane to Hong Kong and also China.
The University of Western Australia, Australia; The University of Newcastle, Australia; IRPHE-UMR and CSTB, France; City College CUNY, USA; University of Glasgow, UK; Washington University in St. Louis, USA; Beijing Tongren Hospital, China; Yamagata University, Japan; Chinese University of Hong Kong, Hong Kong; Harbin Institute of Technology, Tsinghua University, Peking University, Southeast University, Chongqing University, University of Science and Technology of China; Bath University, UK; China Aerodynamics Research & Development Centre, China.
Effect of vasomotion on efficient flow delivery in microvascular network (2013-2016). GRF, $500k.
Active drag reduction of a 3D generic car model using a combination of steady and unsteady actuations (2012-2015). GRF, $905k.
Investigating Mechanical Mechanisms of Tumor Cell Adhesion in Micro Circulation through Lattice Boltzmann Simulation, GRF, PolyU5238/08E.
Active control of a round jet using a novel pulsed minijet actuator, GRF, PolyU 5350/10E, 2010-2012, $492,200.
Closed-loop-controlled turbulent boundary layer based on local surface oscillation, GRF, PolyU 5329/11E, 2011-2014, $1,032,240.
Wind tunnels, water tunnel, PIV, LDA, ……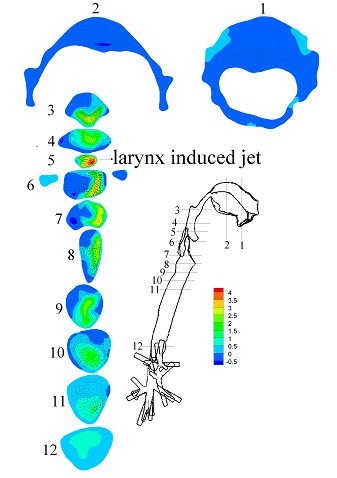 Airflow in upper and lung airways