Special Issues
Call-for-Papers
Special Issue on "Artificial Intelligence & Big Data in Shipping"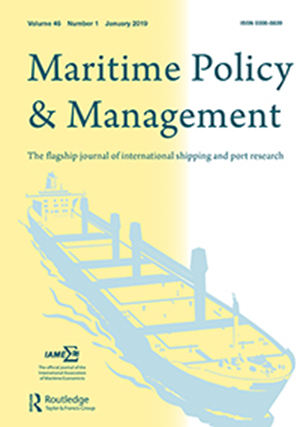 Maritime Policy & Management (MPM) is indexed in the Social Sciences Citation Index (SSCI)
Technology is advancing rapidly nowadays and leading the transformation of the shipping industry. A huge amount of data regarding every aspect of shipping could be collected that provide rich avenues and vast opportunities to improve the business and operation processes of shipping. Meanwhile, the booming of Artificial Intelligence (AI) makes it possible to effectively reap the benefits of big data and create huge impacts to the industry. It has been widely acknowledged that AI and big data play an ever more important role in driving efficiency and coping with upcoming regulations as well as mounting market pressure in the shipping industry.
The application of AI or big data is gaining grounds in various segments of the shipping industry and has pushed the productive efficiency boundaries of maritime firms. Nevertheless, new challenges and concerns over their wide usage have also surfaced. It changes the ways in which shipping firms make decisions and challenges their traditional management strategies and operation modes. More importantly, it demands new AI methods, big data analytics algorithms, and optimisation models to facilitate the decision-making processes at each phase of the shipping industry.
This special issue at Maritime Policy & Management aims to bring together recent technological and methodological advancements concerning AI and big data in the shipping industry. It also welcomes submissions related to improving human-AI interface or AI-ergonomics in the shipping industry. Both research and review papers are welcomed.
The topics that will be considered in this special issue include (but not limited to):
Data-driven optimisation for operations management in shipping
Internet of Things (IoT) technologies and applications
Maritime network optimisation
Autonomous ships: technologies and applications
Predictive modelling and analysis using big data
Large-scale multi-dimensional maritime data mining
Data-driven maritime risk management
Data security and privacy issues in shipping
Human-AI interface and AI-ergonomics in shipping
Critical success factors of AI and big data in shipping
Sustainability in Shipping
Inland transportation optimisation
Guest Editors:
Kum Fai Yuen, Department of International Logistics, Chung-Ang University, South Korea, This email address is being protected from spambots. You need JavaScript enabled to view it.
Gangyan Xu, School of Architecture, Harbin Institute of Technology, China, This email address is being protected from spambots. You need JavaScript enabled to view it.
Jasmine Siu Lee Lam, School of Civil and Environmental Engineering, Nanyang Technological University, Singapore, This email address is being protected from spambots. You need JavaScript enabled to view it.
Call-for-Papers
Special Issue of Maritime Policy & Management
On "Cruise and Shipping"
While shipping has long been regarded as the conveyer for the global trade, cruise shipping provides services for passengers that is one of important sector in maritime studies. As they all involve the use of ships, they do share some common interests, such as safety, environmental concerns, demand analysis, economic and operation efficiency, pricing, revenue management, interaction with port and terminals, and the service cluster to the ships, and that to the cargo/people.
However, cargo and passenger are different. In cruise, passenger will value the experiences and satisfactions on board the ship, but not for cargo. The quality of services on the ship, as well as the attractiveness and experiences in the calling port, will all affect the level of satisfaction of the users. Therefore, there should be different strategies for cruise shipping business to attract customers, make them happy and build up the market position.
Therefore, taking advantage of the IFSPA 2019 (www.polyu.edu.hk/lms/icms/ifspa2019/), MPM would like to organize a special issue on this topic, gather together the interests of the scholars all over the world, and contribute on the emerging area of cruise shipping, and its relationship to the current shipping study. Considering the importance of cruise shipping in the economic development of many countries, and the lack of existing research in cruise shipping compared with that in cargo shipping, such a special issue will not only bridge the gap in academic research of these two areas, but also contribute to the development of cruise shipping industry.
This special issue invites all high-quality research papers in cruise and shipping, especially those that can link them together. The topics that will be considered in this special issue include (but not limited to):
Socio-economic factors for the regional development of cruise shipping;
Analysing the economic impact for the development of cruise shipping industry;
Comparison of cruise and cargo shipping;
Market analysis for cruise shipping and market entry/exist decisions;
Marketing strategies and sales channels;
Revenue management and financial performance in cruise shipping;
Competition for home ports;
Logistics management for cruise operation;
Environmental considerations in cruise shipping.
For any enquiry, please email: This email address is being protected from spambots. You need JavaScript enabled to view it..
Guest Editor:
Dr Meifeng Luo, Department of Logistics and Maritime Studies, The Hong Kong Polytechnic University.
Prof. Chin-Shan Lu, Department of Logistics and Maritime Studies, The Hong Kong Polytechnic University.
Maritime Policy & Management ( MPM ) is aimed at researchers, policy-makers and managers in the fields of maritime business. It is read by academics, government officials, journalists and those practicing maritime business in all its aspects around the world, and is intended to have both a theoretical and practical appeal.
Relevant information, please visit: https://www.tandfonline.com/loi/tmpm20
Call-for-Papers
Special Issue on "Air Transport Management"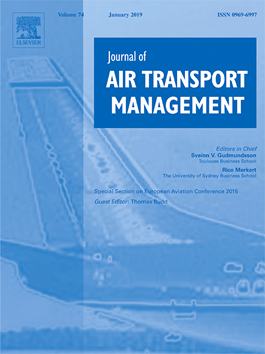 Journal of Air Transport Management is indexed in the Social Sciences Citation Index (SSCI)
The Journal of Air Transport Management (JATM) sets out to address, through high quality research articles and authoritative commentary, the major economic, management and policy issues facing the air transport industry today. It offers practitioners and academics an international and dynamic forum for analysis and discussion of these issues, linking research and practice and stimulating interaction between the two.
The refereed papers in the journal cover all the major sectors of the industry (airlines, airports, air traffic management) as well as related areas such as tourism management and logistics. Papers are blind reviewed, normally by two referees, chosen for their specialist knowledge. The journal provides independent, original and rigorous analysis in the areas of:
• Policy, regulation and law
• Strategy
• Operations
• Marketing
• Economics and finance
• Sustainability
For any enquiry, please email: This email address is being protected from spambots. You need JavaScript enabled to view it..
Guest Editor:
Dr Achim Czerny, Department of Logistics and Maritime Studies, The Hong Kong Polytechnic University.
Relevant information, please visit: https://www.journals.elsevier.com/journal-of-air-transport-management.
Call-for-Papers
Special Section in Transportation Research Part E: Logistics and Transportation Review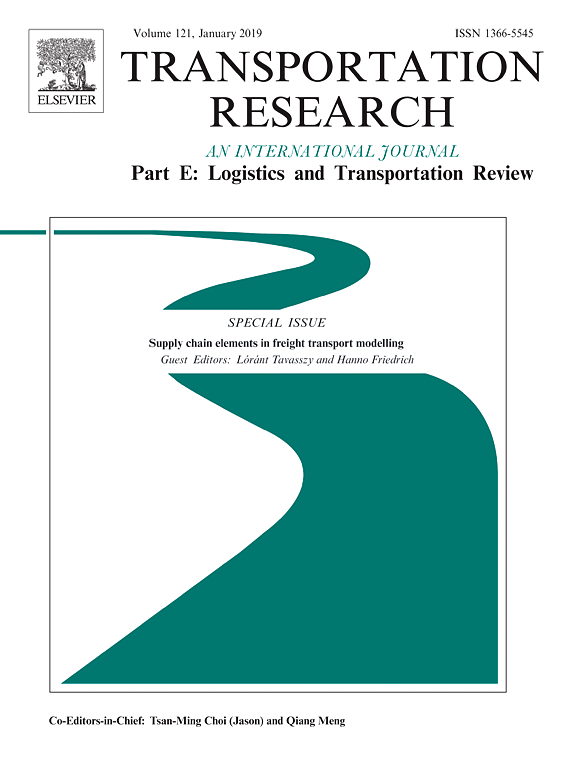 "Decarbonization and Digitalization in Shipping and Transport Logistics"
Shipping is an important driver of global economic growth, but it is estimated to burn 250 million tons of fuel and emitted CO2 equivalent to 2.2% of the global emissions in 2012; if left unregulated, its contribution to global emission could increase up to 17% by 2050 (3rd IMO GHG study, 2014). To decarbonize the industry, the IMO implemented new regulation such as Energy Efficiency Design Index and Ship Energy Efficiency Management Plan in 2013, and in April 2018 set a target to reduce total annual GHG emission by at least 50% before 2050 compared with 2008 levels. As carbon emission from shipping will not be regulated before 2023, IMO approved a programme in November 2018 to call for short-term measures to reduce GHG emissions from ships up to 2023. The challenge is what measures are effective to help achieve the emission reduction goal in short-term and mid/long-term? Conventionally, the industry focuses on improving energy efficiency in the design phase by choosing the right hull shape, engines, propellers etc.; however, it is believed that considerable inefficiency is generated by decisions made in operations. For example, a recent study shows that CO2 emissions in the crude-oil tanker segment could be reduced up to 16.8% only by minimizing delay time at port, if related decisions are made optimally with digitalized solutions. It is challenging for the industry to solve such inefficiencies in a broad sense, which calls for more digitalization research support.
Digitalization has been broadly recognized as the third revolution in shipping history, next to diesel propulsion and containerization. Major maritime countries and giant shipping companies are heavily investing on digital and autonomous solutions. For example, the world's largest container shipping company, Maersk Line, is now trying to cut costs and improve efficiency by pioneering digital transformation solutions. Maersk Line has recently built 'Connected Vessel' programme which focuses on state-of-the-art IoT solutions with the purpose of digitalizing the operations and improving operational efficiency. In the meantime, all ships over 300 gross tonnage are required to install the Automatic Identification System (AIS) equipment, which provides real time ship positioning and sailing status information every few seconds. With the increasing data quality and completeness, the application of AIS data has widened out from navigation safety to many aspects, in particular, ship operation efficiency analysis. Furthermore, about 4% global ship fleet have installed auto logging sensor system for vessel condition monitoring, and one of its initial benefits is a substantially improved understanding of vessel performance management, on top of the conventional wisdom and theories of naval architecture. It is now time to utilize the new knowledge and data resources to explore solution to further improve energy efficiency.
The aim of this issue is to promote the decarbonization and digitalization research in transportation through the attraction and presentation of high-quality papers. The research is not limited to operational level but also can be extended to tactical and strategical levels. The beneficiaries of this issue include academic researchers, shipping companies, terminal operators, government policy-makers and so on.
These topics include, but are not limited to, the following:
Environmental focus of shipping sustainability
Digitalization-driven business model innovation
Application of big data analytics in shipping
Shipping operation optimization
Innovation in liner shipping service networks
The economic implication of emerging maritime/aviation technology
Innovative ship management and operational strategies
Transportation innovation networks
Shipping enterprise reorganization
Transition to a sustainable and resilient shipping company
New growth drivers for the shipping industry
Digitization and IT solutions in shipping
Energy efficient design of ship equipment
Block chain application in transportation
All submissions will go through the journal (TRE)'s standard peer-review process (the revised and extended papers will be submitted via TRE EVISE for a paper review process, handled by the co-Guest Editors reporting to the co-Editor-in-Chief). To meet the TRE publication criteria and requirement, these papers should clearly present their incremental contribution against related literature in the areas of Transportation and Logistics by clarifying: (a) the importance of the issue addressed and problem solved, (b) novelty and distinctive features of proposed methodology/models/approaches against published methods, and (c) important findings/ managerial insights drawn from analytical results.
Key Dates
Submission of revised and extended manuscripts: 30th of September 2019
Notification to authors: 31st of December 2019
Final versions due: 31st of March 2020
Publication (estimated): April-May 2010
Guest Editors
Dong Yang, Assistant Professor, Department of Logistics and Maritime Studies, Hong Kong Polytechnic University, Hong Kong. This email address is being protected from spambots. You need JavaScript enabled to view it.
Dongping Song, Chair Professor of Supply Chain Management, Liverpool University Management School, UK. This email address is being protected from spambots. You need JavaScript enabled to view it.
Gang Chen, Associate Professor, Logistics and Supply Chain Management, Aalborg University, Demark. This email address is being protected from spambots. You need JavaScript enabled to view it.
Yulai Wan, Assistant Professor, Department of Logistics and Maritime Studies, Hong Kong Polytechnic University, Hong Kong. This email address is being protected from spambots. You need JavaScript enabled to view it.
Supporting Special Issues:
Research in Transportation Business and Management
Special issue on "Data Analytics for International Transportation Management"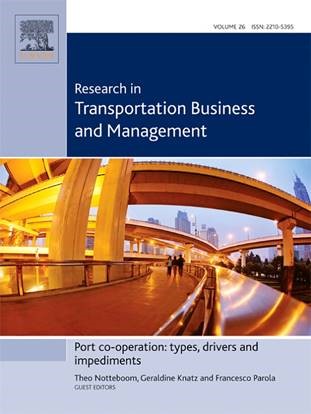 https://www.journals.elsevier.com/research-in-transportation-business-and-management/call-for-papers/call-for-papers-data-analytics-international-transportation
Sustainable Maritime Transportation Management and Policies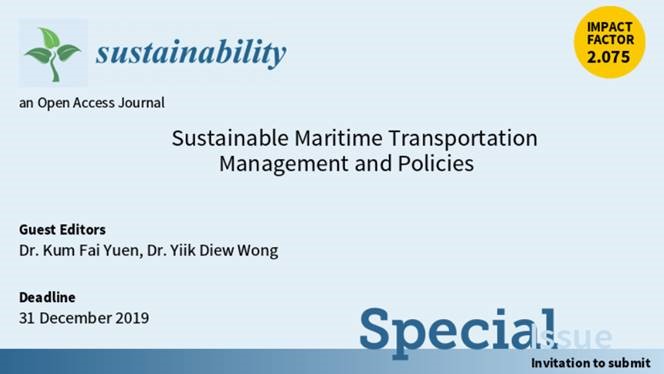 https://www.mdpi.com/journal/sustainability/special_issues/Sustainable_Maritime_Transportation_Management_Policies