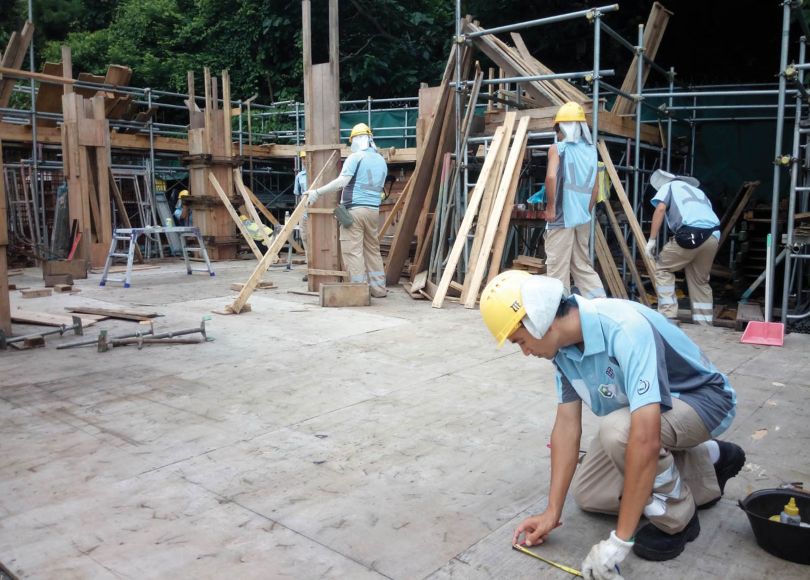 Anti-heat Stress Uniform for Construction Workers
Summer in Hong Kong is hot and humid, but that does not exempt construction workers from toiling outdoors for long hours. To alleviate their strain, a multidisciplinary team of PolyU collaborated with non-PolyU experts to develop an Anti-heat Stress Uniform to protect them from extreme heat and humidity, adopting functional fabric materials and moisture management technology. The uniform was designed and produced with heat-moisture performance of fabrics, garment style and industry-specific requirements in mind. Coolmax (a moisture-wicking fabric) and the nano-based moisture management textiles they used greatly improved fabric breathability, allowing moisture to be transferred from skin to the garment surface. With higher one-way transferability and liquid moisture management capacity, the technology speeds up sweat evaporation and reduces heat stress. In a qualitative study, the uniform gained support from 87% of the participating workers, who considered it a cool, dry, comfortable and flexible option. Considered beneficial to construction workers, it was licensed to the Construction Industry Council as a service to the community. Over 300,000 construction workers in Hong Kong are expected to benefit from this uniform.
Read More
Hide
Radiation-free Scoliosis Monitoring
The Department of Biomedical Engineering has developed and filed worldwide patents for Scolioscan, a radiation-free system for scoliosis evaluation based on 3D ultrasound imaging technology. The system enables adolescent patients to have the condition monitored properly and regularly without increasing the risk of cancer. Seeing its tremendous potential, an electronics manufacturer that wished to embark on biomedical equipment production successfully obtained the license for commercialising it. Thus far, units of Scolioscan have been installed at medical establishments in Australia, Bosnia and Herzegovina, Italy, the Netherlands, Poland, Romania, the Chinese mainland, Macau and Hong Kong, and the list keeps growing. Furthermore, the company continues to work with PolyU to co-develop Scolioscan Air, a portable version of the device.
Read More
Hide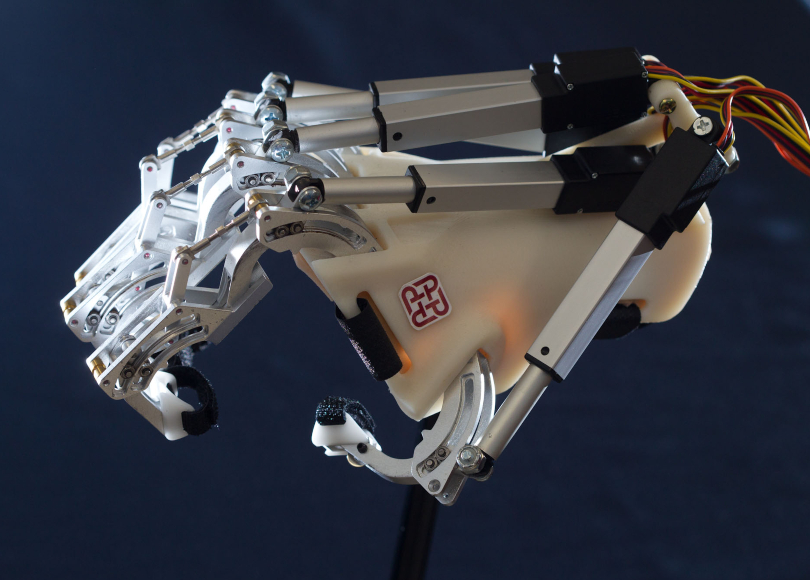 Hand of Hope
As the name has suggested, the "Hand of Hope" is a remarkable breakthrough in stroke patient recovery by assisting stroke patients to regain their hand movements. Driven by the stroke patients' own intention to move, the robotic hand enables the patients to move around their paralysed hands at will, by detecting and amplifying electrical muscle activity through electromyography (EMG) signal that set the robotic hand in motion, which moves the stiff hand along with the patients' will and intention. As a result, patients are able to train their muscle and hand movement with their will using this robotic hand. The robotic hand, which was already licensed to a local company for commercial exploitation worldwide, went on to win the Grand Prize in the acclaimed Geneva Invention Exhibition in 2012.
Read More
Hide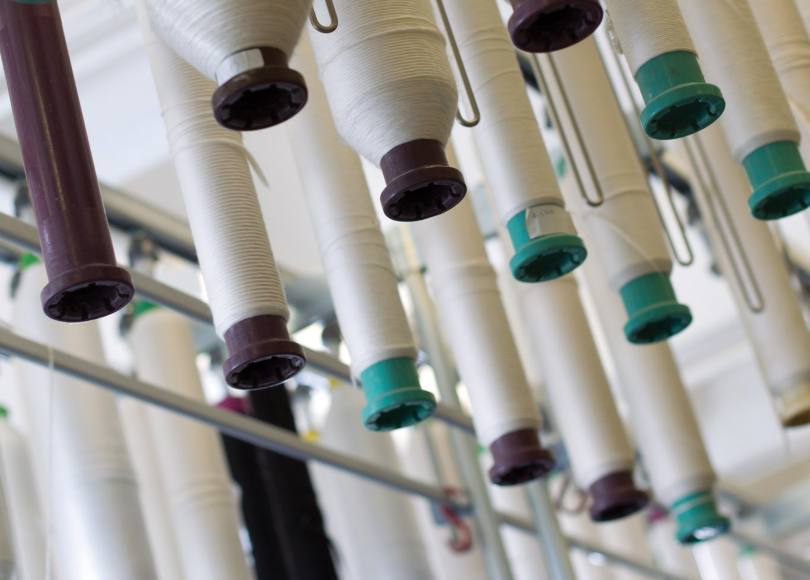 Torque-free Single Yarn
In textile industry there is a long problem – residual torque. Residual torque will cause fibers to twist together, affecting the smoothness and quality of yarns. Supported by Innovation and Technology Fund of Hong Kong Government, PolyU researchers have successfully developed a breakthrough technology, trademarked as "Nu-Torque", that can resolve this problem – a problem that has never been resolved for many years. Adopting the Nu-Torque™ technology, the industry can produce yarns with good quality, low twist but high strength and extra-soft hand feel fabric using simple retrofitting device on existing machines. The technology has been proven to be industrially practicable. It not only can save the energy for spinning, but is also environmentally friendly. This breakthrough technology has been transferred and applied to companies in Hong Kong, Mainland, Australia, Thailand and Malaysia, with more are yet to come. The technology is sweeping the industry like wild fire, comprehensively enhances industrial standard and competitiveness.
Read More
Hide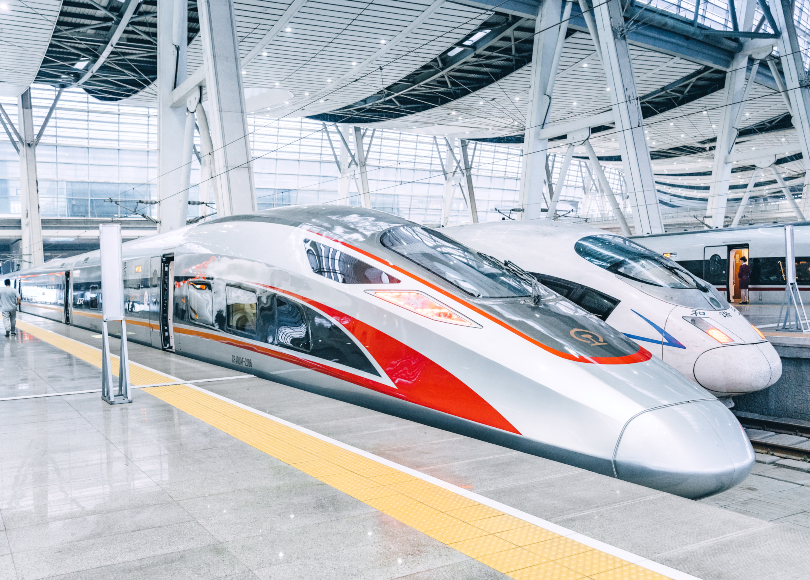 Railway Condition Monitoring
PolyU had developed "Advanced Fibre Bragg Grating (FBG) Railway Monitoring System" that had been successfully installed in Hong Kong MTR rails. Thousands of optical sensors installed provide information on vibration, acceleration and temperature change for engineering staff, helping them to monitor the health condition of tracks and railcars as well as structural health of the rail foundation. Not just in Hong Kong, PolyU had installed the system in several sections of the High Speed Rail (HSR) across the country. By providing information crucial to the safety of HSR, the system not only benefits the overall HSR development in China, but also contributes to further research in this area. It is expected that the developed monitoring system will become a core reference for the new national standard for railway safety monitoring in the Chinese mainland. With the success of the FBG sensing system, along with other novel technologies in railway monitoring being developed by PolyU's inter-disciplinary research teams, PolyU will continue to develop cost-effectiveness and reliable monitoring system, helping to uphold the safety of railway systems.
Read More
Hide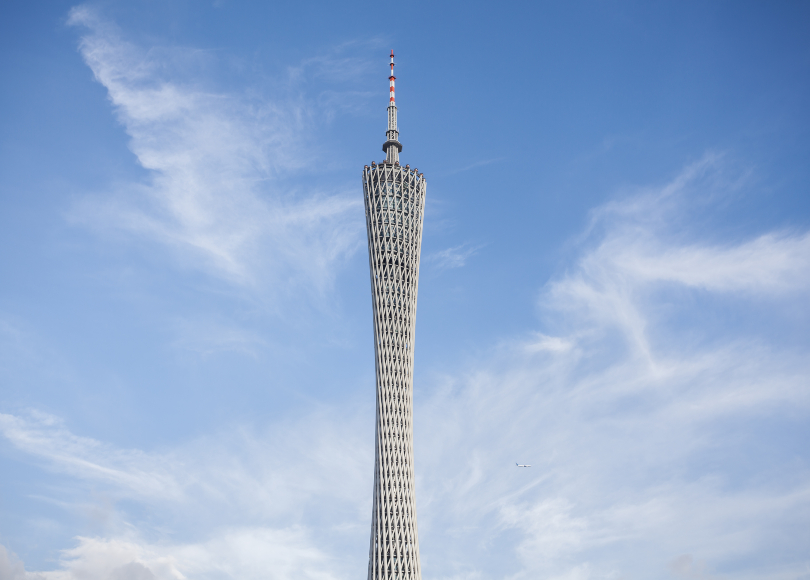 Mega Structure Monitoring
PolyU's inter-disciplinary research teams have developed a structural health monitoring system that can provide real time information on structural health conditions throughout the whole life cycle of mega-structures like bridges, high-rises and towers. Through the system, the owner can assess structural health condition immediately after any major hazardous event and decide whether evacuation of the occupants is necessary. In recent years, PolyU has been implementing this system in many projects like the Sutong Bridge crossing the Yangtze River, Canton Tower, the new Shenzhen Stock Exchange building, Stonecutter Bridge in Hong Kong, etc. Beyond mega-structures, the research team is exploring with industry partners to apply the system in other areas like water pipes, wind turbine, etc. The system has also been applied to monitor the safety of the hanging DC-3 plane in the Hong Kong Science Museum, offering safe environment for visitors.
Read More
Hide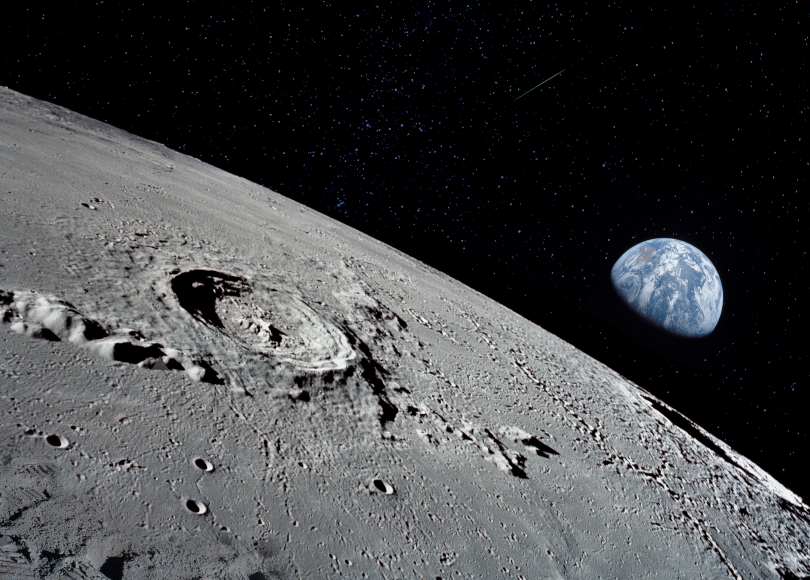 Space Programmes
PolyU's knowledge transfer endeavours create impact not just on earth but into space as well. Over the years, PolyU has built up strong credentials for active participation in space research. While many people already know that PolyU has developed astonishing space tools such as Space Holinser Forceps, the Mars Rock Corer and the "Soil Preparation System" (SOPSYS), there are many other space-related breakthroughs too. The signing of an agreement between PolyU and China Academy of Space Technology has brought together expertise from both sides to develop sophisticated space tool for collecting sample of lunar rock in the third phase of China's lunar exploration programme. In the three-phased lunar exploration programme, PolyU was engaged in the R&D of a "Camera Pointing System" in the second phase. PolyU will further collaborate with mainland experts to develop a "Surface Sampling and Packing System" for the third phase of the lunar exploration programme. It just demonstrates the contribution from PolyU and hence Hong Kong on the nation's strategic and significant space exploration programme through our research capability and knowledge transfer efforts.
Read More
Hide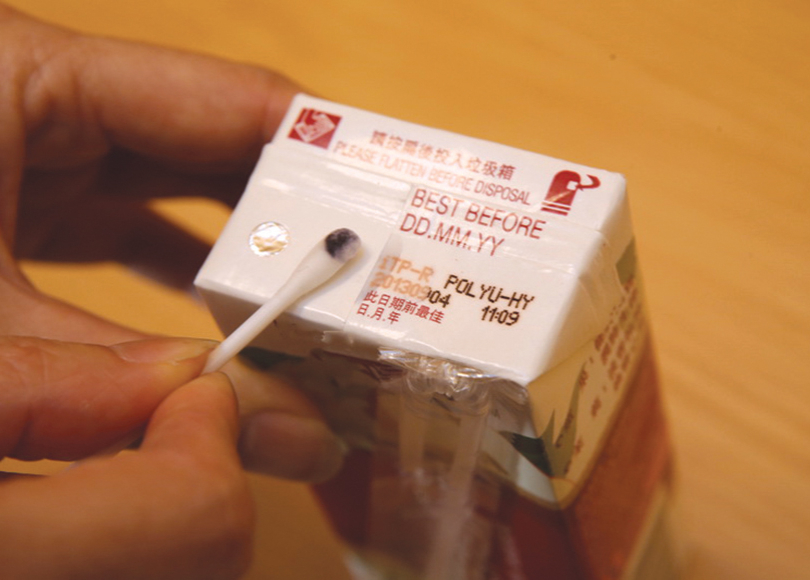 Anti-Erasing (ATE) Ink
The recent surge in counterfeit products and reselling of expired or contaminated goods is threatening consumer confidence and brand value around the world. To combat unethical tampering of product markings, PolyU researchers have developed an anti-counterfeit technology which adopts a fast-drying formulation. Compatible with various continuous inkjet printers, the innovative Anti-Erasing (ATE) Ink can withstand physical tampering and leave non-removable trace marks on product packaging. Different series of products, including the Nano ATE ink series, for printing on specific materials and surfaces such as tin or aluminum cans, plastic bottles, wires and cables, as well as sausage packaging are ready for the market. The technology is currently adopted by major dairy companies in the Chinese Mainland.
Read More
Hide