Startup Sprint
Conference / Seminar
Organiser

Entrepreneurship Society @ PolyU

Venue

N101, Block N, PolyU Map
Summary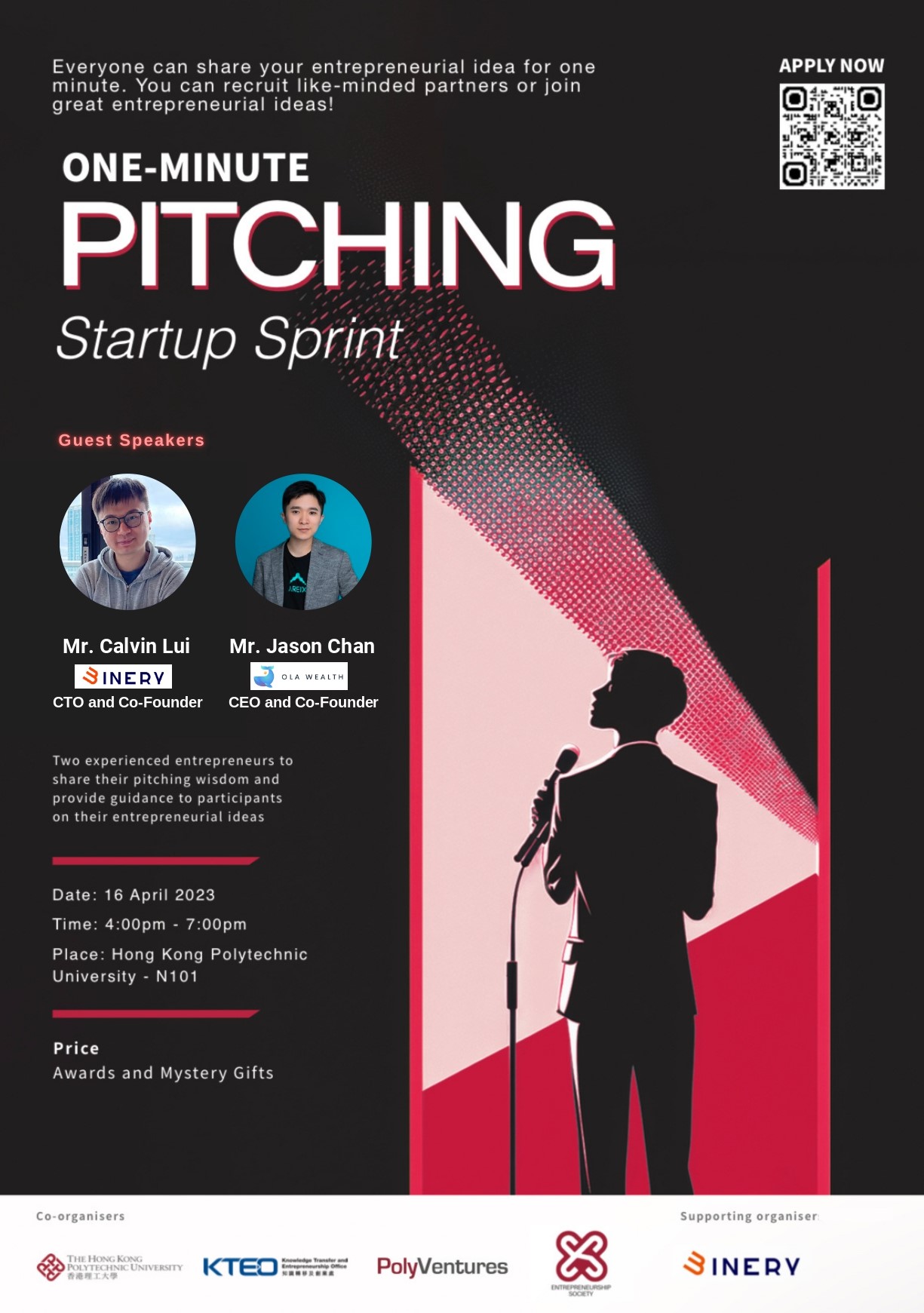 Get ready to elevate your entrepreneurship skills with Entrepreneurship Society (ES) Startup Sprint 2023! 
This exciting networking event is designed to help you build your network, create great ideas, and receive valuable advice.
Build Network:  Connect with like-minded individuals from different universities and industries, and gain new perspectives on entrepreneurship.


Build Great Ideas: Put your heads together with your newfound friends and create innovative business ideas that could change the game.


Get Great Advice: Receive immediate feedback and valuable insights from experienced entrepreneurs and professionals in the field.
Don't miss out on this amazing opportunity to network, learn, and grow. Register now for ES Startup Sprint 2023 and take the first step towards realizing your entrepreneurial dreams! 
Rundown: 
Section 1:Networking Nucleus

Introduce yourself in one minute to expand your network

Section 2: Ideation & Business Plan

Guest speakers sharing: Essential skill to a fund winning business plan

One-minute pitching: Form groups and generate new business ideas, then pitch them in one minute.

Section 3: Startup Splint with excellent elevator pitch

Elevator pitching: Deliver your elevator pitch to the crowd and receive immediate feedback from everyone who hears your idea
Speakers: 
Mr Calvin Lui, CTO and Co-Founder of Binery Limited


Mr Jason Chan, CEO and Co-Founder of AREIX Analytics Limited
Jason Chan is the Co-Founder & CEO at Areix Analytics Limited with a profound belief in democratizing intelligence for good. He has developed his professionalism in Digital Assets and FinTech, and is a qualified SAS® Certified Data Scientist and SAS® Certified Professional for AI & Machine Learning.
Before founding AREIX, Jason worked in Binance and SAS Institute, covering the building of analytics-driven solutions for the financial services industry, digital banking and risk management. He previously studied in technology and entrepreneurship at Stanford University, Copenhagen Business School and Fudan University. Mr. Chan has a Bachelor of Business Administration in Global Business Systems Management from the City University of Hong Kong.