To ensure that Hong Kong's patent system would continue to meet present-day circumstances and facilitate the development of Hong Kong into a regional innovation and technology hub, the Government announced its policy decision on reforming the local patent system in 2013 as summarised below:
Standard patent system
Introducing an "original grant" patent (OGP) system for standard patents whilst retaining the current "re-registration" system.
Short-term patent system
Introducing post-grant substantive examination and other measures to refine the short-term patent system.
Patent agency services
Developing a full-fledged regulatory regime on patent agency services in the long term with interim measures.
Since then, the Government has been engaging in legislative work and other preparatory work, and the new patent system in Hong Kong will be rolled out upon the commencement of the Patents (Amendment) Ordinance 2016 and the Patents (General) (Amendment) Rules 2019 by the end of 2019.
---
Summary of New Patent System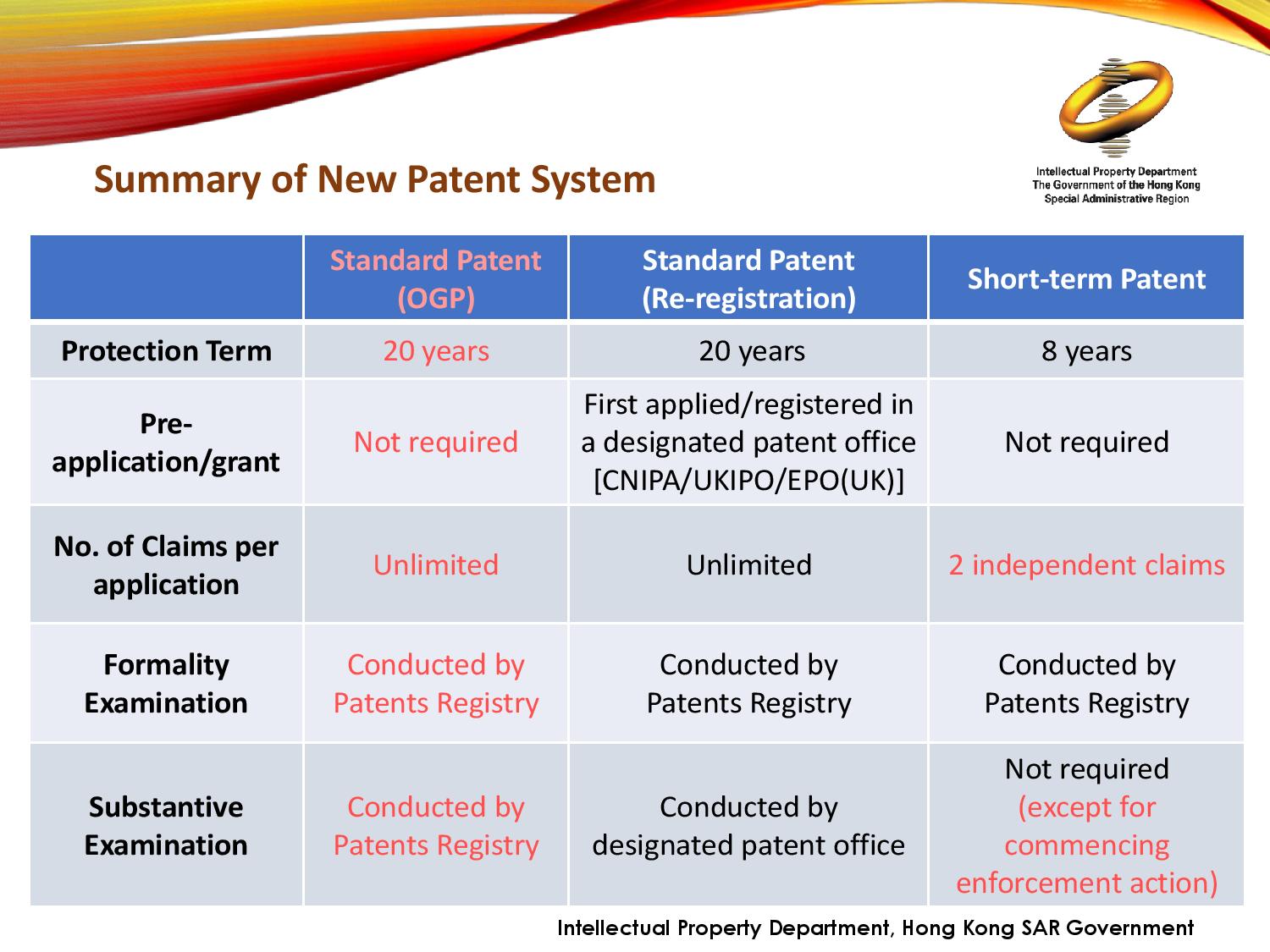 Source: Intellectual Property Department, Hong Kong SAR Government
Over the span of a few months, the novel coronavirus pandemic has brought the world to its knees. Besides hospitals and medical professionals, local and global businesses have had to rise to unprecedented challenges. We at KTEO believe that research and innovation, however large or small, may help combat the disease and protect our medical professionals.
Accordingly, with the approval from the senior management, KTEO has allocated additional funding to support the intellectual property registration (i.e. patent, design, etc.) for inventions related to combating the coronavirus. We hope that by expediting the IP application process, our inventions can be quickly commercialised and benefit the society at large.
Thank you for joining us in the fight against the coronavirus. Please submit your inventions to us by completing the invention disclosure form and evaluation form which can be downloaded from the links below:
Invention Disclosure Form (Internal access only)
Inventor Evaluation Form (Internal access only)
Inventor Evaluation Form - Appendix A (Internal access only)