Join a PolyU Project Team
or come with your innovative idea to win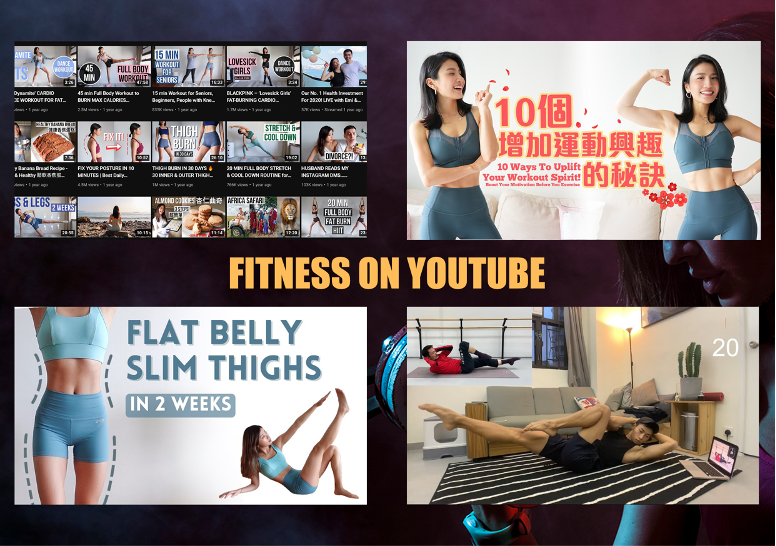 Fitness on YouTube
With social distancing and lockdown in place, healthcare practitioners are facing challenges to engage people in physical activities and healthy lifestyles in isolation. Trending fitness YouTubers, who produce and disseminate videos of at-home workouts and wellbeing tips, have come to play an important new role in public health. Not only have they offered handy knowledge of indoor exercises and self-help techniques among others, but they have also kept people motivated through COVID-19. Who are the top fitness YouTubers that have thrived in Hong Kong, where tough pandemic restrictions have been imposed? What digital resources have they mobilized to turn their channels viral and make their follower-members committed to the 'lonely' fitness trainings and healthy lifestyle routines from afar?
With the case of fitness YouTubers, this research aims at exploring and developing effective strategies of health communication in response to the pandemic, thus offering a timely account of how health-related practices and knowledge can be packaged and transacted in digital environments. Conducting an analysis of the trending YouTubers and their channels, it maps various modes of content creation and audience engagement, and highlights factors and processes enabling or disenabling them. On the one hand, this research seeks to modularize best practices of mediated health communication and community building for both practitioners and policymakers, and informs business model innovation for healthcare industries and content creators to boost their (self-)enterprises amidst public health crises. On the other hand, it opens collaboration opportunities and facilitates public-private cooperation by identifying promising influencers and suitable communicative patterns for relevant businesses and public health projects, respectively.
Principal Investigator: Dr TING Tin-yuet (Department of Applied Social Sciences)
Use of Live Streaming Immersive Technology to Promote Community Connectedness in Long Term Care Residents
Many long term care residents with deteriorating physical mobility are confined to the care facilities due to physical and contextual constraints. They are at elevated risk for depression because of the limited exposure to the outside world. Maintaining connectedness with the community has been shown to promote resident physical and mental health. This proposed study aims to bring the residents to virtually visit Hong Kong using the Live Streaming Immersive Technology developed by PolyU IC to keep their connectedness with the community without physically leaving the facilities. This technology is an integrated application involving a 5G mobile communication network, an ultra-high resolution 360-degree camera, and a large scale 6-sided CAVE system.
Principal Investigator: Prof. Elsie YAN (Department of Applied Social Sciences)
A phylogeographic surveillance platform to monitor COVID-19 transmission in the community
Our team established a revised "PCR tiling" protocol coupled with Nanopore sequencing technology, which can characterize the entire SARS-CoV-2 genome and identified mutations within 8 hours (vs 3-4 days using convention method). Because of the rapid sequencing technique, Dr. SIU's lab is always the first to identify the new SARS-CoV-2 variants introduced into the community.
For better monitoring the viral transmission in our community, we established a phylogeographic database of COVID-19 in Hong Kong. The database integrates the disciplines of genetic epidemiology and geographic information system to illustrate the spatial distribution of different SARS-CoV-2 variants in the city. In the database, the residences of the confirmed cases are represented by colour dots in the interactive map. Cases with the same viral genomes belong to the same transmission event and are labelled with the same colour dots. Animation is used to display the colour dots in order according to the date of diagnosis, and then lines will appear to connect the dots to simulate the transmission path of the virus strain in the community. This database has been providing timely scientific support for the Government's anti-pandemic measures.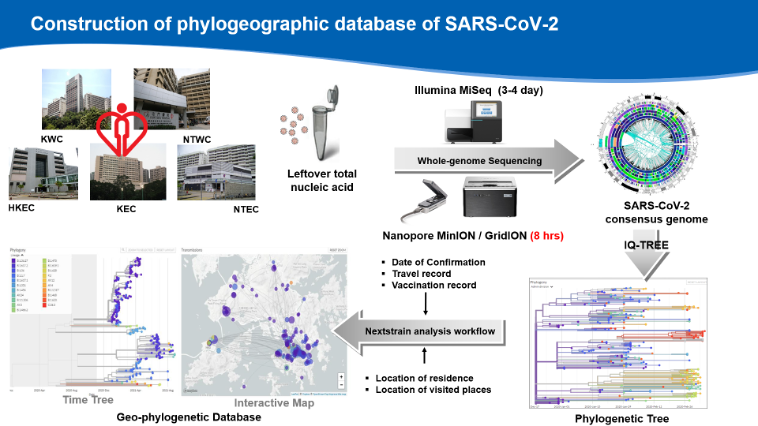 Fig.1. The project outline of construction of phylogeographic database of COVID-19 in Hong Kong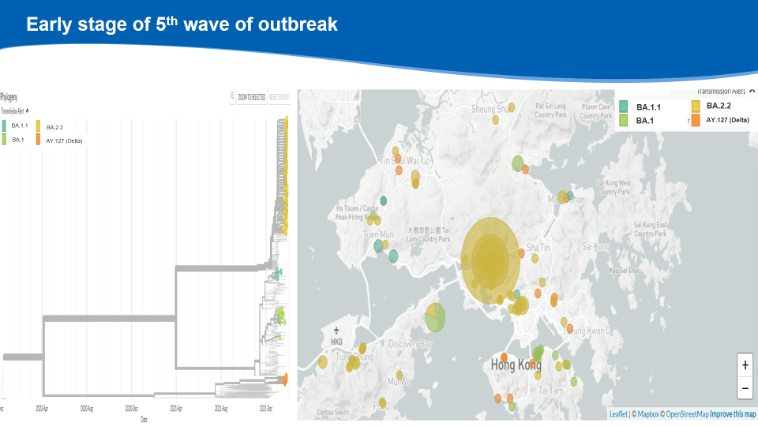 Fig.2. Our database revealing the co-circulation of four SARS-CoV-2 variants during the early stage of the 5th wave of community outbreak in Feb 2022. The information helped the Government to suppress the transmissions originated from aircrews and identified the source of the outbreak in Kwai Chung Estate.
Principal Investigator: Dr Gilman SIU (Department of Health Technology and Informatics)
New orally administrable peptide for treatment of diabetes
Despite the successful development of insulin related therapies for the treatment of diabetes, there is still an unmet need to better treat hyperglycaemia and hyperlipidaemia. To expand the toolbox of effective medications needed for providing better glycaemic control and at reduce complications for individual characteristics of our diabetes patients is a continuous effort in pharmaceutical industry, our team focuses on exploring novel antidiabetic peptides for more effective treatments. By our state-of-the-art platforms, orally administrable antidiabetic peptide can be used for treatment of both type 1 and 2 diabetes was identified. Further investigation on the translation potential of this peptide will be performed in this project.
Principal Investigator: Dr Wong Chi Ming (Department of Health Technology and Informatics)
Effect of markerless motion capture (MMC) system for measurement of range of motion (ROM) in patients with disability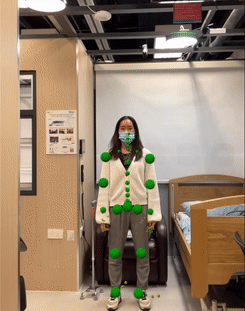 This project develops and utilize the use of markerless motion capture (MMC) system in Leap
Motion Controller (LMC) and mobile device, such as iPad Pro and iPhone for motion tracking and analysis. We implemented programs in the MMC systems, LMC and iPad Pro, and investigate its effect in measurement of range of motion (ROM) in patients to detect for and identify the movement limitation in them.
The use of MMC system for ROM measurement acts as an alternative tool to the traditional use of goniometer. MMC system in mobile or portable devices enables the measurement ROM in the home setting in which the patients can perform the daily tasks in a natural way while therapists can monitor the recovery progress of the patients remotely and comprehensively.
Principal Investigator: Prof. Kenneth FONG (Department of Rehabilitation Sciences)
Knowledge transfer of the evidence-based recommendations for the management of musculoskeletal disorders to local therapists and patients
Our research team develop evidence-based clinical practice guidelines for the management of some of the most prevalent and disabling musculoskeletal conditions, namely low back pain, neck pain, hip and knee osteoarthritis. Our current project aims to transfer the recommended care resulting from these clinical practice guidelines to local stakeholders such as therapists and patients. We are planning to develop a mobile phone-based app to transfer the recommended care to stakeholders and track their performance over time until they fully recover.
Principal Investigator: Dr Fadi AL ZOUBI (Department of Rehabilitation Sciences)
Machine learning in analyzing visual signalling coding in the myopic retina
Visually guided ocular growth theory is believed to correlate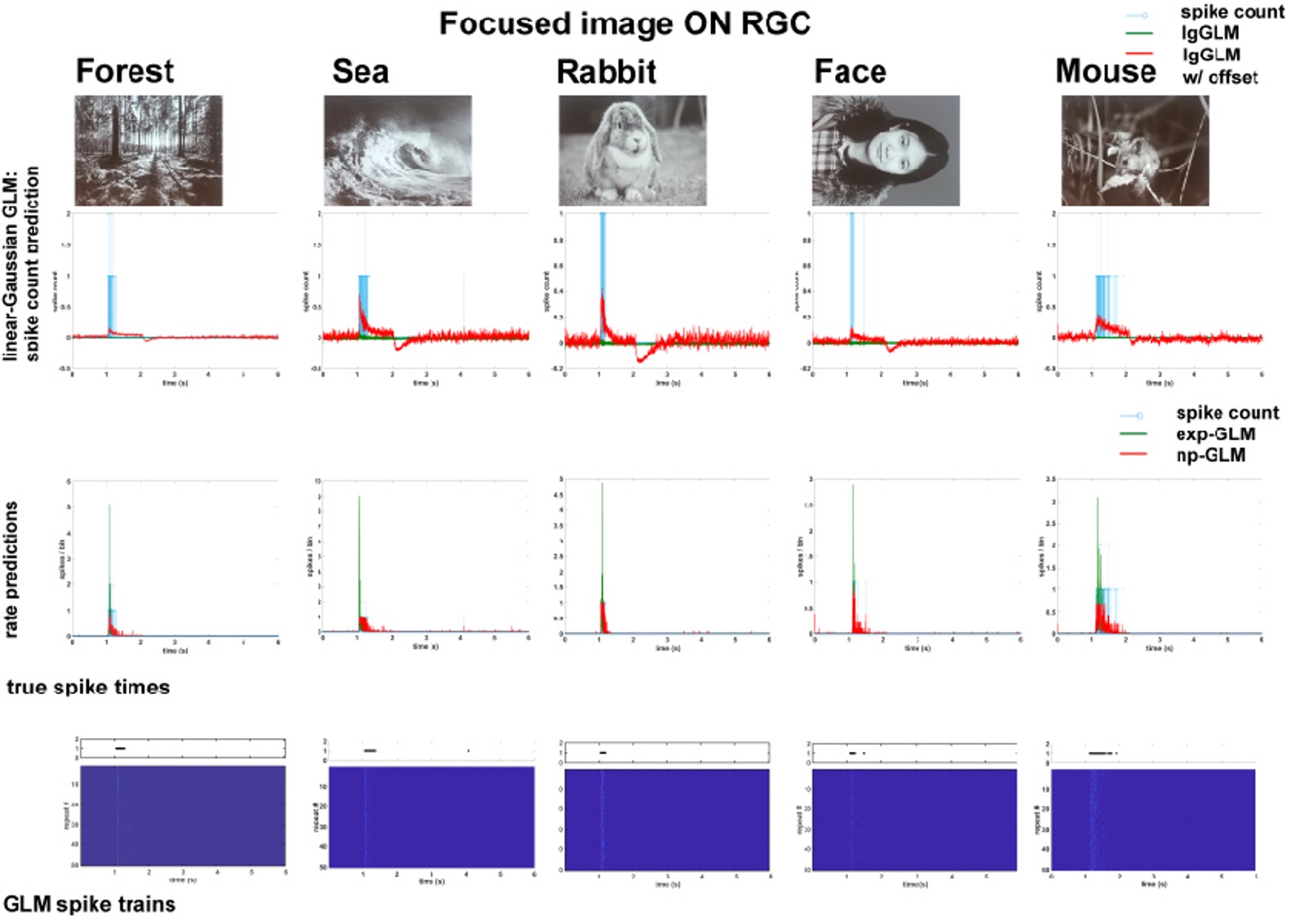 with myopia development. Our Team believed that various focus/defocused images could be used to modulate the signalling between retina-scleral and therefore prevent axial length elongation. Thus, we first applied poisson generalized linear models (GLMs) model to determine how alpha retinal ganglion cells(α RGCs) can sense the nuance of various images with respect to their biophysical properties. Then the second step is how these spike properties affect the retinal signalling to the scleral. Our research aims to explore the application of designated visual stimuli in the form of glasses to regulate the change of axial length.
Principal Investigator: Dr PAN Feng (School of Optometry)
Deciphering refractive error by utilizing smartphone AI photorefraction technology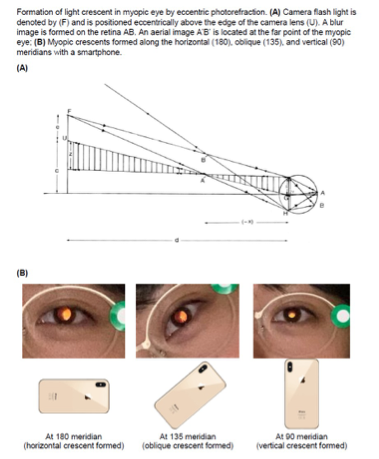 In the post-pandemic digital era, healthcare must evolve to reach those in need yet with scarce resources. Nowadays, smartphones have reached a global penetration even rising in less developed countries. Our recent efforts aimed to explore the use of smartphone photorefraction in identifying amblyogenic risk factors, and determination of myopic (short-sightedness) and astigmatic refractive errors. By adopting artificial intelligence (AI) technology that uses machine learning, our goal is to develop a new avenue in smartphone application for a fast and accurate automated determination of refractive errors so that timely diagnosis and treatment can be implemented.
Principal Investigator: Miss KIU Ling Yau (School of Optometry)
Development of an ultra-fast "light up" biosensor tool to achieve high-throughput screening in drug discovery against superbug New Delhi Metallo-beta-lactamase-1 (NDM-1)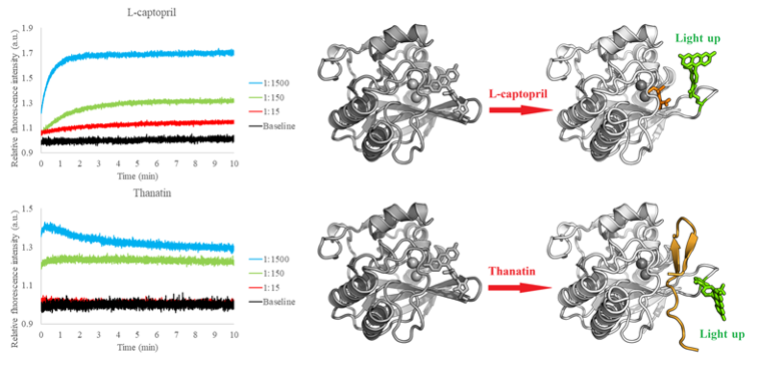 The New Delhi Metallo-β-lactamase 1 (NDM-1) has raised lots of awareness since the past 14 years. It is a Carbapenem-resistant Enterobacteriacease, which can hydrolyse most of the β-lactam antibiotics, rendering it to be a superbug. Because of the shortage of an effective in vitro drug screening assay, there is still no clinically useful inhibitor against NDM-1. We have developed a fluorescent labelled NDM-1 biosensor for the detection of potential NDM-1 inhibitors. Results showed that the NDM-1 biosensor can generate turn-on fluorescent signal after binding to L-captopril and thanatin (positive controls). Our next step will immobilize the NDM-1 biosensor in 96-well plate to develop a high-throughput screening tool for the drug discovery. Product performance and stability tests will be conducted before product commercialization.
Principal Investigators: Prof. LEUNG Yun-chung, Prof. WONG Kwok-yin (Department of Applied Biology and Chemical Technology)
Digital Platform for Personalized Dietary Coaching of Hong Kong Older Adults
The declining food intakes in older age may lead to nutrient deficiency without noticing, and elevates the risk of multiple chronic diseases. When disease burden increases with aging population in Hong Kong, it is especially important for older adults to self-monitor their diet. In the proposed project, we plan to develop a smartphone-based digital platform to assess dietary intake of older adults using photos and audio messages. More importantly, the platform will evaluate the healthy and unhealthy foods, and will generate personalized advice in modifying dietary choice and food preparation method. With the use of smart technology, older adults can self-evaluate their diet and prevent diseases due to nutritional inadequacy.
Principal Investigators: Dr Kenneth LO (Department of Applied Biology and Chemical Technology)
Photocontrolled Skin Drug Delivery
Our research team has working on the area of photocontrolled supramolecular soft materials over last 5 years. We plan to expand the research scope to translational research in applications of our recently developed supramolecular soft robotic systems (awarded Croucher Innovation Award) into the next generation visible-light controlled drug delivery systems.
With our recent collaboration research experience and knowledge in the CEVR project, we would extend the potential applications of the eye-drug delivery systems to skin-drug. Though the project is still in its infant state, with our track-record, we can foresee the applicational importance for biomedical materials for skin drug deliveries.
Principal Investigators: Dr Franco LEUNG King-chi (Department of Applied Biology and Chemical Technology)
Health products from mycelial fermentation of a medicinal fungus Cs-HK1
This project aims to develop novel functional food and therapeutic products from mycelial fermentation of Cs-HK1 fungus originated from Cordyceps sinensis (冬蟲夏草), an exotic and precious medicinal fungus in TCM. The fungal mycelium (FM) and exopolysaccharide (EPS) produced by Cs-HK1 mycelial fermentation have proven and notable health and therapeutic effects including anti-tumor, anti-oxidant, anti-fatigue, anti-inflammation and anti-hypertension. With these desirable effects, the project will make functional foods, dietary supplements and/or therapeutic adjuvants of Cs-HK1 FM and EPS in the forms of capsule, tablet, syrup and injectable liquid.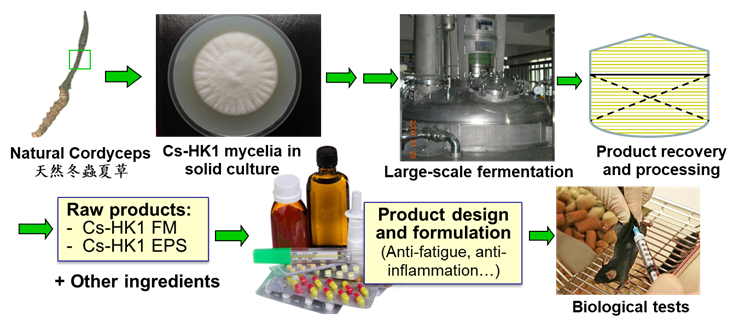 Principal Investigators: Prof. WU Jian-yong (Department of Applied Biology and Chemical Technology)
Novel Influenza Diagnostic Assays Development
Given the continuous public health threat caused by influenza viruses, World Health Organization(WHO) urges global surveillance as a key strategy to address this problem. Rapid diagnostic technologies play an important role on field surveillance of influenza viruses in human as well as animals such as pets, poultry and other farm animals for the control of zoonotic or pandemic influenza viruses. We plan to develop a new turn-on fluorescent smart detection device for simple, rapid, and semi-quantitative point-of-care diagnostics of influenza viruses. This diagnostics platform will offer rapid tests for influenza viruses in human facilitating the prescription of antiviral drugs and support new antiviral drug and vaccine development.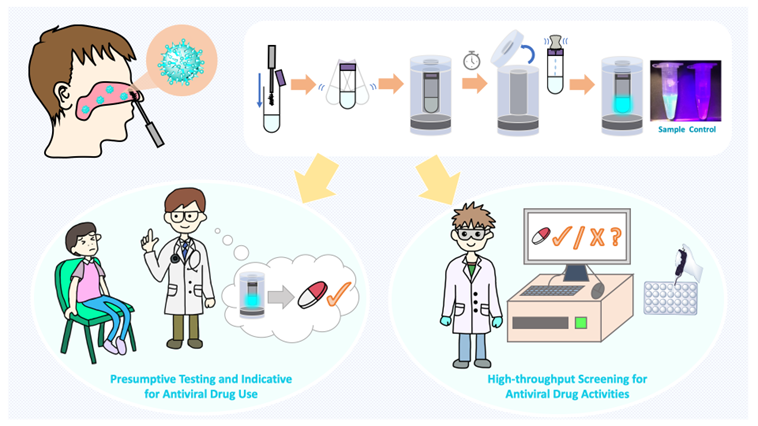 Principal Investigator: Prof. Man-Kin Wong (Department of Applied Biology and Chemical Technology)
A Device for Measurement of Covered Curvature
External measurements of the body curvature can evaluate the musculoskeletal system, such as obtaining changes in spine curvature for spinal health assessment. However, body surfaces may be covered and challenging to measure, for example, measuring the back while lying on the back, sitting in a chair, or carrying a backpack. Therefore, multiple inertial measurement units were integrated into a concise circuit to fabricate a curvature measurement tape. The self-developed algorithm facilitates accurate and real-time measurement of covered curvature. This device is portable, non-invasive, and cost-effective. In addition to the spine assessment, there are other potential applications, for example, integration into an endoscope to achieve the position detection function of the device.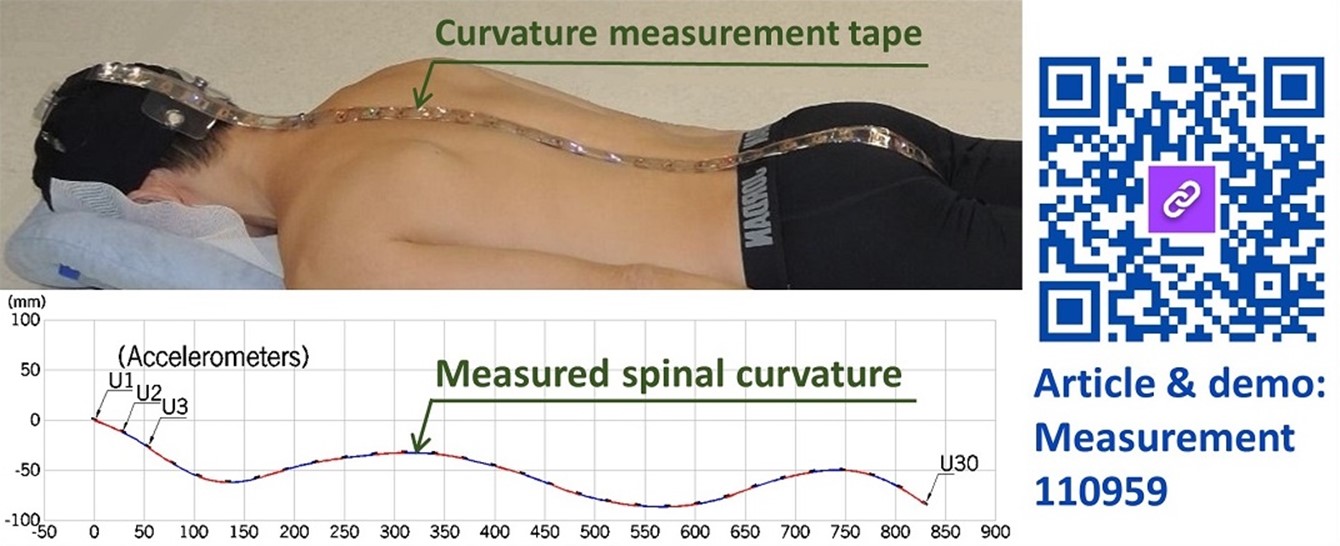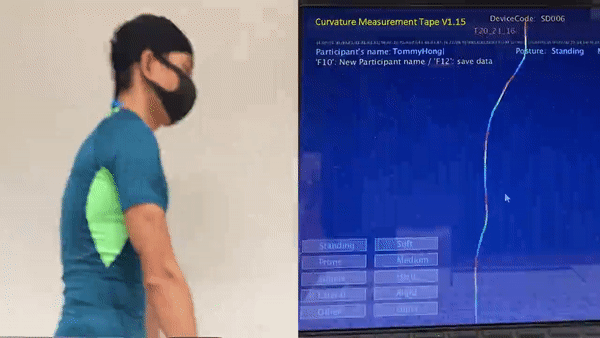 Principal Investigators: Tommy Tung-Ho HONG (Department of Biomedical Engineering)