Ever since it was established in 2007, the Centre has been most active in the field of KM in Hong Kong as shown by its high level of Teaching/Training, Consultancy, Applied Research and Strong International Collaboration. The Centre's core services fall into three main areas below:
Research

Teaching / Training
Professional Services / Consultancy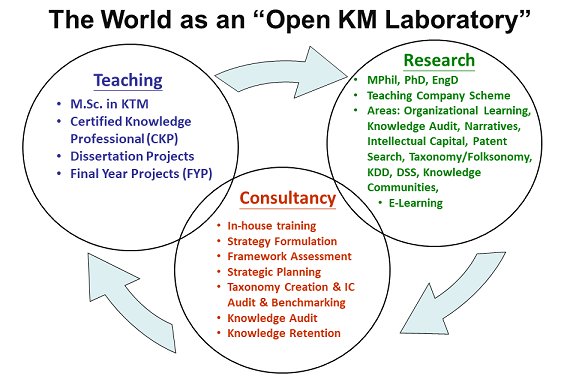 Other Notes
How do you feel about the Centre?
Prof. Leif Edvinsson, Visiting Chair Professor of Intellectual Capital Management, PolyU, commented on 20 February 2009.


"...It's a unit that is the forefront of working on the subject of Knowledge Management, pioneering a lot of dimensions. As you know, every new innovation, every new research step starts with an investment into knowledge and intangibles. And that's why the development of systems and technologies is a must, and this is what the KM Research Center is doing..."

Dr. Nicholas Gorjectani, Senior Advisor of African Region and Former Chief Knowledge and Learning Officer, World Bank, commented on 30 March 2009

"...I think this is an excellent idea, and more should be done in terms of bringing new perspectives on how to use knowledge in order to compete better in the 21st Century..."

Mr. Patrick Lambe, President of iKMS in Singapore, commented on 30 March 2009

"...KM Research Center at The Hong Kong Polytechnic University is one of the few organizations I know which manage to successfully combine KM research with KM practice, and also more recently with a lot of KM tools and technologies..."