| | |
| --- | --- |
| Date: | 30 Jun 2020 - 30 Jun 2020 |
| Time: | 9:30am - 3:00pm |
| Speaker: | Various |
| Event fee: | Free |
Please click here for registration
Details:
Exploring Smart Technology-Led Transformation and Innovation
智能技術帶領蛻變與創新
Asian Knowledge and Innovation Forum (AKIF)
亞洲知識及創新論壇

*** The programme is subject to change.
---
Keynote Speeches
Speaker

Ms Lucy Werner
Industry Leader Finance and Travel, Google


Lucy is leading Google's Finance and Travel strategies for pan-Asian clients, with a focus on expanding these clients' digital transformation strategies and accelerating innovation.

Lucy joined Google in January 2015. Her career prior to Google included leadership roles at Kenshoo across Asia Pacific and in the US at Spruce Media (a Facebook PMD partner) where she was the Chief Operating Officer and at adBrite where she served as the Vice President of Sales, Marketing and Business Development and built the largest independent ad exchange.

Lucy has also held several leadership roles in finance at JP Morgan, Merrill Lynch and Deloitte.

************************************************************
How artificial intelligent and cloud can fuel digital transformation in businesses?
Digital transformation is reinventing organisations through the use of artificial intelligence and cloud technology. The pace of change over the past few years has been hugely significant with businesses accelerating digital capabilities at an astonishing rate. Lucy will share how different organisations transform their business and make it more productive and more personalised to their customers.

Dr Hong Fung
Executive Director and Chief Executive Officer
Chinese University of Hong Kong Medical Centre

Dr FUNG is the Executive Director and Chief Executive Officer of the CUHK Medical Centre (CUHKMC). CUHKMC is the private teaching hospital wholly owned by The Chinese University of Hong Kong (CUHK).

Dr FUNG is also Professor of Practice in Health Services Management at the Jockey Club School of Public Health & Primary Care, CUHK, where he teaches health services planning, healthcare innovation and technology management, healthcare financing, communications and marketing, and decision making in the School's master and leadership programs.

************************************************************
Planning of a smart hospital
A local hospital is planned with extensive adoption of information technology to support its triple aim: achieving population health, enhancing patient experiences, and reducing financial burden to the patients. An integrated digital strategy is developed for a 'smart hospital' with three essential components: (a) Smart Medicine – a fully digitalised electronic medical record system that support clinical decision making and population health; (b) Smart Care – close loop mobile applications that support doctors, nurses, and patients themselves to go through the patient journeys; and (c) Smart Management – strategic adoption of Internet of Things to increase efficiency in the daily operation and management of the patient care and supporting services.

Mr Jeff Tung
Senior Project Director (Project Management)
New World Development Company Limited

Jeff Tung is a Hong Kong Registered Architect and a Fellow Member of the Hong Kong Institute of Architects. He has been serving the building industry for more than 30 years, in which more than 10 years in private development sector. He has extensive experience in the planning, design and project management of commercial and hotel projects in Hong Kong, China and South-east Asia.

Jeff is the Senior Project Director of the Project Management Department of New World Development Co. Ltd, and he has recently completed the Remodeling of New World Centre into Victoria Dockside and the Rejuvenation of Tsim Sha Tsui Waterfront in Hong Kong.

Jeff is also a Director for Culture for Tomorrow (CFT), a non-profit organization founded in 2017 by cultural entrepreneur Mr. Adrian Cheng, to actualize design and architectural innovation.

************************************************************
ProTech: Integration of information technology in building projects
Integration of design and technology has become an important aspect of our everyday life. Through the NW Innovation Co-Lab Consortium, New World Development Company Limited established close collaboration with over 20 industry-leading startups and technology-based companies to develop innovative solutions to resolve the pain points identified in operation process by good design with the integration of new technology, achieving a more effective workflow to improve the internal operations, enhance the users' experience and match customers' expectation.
*

Your contact details will be collected by Arup.
---
2020.06.30
Hong Kong MIKE Award winners share their KM stories at the Asian Knowledge and Innovation Forum


_____________________________________________________________

The Asian Knowledge and Innovation Forum jointly organised by the Knowledge Management and Innovation Research Centre (KMIRC) of The Hong Kong Polytechnic University (PolyU) and Arup on 30 June 2020 had come to a successful close. Due to the outbreak of COVID-19, the Forum was conducted and broadcasted online. Themed "Exploring Smart Technology-Led Transformation and Innovation", the forum invited experts to deliver keynote speeches on smart technology. In the later part of the forum, representatives from corporations in Hong Kong shared their successful experiences in knowledge management and innovation. It attracted more than 300 audience to join.

The 2019 Hong Kong Most Innovative Knowledge Enterprise (MIKE) Award Presentation Ceremony was also held on the same day. The Ceremony presented the Hong Kong and Global awards as a recognition for Hong Kong organisations with outstanding practices in knowledge management and innovation. The Top Winner of Hong Kong MIKE Award 2019 is Architectural Services Department of HKSAR Government.

The followings are the winners of the Hong Kong MIKE Award 2019
(in alphabetical order)
Architectural Services Department
CLP Power Hong Kong Limited
EY, Hong Kong
Fung Academy
Hong Kong Correctional Services Department
Sino Innovation Laboratory Limited
The MIKE Award builds on the original Most Admired Knowledge Enterprise (MAKE) Award as previously conducted by Mr Rory Chase of Teleos in 1998. Prestigious enterprises from different parts of the world have been recipients of the MAKE Award. To continue, the International Global MIKE Study Group comprising world experts in effective knowledge management and innovative practices has been formed. The Study Group's role is to identify the best practices related to how enterprises cultivate and convert their knowledge into superior products, services and solutions. The Study Group's aim is to identify the top 100 global MIKEs.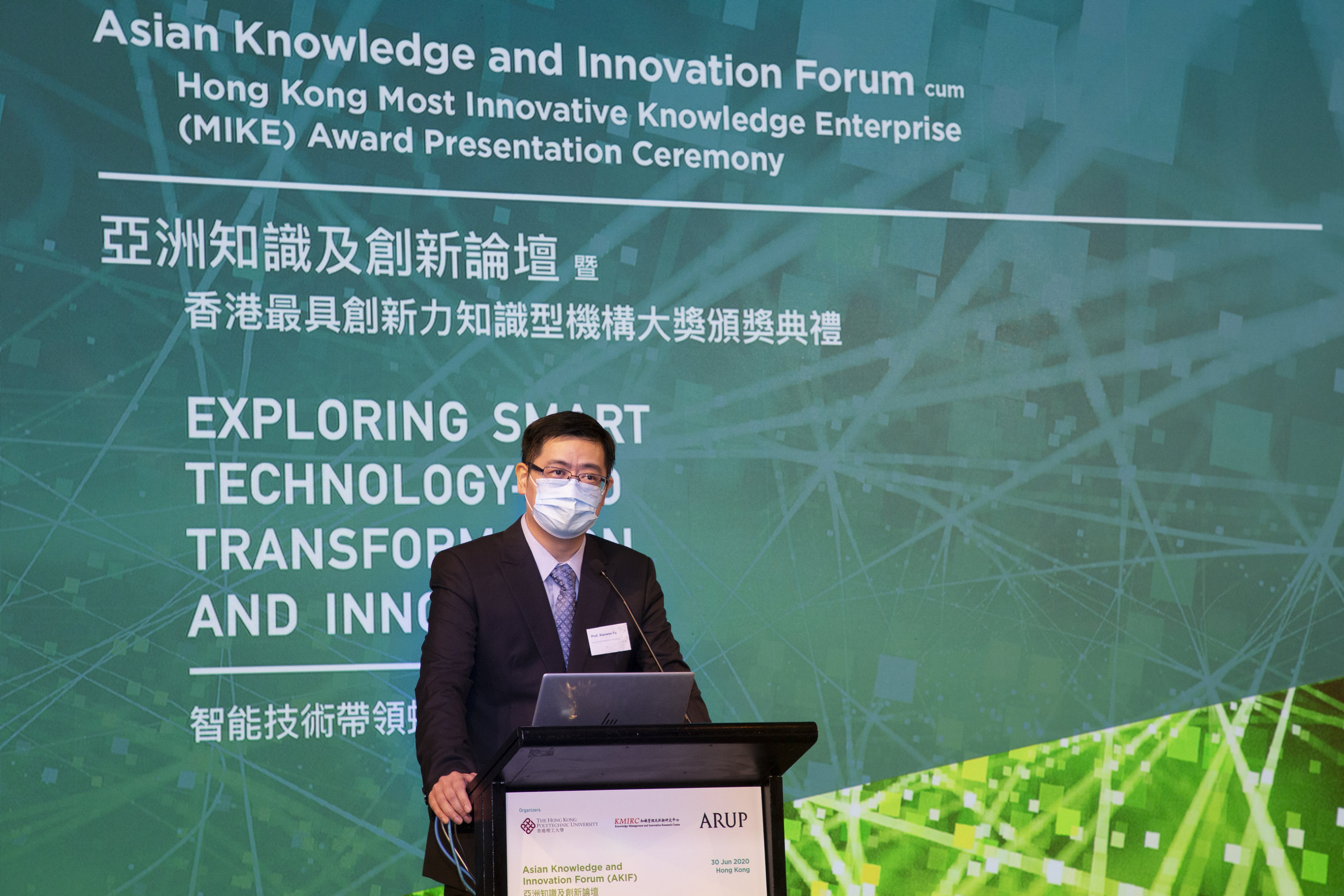 Professor Xiowen Fu, Director of of KMIRC, delivered an opening speech at the Forum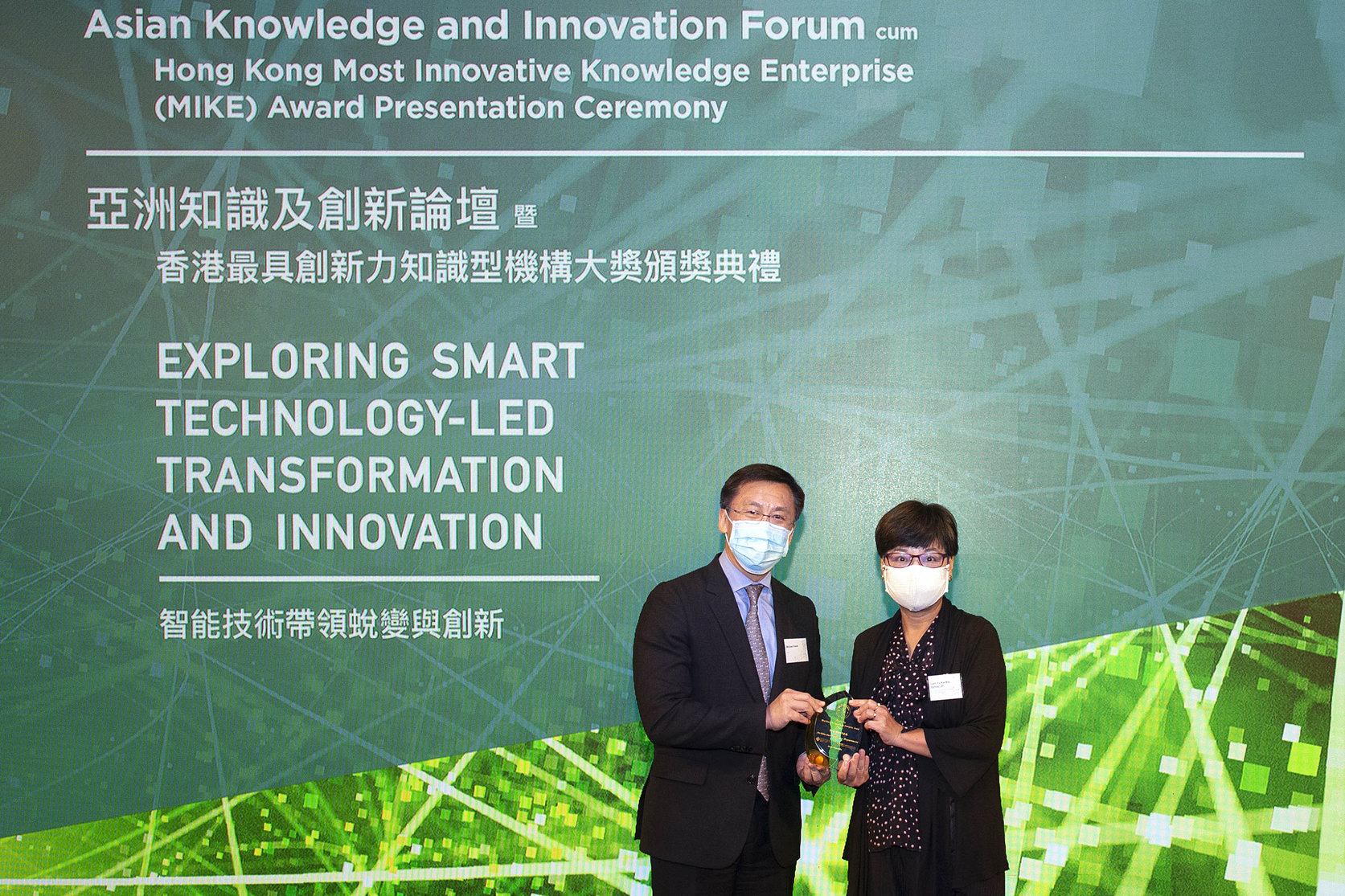 Mrs Lam Yu Ka Wai, Sylvia, JP, Director of Architectural Services, represented Architectural Services Department to receive the Top Winner of Hong Kong MIKE Award
Asian Knowledge and Innovation Forum broadcasted online