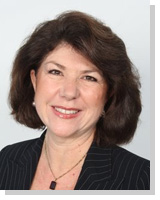 Dear Academy Fellows:
I am honored and humbled to be writing this first President's message for the Academy newsletter. It is my first formal communication with most of you since the election, and I would like to thank you deeply for your support and confidence. I look forward to working collaboratively with each of you to move the Academy forward in the next two years. Rick and his team left the Academy in excellent condition, making it an easy transition. Jafar and Rick have each been invaluable advisors to me as I transition from being a relative new-comer to the Academy to serving as its President. Their advice together with the best possible executive team - Julio, Larry, and Haiyan, and our very efficient Secretariat, give me a strong feeling of confidence moving forward.
The Executive Committee is excited about the term ahead, and is meeting regularly (electronically) to plan Academy activities. In the spirit of transparency and inclusiveness, the Secretariat is preparing a place on the Academy Website where we will soon be posting our meeting summaries. Please visit the site (www.tourismscholars.org) to see what we are doing and send us your input. You will notice another change as you read this message: the Academy newsletter is now in electronic format for efficiency and tree-saving reasons. It also allows us to include photographs more easily, so please send some photos with your news updates in the future.
Julio, our Vice President and Conference Chair, has already been to Spain to start the planning for the next Academy meeting in Rioja, Spain in 2009. The conference is tentatively scheduled for early June. As you all know, this Academy meeting is a very special one for two reasons: 1) it is 20 years since IAST was founded; and 2) it is one with a mandate for change (based on discussions in Turkey). Because of its importance, we would like you to consider contributing to the conference design. You can contribute your thoughts about celebrating 20 years of IAST and about how to improve the conference format by sending us emails. To seed the discussions, we will post the results of the survey done in Turkey on the website - this gave good suggestions for change and new conference formats.
I believe that the Academy must play a greater role by bringing our knowledge and expertise to our fast-changing industry and all that it touches. Let us think together how best we can do this. I look forward to hearing from you with ideas for the 2009 conference and for making the Academy more active, relevant and enjoyable. Please feel free to contact me at any time psheldon@hawaii.edu or +1 808 371 6071 with your thoughts or if I can be of assistance in any way.
Sincerely
Pauline Sheldon