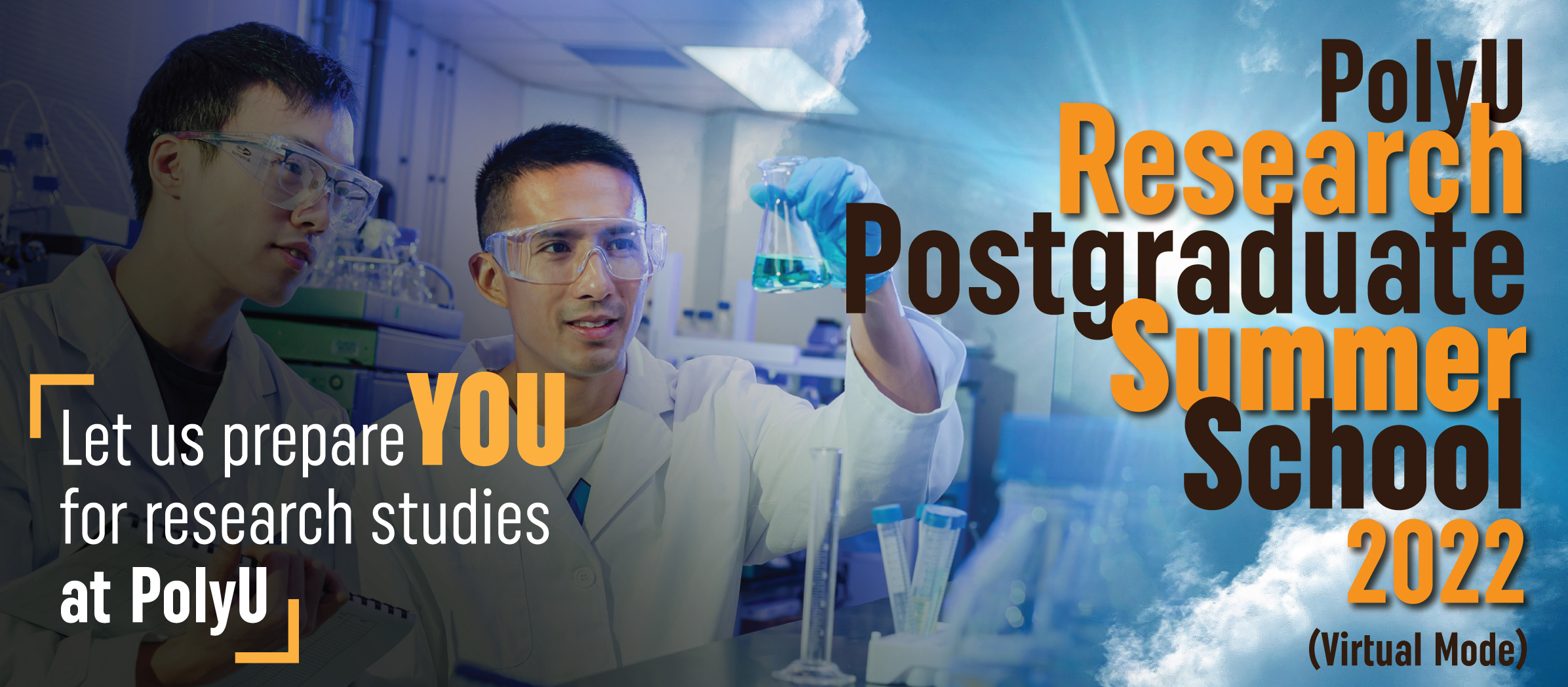 The PolyU Research Postgraduate (RPg) Summer School not only serves as a PhD tasting programme for the participants to experience wide elements of research studies but also provides them with an opportunity to get familiar with the support that PolyU will offer. During the Summer School, students will have opportunities to meet professors and researchers, attend workshops to learn different research-related skills, interact with students and alumni for experience sharing, and prepare their research proposal for presentation at the end of the Summer School.


Who are eligible?
To encourage interdisciplinary exchange and promote a diverse mix of students, the Summer School welcomes PolyU and other universities, local and non-local, participants who are:
year 3 or year 4 or final year undergraduate students of any discipline; or
students in master's degree programme.
Priority will be given to students who plan to apply for admission to RPg programmes in September 2023.


What do we offer?

Conditional offers of admission to RPg studies


Conditional offers of admission to research postgraduate programmes will be given by the Graduate School and/or departments and academic staff to excellent potential candidates, with the support of various fellowship and scholarship schemes including the prestigious PolyU Presidential PhD Fellowship Scheme (PPPFS).

HK$5,000 Summer School Scholarship for each participant

A Summer School Scholarship of HK$5,000 will be awarded to each participant who has completed the Summer School by participating in all sessions successfully.

Mentoring by professors in different research areas


Participants would meet potential supervisors based on their research interests indicated in the application form.

How to apply?

The application is open from 15 March to 18 April 2022. Applicants are required to upload the following supporting documents in PDF format when completing the application form:
a copy of bachelor's degree award certificate (for master's students);
copies of academic transcripts/ academic reports;
copies of official score report of English language tests such as IELTS and TOEFL if they are from institutions where English is not the medium of instruction;
a curriculum vitae (CV) highlighting their academic achievements, research interests and strengths, aspirations and career plans, involvement in extra-curricular activities or community services, and exchange or internship/ placement participation; and
a non-refundable application fee of HK$200.
Applicants will be selected based on their academic excellence, research ability and experience, proficiency in English, and other personal qualities and skills.
No tuition fee will be charged. The application is closed.


Timeline (HK Time UTC+8)

Open for application: 15 March 2022
Deadline for application: 18 April 2022
Notification of result: Late May to mid June 2022

Summer School: 13 July - 27 July 2022

(exclude Saturdays and Sundays)


Programme in brief
In view of COVID-19 pandemics, the Summer School will take place online via Zoom. Students could meet potential supervisors in breakout rooms for consultation and discussion.
**This is a tentative programme and details will be announced in due course. PolyU reserves the right to change the programme and participants affected will be informed as soon as possible.

Date

Morning


Afternoon


13 July


Opening

Orientation and programme briefing

Introduction to RPg studies at PolyU and HKPFS


How to prepare yourself for RPg studies?

How to be a researcher and innovator – an entrepreneur's point of view


14 July

Meet professors in breakout rooms

Participants start to prepare the research proposal


Workshop on research methodology

15 July

Academic writing workshop


- Writing a research proposal for PhD studies
- Writing an academic paper for publication


Library workshop


- Choose a suitable research topic
- Develop a research question
- Select and evaluate information sources

18 July

Meet the researchers and demo visit


19 July

Mini bootcamp on entrepreneurship I

20 July

Mini bootcamp on entrepreneurship II




21 July

Consultation with academic representatives from departments in breakout rooms

22 July

Industrial Centre virtual tour

25 July

Participants finalise the research proposal


Consultation with academic representatives from departments in breakout rooms

26 July


Presentation of a brief research proposal by each participant

27 July

Mental wellness and career planning


Closing

Outstanding RPg students and HKPFS awardees sharing

Enquiries
Graduate School
The Hong Kong Polytechnic University
Email: gs.summer@polyu.edu.hk


Last updated: 19 April 2022