New partner joins GreenCoin to boost cultural experience
PolyU's GreenCoin, managed by the Campus Sustainability Office (CSO), is a campus-wide campaign on campus to empower and reward PolyU students and staff who perform sustainable actions. This campaign made a big leap forward and welcomed the support from the Culture Promotion and Events Office (CPEO). With the huge support from CPEO, GreenCoin has brought about valuable opportunities for its users to redeem e-coupons or tickets to enjoy an array of entertaining and inspiring cultural activities and programmes. In May 2019, GreenCoin users had the exclusive chance to use 3 Coins to exchange for one ticket of PolyU Orchestra - Pre-departure Concert, Stuttgart Exchange Programme. More partners and events under the GreenCoin campaign will come to offer users an exciting experience!
Download and enjoy the GreenCoin App now and read updates about it at https://www.polyu.edu.hk/greencampus/greencoin!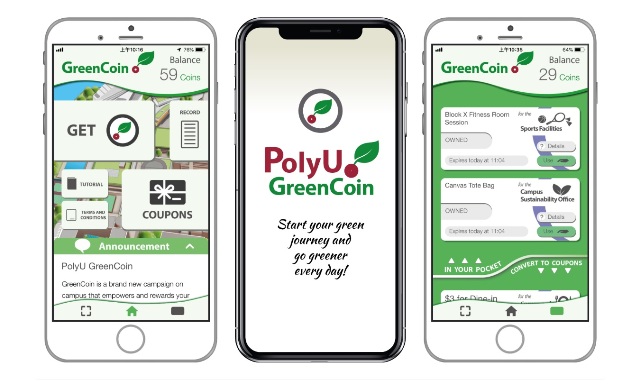 GreenCoin offers users a unique green experience and attractive rewards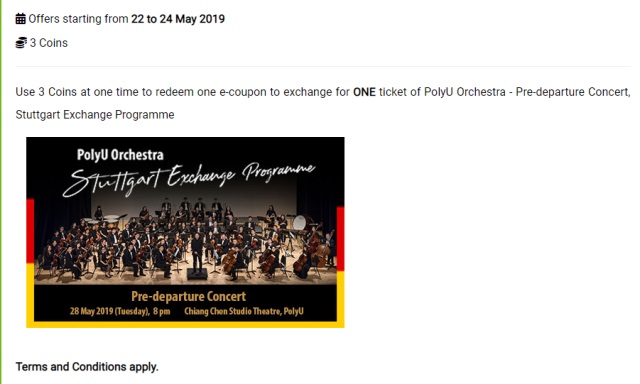 Redeeming concert ticket with Coins earned