---
On 21 November 2022, The Hong Kong Polytechnic University (PolyU) presented the PolyU 85th Anniversary Grand Concert at the Jockey Club Auditorium, featuring a dazzling lineup of internationally acclaimed musicians and revered artists performing an array of Chinese and Western music from different eras. Guests joined members of the PolyU community on the nostalgic musical journey reliving the University's evolution in tandem with Hong Kong's development over 85 years, and witnessing the University embarking on a new journey towards a brighter future.
Internationally renowned musician Mr LEUNG Kin-fung was music director of the Grand Concert. Sharing the stage were renowned Hong Kong artist Dr Liza WANG, world-renowned violinist Ms YAO Jue, guzheng virtuoso Dr Lunlun ZOU, Steinway artist Dr Vivian CHENG Wai, renowned singer Ms Sophie CHEN, erhu master Mr GUO Gan, choir conductor Mr Alex TAM, as well as aspiring music talents from Academy Choir of The Hong Kong Academy for Performing Arts and the PolyU Community – PolyU Orchestra, PolyU Choir and The Federation of PolyU Alumni Associations Chinese Orchestra.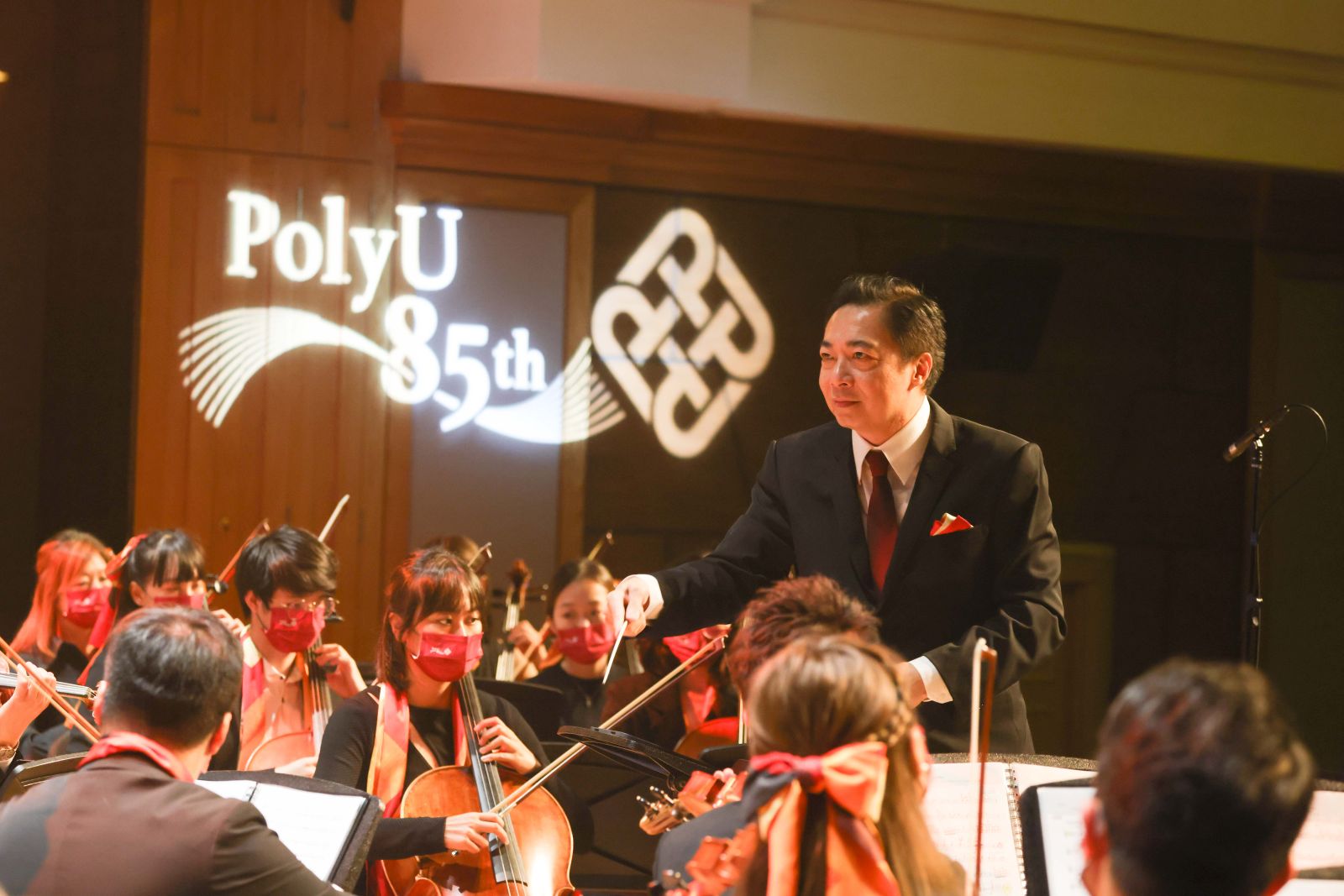 The audience was taken on a captivating musical journey, which opened with the theme song of the PolyU 85th Anniversary, followed by memorable performances of music and songs from different generations performed by the talented musicians and artists against the backdrop of PolyU's four stages of development. The concert rose to a crescendo with everyone on stage and in the audience joining in a chorus of "Below the Lion Rock".
Dr LAM Tai-fai, Council Chairman of PolyU, remarked, "PolyU is committed to whole-person education to nurture graduates who have positive values and a strong sense of national identity, who are socially responsible and willing to shoulder greater responsibilities for the betterment of Hong Kong, the Nation and the world. Holding art and cultural events is part of our efforts to foster the whole-person development of our students, in order to broaden their horizons beyond academic studies. Over the years, we have been promoting art and culture in collaboration with acclaimed outstanding artists on campus. My sincere thanks to their tremendous support."
Prof. Jin-Guang TENG, President of PolyU said, "PolyU is delighted to promote art and culture among the PolyU community and the wider community through the anniversary Grand Concert. Looking forward, PolyU will continue to fulfil our mission of providing the best holistic education and nurture leading talents who live up to the University's motto of 'To learn and to apply, for the benefit of mankind'."
Our thanks to the generous sponsors of our 'Art and Culture Development Fund', through which we support unique programmes and collaborative activities on campus for developing students of special talents and promoting art and culture at PolyU and in the community.
| | |
| --- | --- |
| Premium Support: | International Genius Company |
| Gold Support: | Dr Raymond Chan 陳煒文博士, JP |
| | Ms Marjorie Yang Mun-tak 楊敏德女士, GBS, JP |
| | Cally K Jewellery 鄺美雲珠寶 |
| | PricewaterhouseCoopers Limited 羅兵咸永道會計師事務所 |
| Pearl Support: | Mr Chan Kai-tuen 陳啟端先生 |
| | Ms Ella Cheong 張淑姬律師, JP |
| | Dr Katherine Ngan Ng Yu-ying 顏吳餘英博士, MH, JP |
| | Mr Richard Sun Po-yuen 孫寶源先生, JP |
| | CLP Power Hong Kong Limited 中華電力有限公司 |
| | FANCL 無添加 |
| | Lenovo 聯想 |
| | NWS Holdings Limited 新創建集團有限公司 |
| | The 12th Class of the PolyU-RU DMgt Program 工商管理博士12班博睿班 |
| Crystal Support: | Dr Tony Cheung Shi-pang 張仕鵬博士 |
| | Mr Pui Kwan-kay 貝鈞奇先生, SBS, MH |
| | Dr Allen Shi Lop-tak 史立德博士, BBS, MH, JP |
| | Ms Jennifer Tan Yuen-chun 陳婉真女士 |
| | Dr Raymond Wong King-kwok 黃經國博士 |
| | Mr Yeung Chi-hung 楊志雄先生, MH |
| | Fook Tin Group Holdings Ltd 福田集團控股有限公司 |
| | Golden Resources Development Limited 金源米業 |
| | Innovation Technology Company Limited 易路達科技有限公司 |
| | King's Flair Development Limited 科勁發展有限公司 |
| Other Support: | Mr Fong Wang-hoo, Martin 方宏浩先生 |
| | Mrs Nina Lam 林李婉冰女士, MH |
| | Ir Prof. Tsui Tack-kong 崔德剛教授工程師 |
| | Mr Yu Tung-shan 余統山先生 |
---