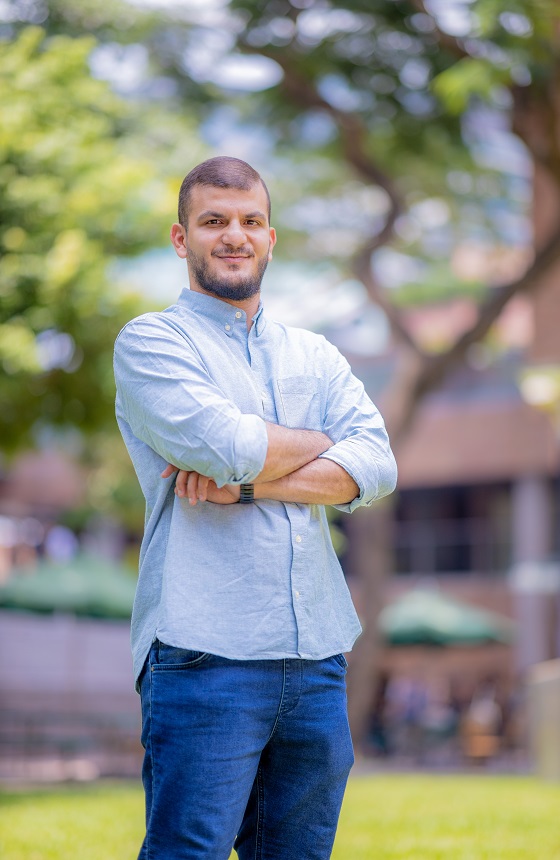 Alrefaei Yazan
Department of Civil and Environmental Engineering, Syria
I'm doing experimental research related to sustainable green building materials. The cement industry emits a lot of carbon dioxide - one of the greenhouse gases causing global warming. My goal is to help replace cement with other environmentally friendly materials to maintain sustainability and protect our planet.

There are many reasons why I decided to choose PolyU for my PhD. Firstly it's is one of Asia's leading universities and the department of civil and environmental engineering (CEE) is ranked in the top 20 such schools worldwide. Also the research possibilities are highly flexible, which is very attractive for PhD students.

Perhaps the most enjoyable aspect for me has been meeting new friends from different countries and ideologies. I'm also enjoying living in the PolyU student halls, which has given me the chance to participate in several social and sports activities including football, hiking, cooking competitions and even a tug of war contest.

Hong Kong is a vibrant city, and it's true that here the East meets the West. I fully recommend PolyU as an excellent academic base where you can meet people from around the world as well as having the chance to explore Asia.
Pablo Cruz
Department of RehabilitationSciences, Spain
When you start a PhD your goal is to complete the programme and become a doctor. But when you do it in a different country you get something else besides a degree. At a cosmopolitan university like PolyU you learn to be a global citizen, which is priceless for your self-development and very useful for your future career.

The professors here are well prepared and I get plenty of support, which is essential for a PhD. I have a caring supervisor who helps me with non-academic aspects as well as guiding me with academic work. On top of that, the university provides many amenities to pursue interests and activities in things like sports and culture.

Hong Kong is known having lots of beautiful skyscrapers, which is true, but at the same time it has 'pure' nature like islands, mountains and beaches which can be quickly reached by public transport. There is also a lot of history here, which makes Hong Kong even more special - and you can find food from all over the world.

I consider myself blessed to have had the opportunity to live in Hong Kong. I think for international students in their 20s and 30s Hong Kong is a great place to live as you can do so many things.