SET 2013
The 12th International Conference on Sustainable Energy Technologies was held on 26-29 August 2013 at The Hong Kong Polytechnic University with a resounding success. Jointly organized by the Faculty of Construction and Environment (FCE) and the Research Institute for Sustainable Urban Development (RISUD), the conference provided a forum for the exchange and dissemination of the latest advances in sustainable energy, a pressing issue that has become a universal priority. After opening remarks by the two chairmen of the conference, Prof. Yang Hongxing of PolyU's Department of Building Services Engineering and Prof. Saffa B. Riffat,  President of the World Society of Sustainable Energy Technologies and Head of the Department of Architecture and Built Environment at the University of Nottingham in the UK, the Director of RISUD, Prof. Jin-Guang Teng, introduced the RISUD, its recent achievements, a few major research projects and the main research areas related to sustainable urban development in which they are currently engaged.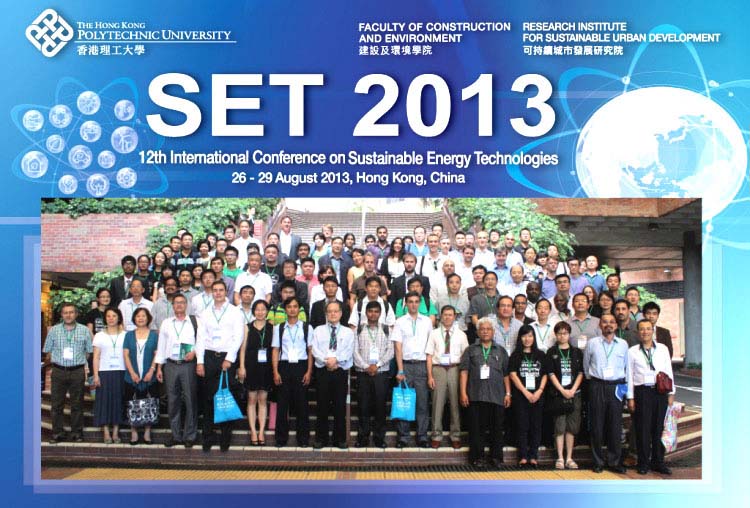 | | | | |
| --- | --- | --- | --- |
| | | | |
| Prof. Saffa B. Riffat | | | Prof. Yang Hongxing |
Keynote speeches were delivered by Prof. Steffen Lehmann, Mr Chris Twinn, Prof. Zhaohong Fang, Prof. Shengwei Wang, and Prof. Qingyuan Zhang. There were also 6 invited lectures. Four parallel sessions were organized, addressing diverse topics from computational fluid dynamics, energy storage technologies, solar photovoltaic power to low carbon buildings and so on. The rich variety of the conference programme attracted about 250 professionals and academics from about 40 countries for presenting about 300 papers.
With the sponsorship of Oxford University Press and Belimo Automation AG, the conference included a banquet evening, where Prof. Timothy Tong, President of PolyU, addressed the guests and drew attention to the strengths of PolyU in developing sustainable energy technologies. A face-changing performance was the highlight of the banquet, which delighted and entertained the crowd. There was also a ceremony for the five Best Paper Awards, which went to the following participants:
Authors

Paper Title

Country

Organization

Mohammed Kabir, Mohammad Rasul,
Nanjappa Ashwath and
Ashfaque Chowdhury

Computational Model Development of
Municipal Green Waste Pyrolysis using
ASPEN Plus Software

Australia

Central Queensland University

Yi Man, Hongxing Yang, Jinggang Wang
and Zhaohong Fang

Simulative and Experimental Investigation
on the Cooling Performance of Hybrid
Ground Coupled Heat Pump

China

Shandong Jianzhu University

Xue Xue, Shengwei Wang,
Yongjun Sun and Fu Xiao

A Chiller Demand Limiting Strategy for
Frequency Controlled Reserve in Smart Grid

Hong Kong

The Hong Kong
Polytechnic University

Andrew C. Eloka-Eboka,
Bamidele O. Ogunkale and
Freddie L. Inambao

Investigative Study of Biodiesel production
properties of African Thevetia peruviana and
Jatropha curcas seed oil feedstocks using
Local metallic salts as catalysts

South Africa

University of
KwaZulu-Natal, Durban

Muhyiddine Jradi and Saffa Riffat

Numerical and Experimental Analysis of
a Dew-Point Cooling System with
a Psychrometric Energy Core

United Kingdom

The University
of Nottingham
Conference website: www.polyu.edu.hk/risud/set2013

Summer school for outstanding postgraduates and senior undergraduates
A summer school jointly organized by the Faculty of Construction and Environment and the Research Institute for Sustainable Urban Development was held at PolyU from 30 July to 8 August 2013. Only 64 outstanding postgraduates and senior undergraduates were selected from more than 700 applicants. Nearly 83% of them were from China, with the rest from countries like Australia, Canada, India, Poland, and Taiwan. They were introduced to various specialties of the Faculty, including the laboratory facilities run by each of our 4 departments. The high caliber of the selected students makes them strong contenders for the Hong Kong PhD Fellowship Scheme. In fact, a major purpose of the summer school was to identify potential candidates from top universities who will undertake further studies in our PhD programmes.

20 participants from four universities, namely National Taiwan University, Tongji University, Tsinghua University, and Sichuan University, were supported by a donation from the Kwong Wah Education Foundation.

BSE Prof. awarded ASHRAE Fellowship
| | | |
| --- | --- | --- |
| Prof. Niu Jian-lei of the Department of Building Services Engineering was recently honored with a lifetime fellowship with the American Society of Heating, Refrigerating and Air-Conditioning Engineers (ASHRAE), a leading professional organization that is highly regarded in the industry. A member of ASHRAE for more than a decade, Prof. Niu has distinguished himself as a researcher and an educator.  He was the first to model natural ventilation through window openings using Computational Fluid Dynamics (CFD), systematically analyze the energy-saving potentials of radiant cooling and its combination with desiccant dehumidification, combine CFD simulation with human body thermal regulation modelling, and develop a cooling load reduction method with stratified air distribution. Prof. Niu has patented two inventions, one on personalized air supply and the other on thermal energy storage. He also co-authored the World Health Organization guide for natural ventilation design for controlling infections in hospitals and clinics. With such impressive accomplishments, it is no wonder that his peers have given him the nod for the ASHRAE Fellow Award, which will be officially conferred upon him at the Society's winter conference in New York on 18 January 2014. Congratulations to Prof. Niu! | | |

LSGI partners with HKO to establish Hong Kong's first GPS/GNSS and Radiosonde Sounding Collocation System
| | | |
| --- | --- | --- |
| In a joint collaboration between the Hong Kong Observatory (HKO) and PolyU's Department of Land Surveying and Geo-Informatics (LSGI), Hong Kong's first GPS/GNSS and radiosonde sounding collocation system was launched at King's Park in Kowloon on 7 June 2013. Led by Dr George Zhizhao Liu, an Assistant Prof. of LSGI, a high-precision Global Positioning System (GPS)/Global Navigation Satellite System (GNSS) was installed at King's Park Meteorological Station to continuously measure the water vapor content in the atmosphere 24 hours a day. PolyU researchers will be able to use this radiosonde sounding station to calibrate and validate atmospheric water vapor retrieved from this newly established GPS/GNSS station and existing GPS/GNSS networks in Hong Kong. Since 2012, Dr Liu's research group has been developing a Precipitable Water Vapor Real-time Monitoring System (PWVRMS) to closely monitor the atmospheric water vapor in Hong Kong and the entire Pearl-River-Delta region every 10 minutes each day. | | |
Radiosonde sounding, long regarded as the standard water vapor measuring technique, has been used in the meteorological community for about a century. The only radiosonde station in Hong Kong was established in 1951 in King's Park. However, the high operational cost associated with it limits the radiosonde sounding to twice a day and prohibits the establishment of more such stations in Hong Kong. The GPS/GNSS technique developed by Dr Liu's group offers a cost-effective approach to get much more spatially and temporally dense atmospheric water vapor data to complement radiosonde sounding observations.

The research above was sponsored by a General Research Fund (GRF) of the Research Grants Council (RGC) of Hong Kong. Its major objective is to provide more observation data for monitoring atmospheric water vapor in Hong Kong and in mainland China using multiple sensors like GPS etc., with a view to further improve the regional capacity to forecast rainfalls.

Learning to ace the grant-writing process from the pros
| | | |
| --- | --- | --- |
| On 31 July 2013, about ten academic staff of the Faculty of Construction and Environment gathered to learn more about writing proposals for the General Research Fund/ Early Career Scheme, which provides government funding for research support. Sharing their insight on what makes a proposal successful were Prof. Albert Chan, Prof. X.D. Li, Prof. J.L. Niu, Prof. J.G. Teng, Dr Wallace Lai, and Dr Linda Xiao, who have all demonstrated a track record for securing competitive research grants. Besides enumerating some of the criteria for an outstanding proposal, they also discussed what reviewers look for when rating proposals. Those in attendance left with some good ideas for improving the chances of getting their proposals funded. | | |

Leading FCE academic interviewed by TVB Weekly
| | | |
| --- | --- | --- |
| Summer may be a break for many students, but for those who have to work outdoors in the heat for a living, it is vital that they take preventive measures to guard against heat strokes. A 2011 study led by Prof. Albert Chan of the Faculty of Construction and Environment has identified some practical steps for workers in the construction industry to protect their well-being when working in high temperatures. He had a chance to elaborate the research findings of his team recently in an interview with TVB Weekly, which outlined three areas that could mitigate the summer working conditions of construction workers: | | |
1) Taking regular breaks

It has been scientifically established in a heat stress study that construction workers need regular short breaks in their work-day during the hot summer months for optimal productivity. According to a study by the Construction Safety Research Group of RISUD, an ideal work schedule from 8am to 6pm should involve a 15-minute break at 10am, a 30-minute break at 3pm, with one hour for lunch at noon. This recommendation has been adopted by the Construction Industry Council in its Guidelines on Site Safety Measures for Working in Hot Weather. 

2) Wearing suitable clothes at work

Another study focuses on designing and developing anti heat clothing that can absorb heat and sweat as well as provide a high degree of comfort and protection from the sun. It is expected such clothing made of a "breathable" fabric will be available at the end of next year. 

3) Making clothes that stay cold

The research team was commissioned by the Labour Department and the Occupational Safety and Health Council to import from Korea and the U.S. two cooling vests that were designed for the military and athletes. These were given to construction workers and others who work outdoors in landscaping and cleaning to try. The cooling vest that was made in Korea was ultimately selected to be adapted for the construction industry. The cooling vest is equipped with two fans, three cold packs that can stay cold for up to 2 hours, with the batteries for the fans lasting 4-5 hours.

Prof. Albert Chan and his team have secured another General Research Fund (GRF) project funded by the Research Grants Council (RGC) to develop a personal cooling system for combating heat stress in the construction industry. This study will commence in January 2014 and last for 3 years.  The world's first cooling vest tailored made for outdoor construction workers will be launched upon completion of this research project.

Widespread implementation of these measures will hopefully reduce the occurrence of heat strokes among construction workers.

FCE hosts visitors from NTUST
On 26-27 August 2013, the Faculty of Construction and Environment (FCE) hosted a contingent of high-powered scholars from the National Taiwan University of Science and Technology (NTUST). Led by its President, Prof. Liao Ching Jong, the delegation was greeted by Prof. Albert Chan, Acting Dean of FCE, and representatives from the Department of Building Services Engineering, Prof. W.K. Chow, Prof. Niu Jian-lei, and Dr Fong Nai-kong, who gave the 7 visitors a tour of the department's laboratories on the first day. They also had a chance to meet representatives of the other FCE departments the next day, including Prof. Geoffrey Shen, Prof. William Lam, and Prof. X.L. Ding, Heads of the Department of Building and Real Estate, Department of Civil and Environmental Engineering (CEE), and Department of Land Surveying and Geo-Informatics respectively. A visit to the Structural Laboratory of CEE was on the itinerary for the visitors, who were accompanied there by Prof. J.G. Teng, Director of the Research Institute for Sustainable Urban Development, and Prof. S.L. Chan. All had a productive time learning from one another.

Visit to JCCAC
On 9 August 2013, a group of colleagues and postgraduates from the Faculty of Construction and Environment (FCE) paid a visit to the Jockey Club Creative Arts Centre (JCCAC) at the site of the former Shek Kip Mei Factory Estate. An award-winning architectural conversion, the JCCAC was opened in 2008 as part of a government initiative to revitalize industrial buildings. The trip was sponsored by a Public Policy research project led by Prof. Albert Chan, Acting Dean of FCE, to evaluate the economic, social, and cultural impacts of such buildings in Hong Kong. After a brief introduction of the history of the area and the industries that sustained the livelihood of the local grassroots community, visitors had a chance to see various arts and crafts that have taken root in the erstwhile factory space, which has been transformed into galleries for exhibitions, studios for performances, and workshops for artists. The layout of the original factory was preserved, and industrial machines from a bygone era could be seen restored and displayed on different levels of the building, together with more recent artistic artifacts like ceramics, sculptures, knitwear, sketches etc.

A thought-provoking discussion back on campus concluded the visit, which raised interesting questions on the sustainability of the JCCAC and whether it was a good model for other run-down industrial buildings. A few colleagues from the Department of Building and Real Estate are conducting a thorough assessment of this, including Prof. Francis Wong, Dr Lam Tsun Ip, and Dr Irene Wong, which will help shape future government policies regarding the most appropriate use of industrial buildings to meet the needs of modern society.







Entry Scholarships for outstanding FCE applicants
The Postgraduate Scheme in Construction and Environment has been giving out scholarships for outstanding applicants since 2009 to pursue MSc degrees in taught postgraduate programmes. For 2013/14, more than 2,500 applications were received for the various programmes. Below are the students who have been selected for entry scholarships that will cover their tuition fees for one academic year. Recipients who undertake full-time study without any employment can also apply for a subsistence allowance.
MSc in Sustainable
Urban Development

MSc in Construction and Real Estate

MSc in Construction Law and Dispute Resolution

LAU Ka Kin

| | |
| --- | --- |
| | |
| KE Jianfa | ZHANG Ming |

| | |
| --- | --- |
| | |
| CHAN Chung Yan | CHEUNG Ho Ting, Cherry |

MSc in Project Management

MSc in Building Services
Engineering

MSc in Fire and Safety Engineering

| | |
| --- | --- |
| | |
| TSO Tak Yi | WONG Chun Pong |

| | |
| --- | --- |
| | |
| LAI Heung Wing | CHAN Wai Lok |

| | |
| --- | --- |
| | |
| NG Choi Hung | POON Ka Ki |

MSc in Civil Engineering

MSc in Environmental Management
and Engineering

MSc in Geomatics

| | |
| --- | --- |
| | |
| POON Ngai Hang | SHAM Chi Hang |

KWONG Siu Ting

| | |
| --- | --- |
| | |
| XI Yifan | LI Yuetong |

Orientations for new students
An orientation for newly admitted students to the taught postgraduate programmes of FCE was held on 29 August 2013. Nearly 120 students were on hand for the Acting Dean's welcoming speech, which was followed by an introduction of the four departments respectively by Prof. Geoffrey Shen, Head of the Department of Building and Real Estate; Dr C.K. Chau, Associate Prof. of Building Services Engineering; Prof. William Lam, Head of the Department of Civil and Environmental Engineering; and Prof. X. L. Ding, Head of the Department of Land Surveying and Geo-Informatics. Break-out sessions for students to meet their programme leaders were also available. It was an informative afternoon for all who attended.
In a similar event, a common orientation programme for our Faculty's freshman was held on 30 August 2013. More than 1000 were admitted to begin their studies in September.

Faculty Public Lecture


The Faculty of Construction and Environment was honoured to have the following speaker giving public lecture at PolyU:

Prof. Khalid M. Mosalam

FCE Public Lecture
"Hybrid Simulations: Basics, Recent Developments and Applications"

Speaker:
Prof. Khalid M. Mosalam
Professor, Department of Civil and Environmental Engineering
University of California, Berkeley

Date: 16 August 2013 (Friday) (Details)

Forthcoming Events

Social Entrepreneurship Lecture Series to focus on sustainable development
To promote social innovation, PolyU's Institute for Entrepreneurship has organized a series of seminars led by business leaders from various sectors. The next seminar addresses the limits of growth in an era dominated by an awareness of global warming and the need to reduce carbon emissions. Panel speakers include a property developer and a green building consultant, who will share their experiences in community and sustainable development in view of the local challenges. Details of the seminar are as follows:
---
Building Your Life in the Construction Industry
The Construction Industry Council (CIC) is offering a half-day programme exclusively for university students to gain an insight into the construction industry. Participants will be introduced to the CIC, its training grounds and centre, the Zero Carbon Building, and the Construction Industry Resource Centre. Details are as follows:
Date: 31 October 2013
Venue: G/F, Construction Industry Council Training Centre, Kowloon Bay Centre, 44 Tai Yip Street, Kowloon Bay, Hong Kong
Enquiries: Ms. Peggy HO, at Tel. 2100 9042 or by e-mail at peggyho@hkcic.org
Details and registration: http://www.hkcic.org/BuildingYourLifeExperienceDay/PolyU
---
IStructE Conference on Structural Engineering in Hazard Mitigation 2013

The IStructE Conference on Structural Engineering in Hazard Mitigation (http://www.istructeconference.org/) is jointly organized by the Institution of Structural Engineers (www.istructe.org), Tongji University (www.tongji.edu.cn), Tsinghua University (www.tsinghua.edu.cn), and the IStructE China Group. The Conference will be held in Beijing on 28 and 29 October 2013, and in Shanghai on 31 October and 1 November 2013 featuring keynote lectures as well as presentations in parallel theme-based sessions.

The Conference provides a unique opportunity for those who would like to contribute and participate in shaping the global development of structural engineering in hazard mitigation to exchange, collaborate and partner. In each city, it is expected to attract about 250 delegates who are academics, design and construction engineers, project managers and developers, regulatory authorities as well as policy makers. To ensure quality presentations on all key topics, all parallel session presentations will be invited by session leaders who are leading experts on the topics in their own rights under the overall co-ordination of the Conference Organizing Committee.

---





Copyright © 2013 Faculty of Construction and Environment, The Hong Kong Polytechnic University. All rights reserved.