Results of RGC Competitive Funding Schemes 2012/13
The 2012/13 application results for the three related RGC competitive funding schemes [the General Research Fund (GRF) Scheme, the Early Career Scheme (ECS) and the Public Policy Research (PPR) Funding Scheme] were announced on 29 June 2012. This is the first year that the RGC has introduced the ECS, and applicants eligible for an ECS grant were allowed to submit only one application to either the ECS or the GRF Scheme. The application results for these three schemes are combined in the following analysis as they are of a similar nature. More importantly, they will gradually become the major indicators within 5 years from 2012/13 for determining UGC's allocations of 50% of its RPg places and 50% of the R portion of its block grant, which will have important financial implications for all universities and departments.  The funding results of the three schemes are listed below:
Dept

Grants from
all three
schemes

ECS
Grants

PPR
Grants

Overall
success
rate

Total amount of competitive
funding (including GRF, ECS
and PPR) (HK$)

Amount per eligible
staff member (HK$)

BRE

7

1

3

22%

$4,453,261

$134,947

BSE

12

1

0

63%

$7,290,000

$235,161

CSE

9

0

0

33%

$5,531,175

$149,491

LSGI

4

2

0

29%

$2,650,974

$147,276

Total

32

4

3

34%

$19,925,410

$167,440
For the whole Faculty, we received 32 GRF/ECS/PPR grants totalling HK$19.9 million, which represents increases of 45.5% and 15.7% respectively over the grants received by us from the same schemes last year. Even if we exclude the 3 PPR grants, we received 29 GRF/ECS grants totalling HK$18.4 million this year, which represents increases of 31.8% and 6.9% respectively over the GRF grants received by us last year. This is an excellent achievement given the increased importance of these competitive grants to our future development and the highly competitive environment we are now in.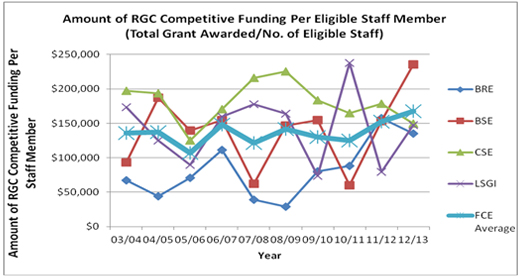 Figure 1: Comparison of Amount of RGC Competitive Funding
per Eligible Staff Member between Departments
In terms of the amount won per academic staff member (only eligible staff members are counted), the rankings of our four departments are: BSE, CSE, LSGI and BRE. BSE is particularly successful this year, with its number of grants, total amount of funding as well as amount of funding per staff member being substantially above those of the other three departments.  This year, the funding results of the PPR Scheme are also very encouraging.  BRE has been awarded three grants, which represent 50% of the six grants awarded to PolyU.  Comparisons of departmental performance over the past 10 years using 2 indicators, namely the average amount per staff member and number of grants per year are shown in Figures 1 and 2 respectively.  In general, we see a trend of convergence of performance of the four departments in recent years in terms of average amount per staff member.  More specifically, the average amounts per staff member for the four departments over the past three rounds are respectively HK$126,917(BRE), HK$149,366(BSE), HK$164,360(CSE) and HK$154,816(LSGI).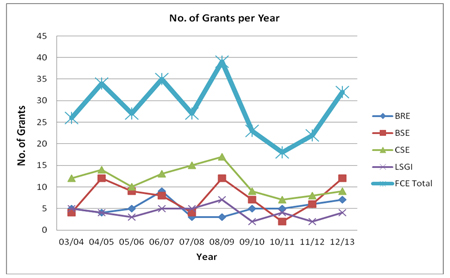 Figure 2: Comparison of Number of Grants per Year between Departments
Within the broad field of construction and environment, we still lead all other local universities by a big margin in the GRF/ECS exercises.  In the Civil Engineering, Surveying, Building and Construction (CESBC) disciplines of the Engineering Panel, PolyU has ranked number 1 over the past 18 rounds in terms of both the number of GRF/ECS projects supported and the total grant value won, receiving constantly around or over 40% of all GRF/ECS grants allocated in these disciplines.  Of the 29 GRF/ECS grants awarded to the Faculty this year, 4 were awarded outside the CESBC disciplines. As a result, the Faculty won 25 grants (or 37%) totalling HK$15,674K out of the 67 GRF/ECS grants awarded by RGC in the CESBC disciplines in the present (i.e. 2012/2013) round; by contrast, the Faculty won 19 grants (or 41%) totalling HK$15,075K out of the 46 GRF grants awarded in the CESBC disciplines in the 2011/12 round. Although the number of GRF/ECS grants and the total amount of funding awarded to the Faculty has increased this year by 32% and 4% respectively, it is important to note that our share of grants in the CESBC disciplines has fallen below 40% this year for the first time since 2004/2005.  The large increase in the number of grants reflects mainly the adjusted position of RGC's Engineering Panel to support more projects but at lower levels of funding compared to the last few years. The distribution of the amount of GRF/ECS funding in the 2012/13 round among different universities is shown in Figure 3. Although our grant share in the CESBC disciplines depends to some extent on how applicants align their applications with disciplines and on the development of new academic units in these disciplines at sister institutions, it is desirable that we work hard to ensure a minimum share of 40% of GRF/ECS funding in the CESBC disciplines in the future.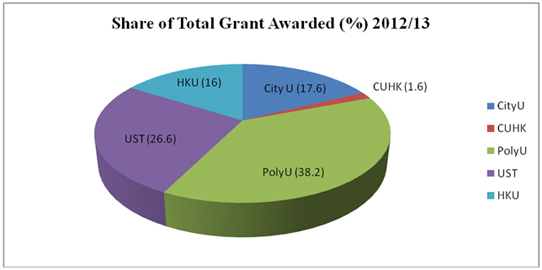 Figure 3: Distribution of GRF/ECS Funding in the CESBC Disciplines
among Institutions in the 2012/13 Round

Distinguished Knowledge Transfer Excellence Awards 2012
| | | |
| --- | --- | --- |
| The Faculty of Construction and Environment is pleased that four of its leading academics have been recognized by PTeC's Distinguished Knowledge Transfer Excellence Awards, which were presented on the afternoon of 14 June 2012 at Hotel ICON. The Grand Award in the Technology & Industry category was picked up by Prof. Ni Yiqing of the Department of Civil and Structural Engineering, who has been a leading advocate of the Mega-structure Diagnostic and Prognostic System even before it won the Gold Award and Grand Prize at the 37th International Exhibition of Inventions in Geneva as well as the Golden Prize at the 11th China International Industry Fair in Shanghai, both in 2009. | | |
His colleague from the same department, Prof. Onyx Wai, received a Merit Award in the Community category for his study to improve runoff water quality and mitigate peak runoffs with the use of green roofs, whose benefits will be explored and verified in future studies. Currently established green roofs would also be studied to learn from their experience.

Two other Merit Awards in the Technology & Industry category went to Prof. Li Heng of the Department of Building and Real Estate and Prof. Wang Shengwei of the Department of Building Services Engineering respectively. The former won with his construction virtual prototyping technology that was recognized by the National Ministry of Education with a 1st Prize for technology innovation and the latter was honoured for his development of intelligent building life-cycle diagnosis and optimization technology, which also received an Innovation Award at the China International Industrial Fair in 2010.

Besides recognizing inspiring knowledge transfer initiatives, the PTeC awards' ceremony coincided with the annual Outstanding Professional Services Award 2010-11 as one of the celebration events marking PolyU's 75th Anniversary. For his exemplary services, Prof. Eddie Hui of the Department of Building and Real Estate won the Highest Growth Consultant Award.

Congratulations to Prof. Hui and all the winners of the Distinguished Knowledge Transfer Excellence Awards, which were selected from 45 nominations by a 5-member panel of judges, including Mr Nick Yang, Executive Vice President of PolyU; Dr Raymond Leung, Chairman & CEO, TDK China Co. Ltd.; Mr Frederick Lai, Service Head of Caritas Youth and Community Service; Prof. Ko Jan-ming, Professor Emeritus of the Faculty of Construction and Environment; and Prof. Peter Yuen, Dean of the College of Professional and Continuing Education and Professor in the Department of Management and Marketing at PolyU.

RISUD's Construction Safety Research Group scores with OSHC
The Construction Safety Research Group of the Research Institute for Sustainable Urban Development (RISUD) has been awarded a contract by the Occupational Safety and Health Council (OSHC) to conduct a one-year study on the effectiveness of personal equipment for protecting workers from heat stroke while working in a hot environment. A multi-disciplinary team with expertise and experience in materials sciences, textiles sciences, biological and exercise sciences, occupational hygiene, occupational safety and health, and other relevant disciplines, will conduct the study and interpret the findings. The physiological responses of workers in four target industries will be quantitatively assessed, while the comfort and usability of personal cooling equipment will be qualitatively assessed. The Construction Safety Research Group is headed by Prof. Albert Chan, who is well known for his research on heat stress studies.

BRE academic appointed Honorary Faculty Fellow of Brighton University
Prof. Francis Wong of the Department of Building and Real Estate has been appointed Honorary Faculty Fellow of the Faculty of Science and Engineering at Brighton University, previously known as the Brighton Polytechnic, where he received his BSc (Hons) in Building in 1980. After working for a few years, he went back to England for his master's degree at University College London and eventually completed a PhD at South Bank University in England in 2000. With over 30 years of academic and practical experiences, including contributions to both the local and international communities of building professionals, Prof. Wong is well qualified for this honor. Congratulations to Prof. Wong on his international recognition.




Prof. Francis Wong
(on right)

Media briefed on findings of research study led by BRE academic
| | | |
| --- | --- | --- |
| On the afternoon of 31 May 2012, the local media was invited to a press briefing at PolyU, where they were presented with the findings of a joint study by academics from the Hong Kong Institute of Education, the Technological and Higher Education Institute of Hong Kong, as well as the Department of Building and Real Estate of PolyU. Led by Prof. Albert Chan, Associate Dean of the Faculty of Construction and Environment, the team of researchers revealed what could be done to prevent construction workers from getting heat strokes in hot weather. They scientifically established what is known as the heat tolerance time, i.e. the duration that construction workers could continuously work without jeopardizing their health. It was subsequently determined that the length of a rest break is directly proportional to a worker's physiological recovery. However, how long and how frequent breaks should be are open for negotiation between the various stakeholders, including the government, developers, contractors, trade union representatives, as well as the workers themselves. | | |
Funded by the Research Grants Council and supported by the Hong Kong Housing Authority, Sun Hung Kai Properties Ltd., Yau Lee Construction Co. Ltd., and China State Construction Engineering (HK) Ltd., the joint study was widely reported by the local press as well as foreign online media. Kudos to Prof. Chan and his team for their noteworthy study, which has been published in Building and Environment, an international journal of building science and its applications.

New academic staff
The Department of Land Surveying and Geo-Informatics (LSGI) welcomed a Visiting Chair Professor on 1 June 2012. Professor Mei-Po Kwan received her Ph.D. in Geography from the University of California at Santa Barbara in 1994, M.A. in Urban Planning from the University of California at Los Angeles (UCLA) in 1989, and B.SoSci. in Geography from the Chinese University of Hong Kong in 1985. She has been a Distinguished Professor of Social and Behavioral Sciences and Professor of Geography at Ohio State University. She is currently Editor of Annals of the Association of American Geographers and Book Editor for the SAGE Advances in Geographic Information Science and Technology (GIST) Series. She currently serves on the editorial board of Journal of Transport Geography and Asian Geographer.

Prof. Kwan has received about 42 grants as Principal Investigator or Co-Principal Investigator totaling US$18 million from various funding sources in the US, including the National Science Foundation (NSF), National Institutes of Health (NIH), National Center for Geographic Information and Analysis (NCGIA), US Department of Transportation (DoT) etc. Moreover, Prof. Kwan has 22 edited or co-edited volumes, including one encyclopedia, three books and 18 journal special issues. She has published 71 articles in refereed journals, 28 book chapters, 9 papers in conference proceedings and 14 research reports and bulletins. She has given over 300 presentations to date, including 123 keynote addresses and invited lectures and 67 invited presentations at professional meetings and specialists' workshops.

Her research interests are geographical information systems and science, geographic analysis of accessibility, geographies of health, information and communications technologies (ICT), research methods, and geographies of gender, race and religion.




LSGI students part of winning team in inter-collegiate symposium on service-learning
On 24 March 2012, a team of five PolyU students won the Championship in the Tertiary Division of the Symposium on Service-Learning: Exhibition of "Service-Learning Expo" that was organized by the Chinese University of Hong Kong. Two of the team members, Chan Ching To and Wong Man Kong, were students from the Department of Land Surveying and Geo-Informatics. This well deserved recognition for the team comes on the heels of its Community Service Learning Gold Award 2011/12 and the Most Creative Award from PolyU out of 51 competing service projects.

The project was conducted in Guizhou, China and was known as PolyU Serves & Gui with You 2011. It aims to promote the town and attract more tourists to boost the town's economy, thus enhancing the quality of life for the natives there.

A good division of labor facilitated the project's completion. LSGI students were responsible for building 3D models for some well known tourist spots in an ancient town while other team members collected relevant tourist information for a comprehensive map guide. All in all, students demonstrated strong findings for this community service learning project to win the championship.




The Annual Alumni Reunion Dinner Party
The Annual Alumni Reunion Dinner Party – "Yesterday Once More" was successfully held on 9 June 2012 at the restaurant in the Student Residence Halls of PolyU. Organized by the Alumni Affairs and Development Office (AADO) as well as the Federation of PolyU Alumni Associations, the highlight of the evening was the competition for the "Best-dressed Woman" and "Best-dressed Man" awards.  Most alumni were dressed in styles of the 60's to 70's.

An alumna from the Department of Land Surveying and Geo-Informatics, Miss Patty Chan (the 2nd one from left), won the award for the "Best-dressed Woman" with her classical costume and impressive performance.

Faculty Public Lectures


The Faculty of Construction and Environment was honoured to have the following speakers giving public lectures at PolyU:

Prof. Albert P.C. Chan

FCE Public Lecture
"From Heat Tolerance Time to Optimal Recovery Time – A Heat Stress Model for Construction Workers in Hong Kong"

Speaker:
Professor Albert Chan, Associate Dean, Faculty of Construction and Environment,
The Hong Kong Polytechnic University

Date: 31 May 2012 (Thu) (Details)

---


Prof. Yang Zhao

FCE Public Lecture
"Tests on Scale Structural Models and Full-scale Joints for Large Space Structures"

Speaker:
Prof. Yang Zhao, Professor of Structural Engineering, Department of Civil Engineering,
Zhejiang University

Date: 21 June 2012 (Thu) (Details)

Forthcoming Events

FCE Short Course: High Speed Rail Engineering
Date & Time: 10 August 2012 (Friday) 6:30 - 9:30 pm & 11 August 2012 (Saturday) 9:00 am - 6:00 pm
Venue: N112, 1/F, Block N, The Hong Kong Polytechnic University
Registration fee: HK$2,800 (including teaching materials and refreshments)
Website: https://www.polyu.edu.hk/fce/events/20120810-11_short-course/
First International Conference on Performance-based and Life-Cycle Structural Engineering (PLSE 2012)
Date: 5-7 December 2012
Venue: Regal Kowloon Hotel, 71 Mody Road, Tsimshatsui, Hong Kong
Website: https://www.polyu.edu.hk/fce/PLSE2012
The 5th International Symposium on Transportation Network Reliability (INSTR)
Date: 18-19 December 2012, Hong Kong
Venue: The Hong Kong Polytechnic University
Website: http://www.instr2012.org

---

Copyright © 2012 Faculty of Construction and Environment, The Hong Kong Polytechnic University. All rights reserved.